23.- COSTA RICAN CONFERENCE FOR TEACHERS OF ENGLISH IN DECEMBER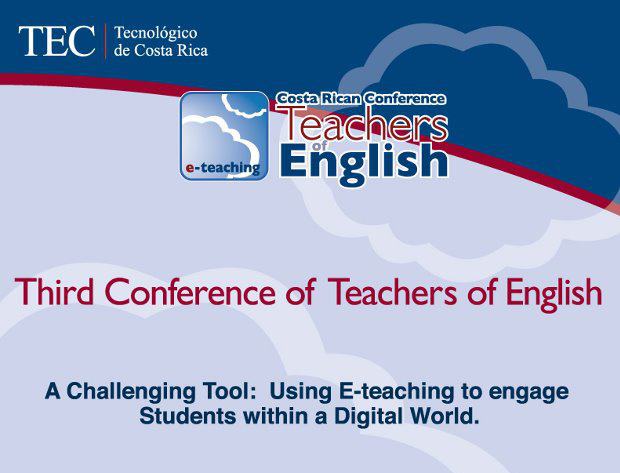 Dear Colleague,
The Organizing Committee of the Third Conference of Teachers of English would like to invite
you to participate in our next convention to be held on December 3, 4, 5, 2012, at the Costa
Rica Institute of Technology (TEC), in Cartago.
Recently, we celebrated our 40th anniversary. During these four decades, TEC has bee
concerned on technology, research, education and innovation.  Thus, our main theme for
this event is:  A Challenging Tool: Using E-teaching to engage students within a digital world.
However, we can also address topics related to methodologies, linguistics, teaching strategies,
English for Specific Purposes, evaluation and assessment.
Every presenter will have a forty-minute presentation to share with the participants a workshop
or lecture.
Please find the proposal form HERE (only proposals sent this way will be considered). The
deadline to submit your proposal is August 1st, 2012. Once your proposal is approved by the
Organizing Committee, a response will be issued to you at your email address no later than
October 1st, 2012.
Social responsibility is part of the mission of the School of Language Sciences; therefore, instead of a money fee, we encourage you to bring school supplies you feel like contributing with. These supplies will be sent to a school located in a poor Costa Rican community
Looking forward to hearing from you soon,
The Organizing Committee of the Third Conference of Teachers of English,  2012. 
Costa Rica Institute of Technology