1.-          CLIL & CBI : WHEN LANGUAGE AND CONTENT MEET
Language and Content Meet
In this paper I will explore how CLIL (Content and Language Integrated Learning) and/or CBI (Content Based Instruction) could be identified as innovative approaches in TESOL (Teaching English to Speakers of Other Languages) in Argentina. Even though the CLIL phenomenon and CBI are not new to the TESOL dimension, they together have become a current topic of discussion and research in the EFL teaching practices in Argentinian education.
With the purpose of building a sound theoretical framework, I will first describe CLIL and attempt to establish a connection with CBI, focusing on theoretical underpinnings and multiples standpoints found in the literature. Secondly, I will discuss whether such an innovation is more theory-driven, classroom practices-driven, or a bridge constructed with contributions from both fronts.
Following the theoretical discussion I will present examples of this innovation in my context of professional practice and development.
One of the first issues to explore is to determine whether CLIL and CBI are the same phenomenon or whether the latter could be interpreted as a realisation of the former.

The term CLIL was first introduced in 1994 by David Marsh, who expanded its implications in 1996 after Finland became a new state member of the European Union (EU) (Lucietto, 2008:29). Marsh's concept was most welcomed by the EU as one of their crucial aims is to develop the plurilingual competence in their citizens.

Marsh (2002, in APISE official website) defined CLIL as an umbrella term which encompasses any activity in which a foreign language is used as a tool in the learning of a nonlanguage subject, where both language and subject have a joint role.
On the other hand, Dalton-Puffer (2007) restricts the scope of CLIL to educational settings and classrooms where the environment provides opportunities for acquiring learning as opposed to explicit practices. Her definition for the term under consideration is [CLIL] refers to educational settings where other than the students' mother tongue is used as a medium of instruction. (2007: 1).
The CLIL Project, far from being a mere definition (Lucietto, 2008:37), also offers a number of dimensions which have been embraced by countries outside the EU (Bebenroth and Redfield, 2004).
The Annual Conference for Teachers of English organised by FAAPI (Federación Argentina de Asociaciones de Profesores de Inglés) proposed the topic "Using the Language to Learn – Learning to Use the Language" as the core issue of the 2008 event. Such subject matter is closely connected to the realms of CLIL. The regional association, APISE, which was in charge of organising this conference present the CLIL dimensions1 (Table 1):
<![if !vml]>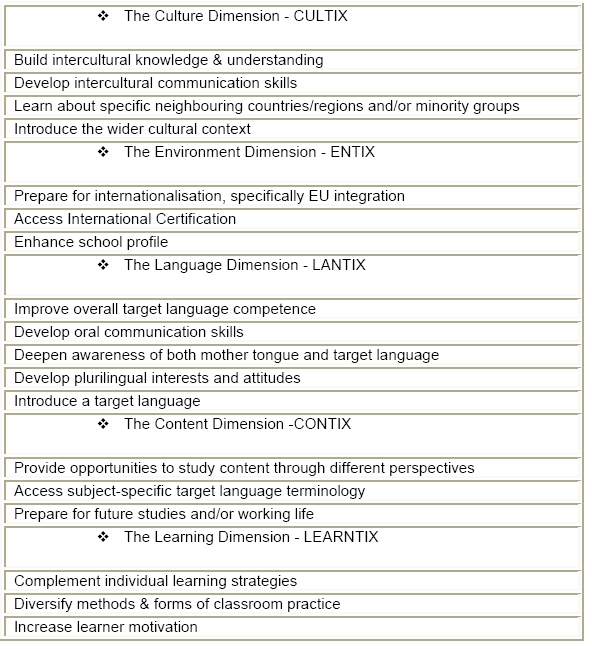 <![endif]>
Table 1: CLIL dimensions. Source: APISE, 2008
1 Also available at http://www.clilcompendium.com/clilcompendium.htm. Last accessed 22 October 2008.
However, it is in Europe where CLIL has been widely recognised as a tool to achieve the plurilingual conscience the EU has established as a crucial aim among its state members (Salatin, 2008:11-12). In her book on CLIL classrooms, Dalton-Puffer (2007) gives a detailed account of how this approach has been applied at a university level in Austria and the discourse features, academic language functions and learning environment it produces. According to Dalton-Puffer and Nikula (2006), Austria is not the only country where CLIL has been adopted. They claim it has become a common practice in many European countries such as Finland. In this context, needless to say, the rationale lies in the conviction that learners, regardless of the CLIL settings, will develop their communicative competence if they use the target language as a medium
for learning since they will engage in building different communicative events and social practices by working collaboratively and with a goal that goes beyond the explicit linguistic knowledge. Another country is to consider is Italy, where CLIL projects or models (Lucietto, 2008) not only use English, but also German as a medium of instructions in subjects such as
Mathematics and Geography (Fantin et al. 2008: 1731-83; Ambrosi et al. 2008: 191-264). In the literature review, Dalton-Puffer (2007:1) asserts that even though there are many terms, which carry different implications, in use, such as CBI, Bilingual Teaching, and English Across the Curriculum among others, the term CLIL is now established in the academic and educational spheres. However, Navés (2000) simply states that while CLIL is a term used in Europe, CBI is the preferred choice in the USA and Canada, this latter being generally recognised as the country where this trend originated in the 1960's. We will see, however, that this distinction is far from being clear-cut.
It is worth noticing that the definitions advanced so far share the concept of subject, content or instruction. If we bear in mind the Content Dimension (Table 1) and its foci we can clearly see how CBI fits into such a dimension. Therefore, we might say that Content-Based Instruction, also called Content-Based Learning (Wolff, 1999:178-180),might be viewed as a branch (Wolff, 2002:214) that has developed and evolved in its own right with different underpinning principles. Brinton et al. (2003: 265) define CBI as
teaching that integrates particular content with language-teaching aims, with a goal to
develop use-oriented second or foreign language skills; concurrent teaching of
academic subject matter and second language skills, following a sequence determined
by a particular subject matter with a content-driven curriculum.
We clearly see that, even though the main goal is foreign or second language acquisition, the emphasis is not on learning the language (Davies, 2003) but acquiring content in a context where language becomes a psychological tool, one which mediates between the learners and the subject matter. This mediation and integration should be a dual commitment (Stoller, 2002) made by teachers who truly believe that CBI can offer a better environment for language acquisition. Consequently, it is expected that learners when fully immersed in this cycle will benefit from both language and content, since as they improve their L2 competence, they will be able to learn more content, and, in turn, by acquiring more content knowledge they will master the target language used as medium of instruction (Stoller, 2002). Not only content knowledge
will affect their performance in the L2 but it will also transfer to their mother tongue as
they might integrate new concepts in the traditional curriculum.
This concern in content-based language teaching and learning is not recent; it is rooted in the 1960's when a French immersion project was implemented in Canada in postsecondary education. This alternative model spread in the USA and developed in another model termed LSP (Language for Specific Purposes) which aimed at preparing learners for university level and the working domain (Brinton et al. 2003:5-9; Swain and Johnson, 1997:1; Troncale, n/d:2). All these programmes proved to be effective in achieving content and L2 literacy outcomes in adults (Sticht, n/d).
In general terms, CBI or CBL adherents (Woff, 1999:178-180) believe that this approach can develop a higher competence in the foreign language since learners are exposed to longer periods of input, when it is sustained in time (Murphy and Stoller, 2001:3-4), and they are engaged in real meaningful interaction as the process is supported by authentic materials which, together with an innovative instruction, will help them develop strategies such as hypothesis building and testing. Eventually, learners will gain subject and world knowledge which will enable them to interact in the real world (Woff, 1999:180).
With the purpose of establishing some founding principles in context, Brinton et al. (2003:1-4) propose five different rationales. First, learners' needs and potential uses of the target language must be taken into account. Second, such needs should be met by the use of relevant content as to promote subject and language development. Third, this approach works best if it anchored in learners' previous knowledge of both subject matter and language. Fourth, the focus should be on the macroaspects of language, that is, on discourse organisation rather than on the sentence level. Last, even though it has been suggested that one of the features of CBI is the use of authentic material, the input in the target language should be understood by learners and offer the possibility to continue improving their linguistic knowledge.
From its incipient implementation to current trends, CBI has evolved in many different directions and it might be better comprehended if we see it as a continuum (Shang, 2006; Hernández Herrero, 2005; Brinton et al. 2003; Met, 1999) where language is at one end and content at the other.
Met (1999) offers a clear continuum of language-content integration (Table 2)
<![if !vml]>

<![endif]>
Table 2: Continuum of language-content integration. Source: Met (1999)
It goes without saying that within this continuum, varied models are found. Therefore, I
propose the following CBI continuum (Table 3).
<![if !vml]>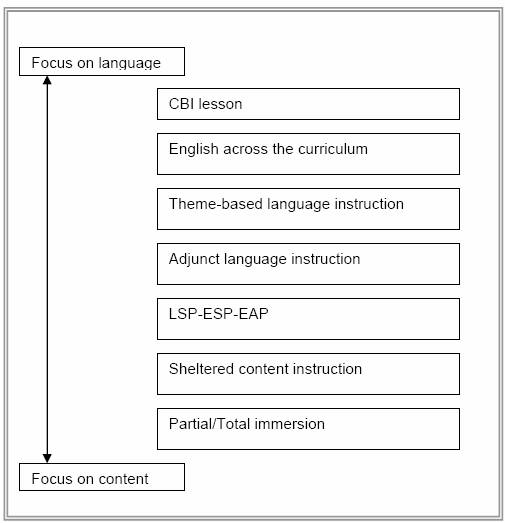 <![endif]>
Table 3: CBI continuum
Beginning at the language extreme, CBI lesson is a reduced perspective suggested by Peachey (2003). CBI is equated to a lesson where its topic responds to learners' interests ranging from their pop starts to scientific issues. One of its features is that though it focuses on content and collaborative work, it is not sustained in time. It is seen rather as a lesson within the EFL syllabus.
Whitney (2002) proposes in his book Dream Team 3, textbook adopted by a large number of secondary schools in Argentina, a section called English Across the Curriculum in each unit of the book. This reading section is characterised by language within the range of learners' grammatical competence though it presents new lexical items in a set related to any subject. In my opinion it is close to the language extreme since it is neither content-related to the school curriculum nor coherent as regards context.
Theme-based instruction occurs within the ESL/EFL or any other target language course and though the context is given by specific content areas, the focus of evaluation lies on language skills and functions. A theme-based course will be structured around unrelated topics which will provide the context for language instruction (Brinton et al. 2003: 14-15).
At the centre of the continuum, the adjunct model (Met, 1999) combines a language course with a content course. Both courses share the same content base and the aim is to help learners at university level (Kamhi-Stein, 1997; Iancu, 1997) master academic content, materials, as well as language skills.

The Language for Specific Purposes models, on the other hand, are aimed at preparing learners to meet the demands coming from academic instruction as well as job requirements. Although the focus is on content, materials can be structured around microskills, functions and specific vocabulary (Brinton et al. 2003: 7).

Next in the continuum, the sheltered-content approach consists of a content course taught by a content area specialist in the target language. The student population consists of non-native speakers who are expected to master authentic material and, most of all, the content course syllabus (Brinton et al. 2003: 15-22).
Last, total immersion programmes can be mainly found in Canada and the USA at elementary and secondary levels. It has been applied to second language acquisition, in settings where language is learnt incidentally through content instruction and interaction within the classroom context (Dalton-Puffer, 2007; Brinton et al. 2003; Grabe and Stoller, 1997:80).
Regardless of their location in the CBI continuum, all these models share the view that language knowledge is best acquired when situated in a context where content knowledge provides the basis of instruction. However, it should be pointed out that the varied perspectives described above seem to work best when learners already have some knowledge of the target language.

These models are the product of both theory and classroom practice. Grabe and Stoller (1997:5-21)2 provide a description of CBI research foundations. Their contributions,which present evidence of the interplay between theory and practice, could be summarised as follows (Table 4):
<![if !vml]>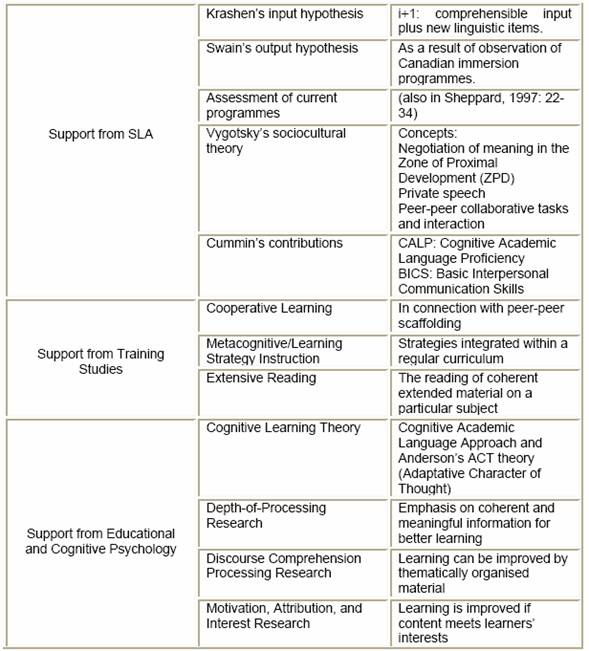 <![endif]>
<![if !vml]>

<![endif]>
Table 4: Support for CBI: theory and classroom-driven
The adoption of a content-based approach in my professional practice began at a bilingual school in 2004 when my students expressed the need to English as a medium of instruction. Consequently, I proposed a syllabus to teach Literature using unabridged texts together with authentic material about literary studies. The change improved my students' communicative competence, particularly their vocabulary knowledge and their reading skills.
A year later I designed a new course for my upper-intermediate students who were in their last year of secondary education. Once a week during a whole academic year, they were taught Critical Thinking together with Literature.

In 2006, it was decided that different versions of CBI should be extended to all EFL Courses in primary and secondary levels. At present, as regards primary education, learners have, besides following a traditional EFL course, Computers Studies and Science taught in English.

As for the secondary level, learners follow a traditional course with textbooks which might be oriented to language skills and international exams such as FCE (First Certificate in English) and CAE (Certificate in Advanced English). In order to introduce CBI, we designed a programme (table 5) taking into account learners' level of English and curriculum content knowledge in Spanish. The proposed subjects are taught in English by their English teachers once a week.
<![if !vml]>

<![endif]>
<![if !vml]>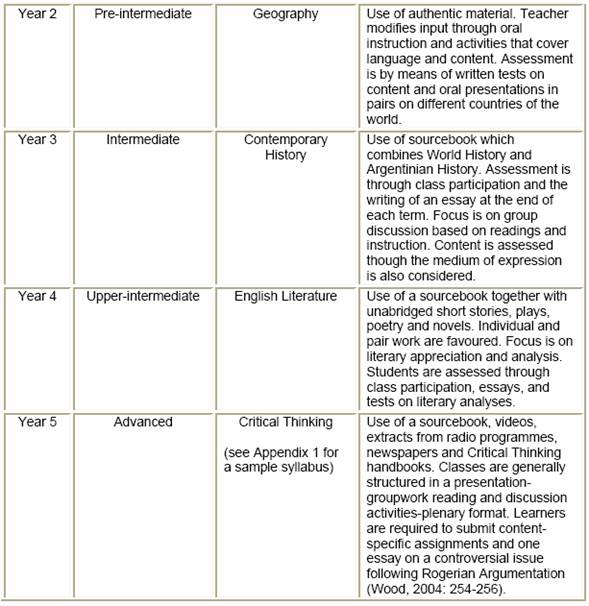 <![endif]>
Table 5: CBI courses at Fundación Educativa Esquel Bilingual School
In 2006, a study (Banegas, 2008: 208-214) was carried out to support our CBI programme. Two groups were pre-tested so as to ensure their similar communicative competence. During a school year one group of subjects was instructed following FCE (First Certificate in English) Exam format while another group was instructed following FCE format and English Literature. Results showed that the second group performed better in the FCE tests (focus on use of English, that is grammar, and speaking skills) administered than the first group.
I have also designed and taught some theme-based lessons at the last year of secondary school at San Luis Gonzaga School. At this school, English as a subject in the school curriculum is only a two-hour class per week; however most of the students in the highest years attend English private lessons.
Since 2006, English has become involved in the subject Research Project which is taught in Year 5. Students are expected to carry out research on a particular area within Chemistry, Biology, or Physics, and produce at the end of the process a research paper for the community. Though students write their papers in Spanish, abstracts are written in English to familiarise them with scientific conventions.
Therefore, their first lesson (see Appendix 2) in English is about Knowledge-Science-Education, and, by the beginning of the second term, they have a lesson about Research Methodology, mainly focused on how to organise their research papers and how to write an abstract. Students have expressed that they can use English for real purposes and that it is a way of acquiring specific vocabulary which they might need in university courses.
First, we discovered the basis of CLIL and how it is realised into several dimensions where content and second or foreign language acquisition in classroom settings interact with one another with the purpose of providing learners with an improved context for language learning. One of CLIL dimensions invited us to identify CBI as an innovation in TESOL which is rooted both in theory and classroom practices. Accounts of how CBI approaches can be implemented suggest that there is a whole continuum of models teachers can adopt; from strong versions where content is cornerstone to a weak version where content provides the context for language instruction. Such assertions have been exemplified by national conferences, research and current projects set in classrooms where learners have an intermediate command of English.
In conclusion, it might be said that CBI is an approach which can illuminate our EFL curricula; however it is vital that teachers should be trained so as to help them explore the horizons this innovation has to offer.
REFERENCES
Ambrosi, S., L. Amort, F. Brigadoi, A. Giorio, and A. Zorzi (2008) 'CLIL all'Istituto
comprensivo di Pedrazzo,' in Lucietto, S. (ed.)…e allora…CLIL! .Trento: Editore Provincia
Autonoma di Trento-IPRASE del Trentino.
APISE (2008) Content and Language Integrated Learning. At
http://www.apise.org.ar/what_is_clil.htm (Date accessed 26th October, 2008).
Banegas, D. (2008) 'The Relevance of Content-Based Instruction,' in Lòpez Barrio, M. (ed.)
Using the Language to Learn - Learning to Use the Language XXXIII FAAPI Conference
Proceedings. Santiago del Estero: APISE.
Bebenroth, R. and M. Redfield (2004) 'Do OUE Students Want Content-Based Instruction?
An Experimental Study.' Osaka Keidai Ronshu 55:4 at
www.bebenroth.eu/Downloads/CententBasedInstrucRube55.04DaiKeiDai.pdf (Date
accessed 25th October, 2008).
Brinton, D., M. Snow, and M. Wesche (2003) (2nd edition) Content-Based Second
Language Instruction. Ann Arbor: The University of Michigan Press.
Dalton-Puffer, C. (2007) Discourse in Content and Language Integrated Learning (CLIL)
Classrooms. Philadelphia: John Benjamins.
Dalton-Puffer, C. and T. Nikula (2006) 'Pragmatics of Content-based Instruction: Teacher
and Student Directives in Finnish and Austrian Classrooms'. Applied Linguistics 27/2: 241–
267.
Davies, S. (2003) Content Based Instruction in EFL Contexts. At
http://www.iteslj.org/Articles/Davies-CBI.html (Date accessed 21st October, 2008).
Fantin, F., E. Fratton, and W. Paoli (2008) 'CLIL all'Istituto comprensivo Centro Valsugana,'
in Lucietto, S. (ed.)…e allora…CLIL! .Trento: Editore Provincia Autonoma di Trento-
IPRASE del Trentino.
Grabe, W., and F. Stoller (1997) 'A Six-T's Approach to Content-Based Instruction', in
Snow, M. and D. Brinton (eds.) The Content-Based Classroom. White Plains: Longman.
Grabe, W., and F. Stoller (1997) 'Content-Based Instruction: Research Foundations,' in
Snow, M. and D. Brinton (eds.) The Content-Based Classroom. White Plains: Longman.
Hernández Herrero, A. (2005) 'Content-based instruction in an English oral communication
course at the University of Costa Rica.' At http://revista.inie.ucr.ac.cr/articulos/2-
2005/archivos/oral.pdf (Date accessed 23th October, 2008).
Iancu, M. (1997) 'Adapting the Adjunct Model: A Case Study,' in Snow, M. and D. Brinton
(eds.) The Content-Based Classroom. White Plains: Longman.
Khami-Stein, L. (1997) 'Enhancing Student Performance through Discipline-Based
Summarization-Strategy Instruction,' in Snow, M. and D. Brinton (eds.) The Content-Based
Classroom. White Plains: Longman.
Lucietto, S. (2008) 'CLIL, un'innovazione tutta europea', in Lucietto, S. (ed.)…e
allora…CLIL! .Trento: Editore Provincia Autonoma di Trento-IPRASE del Trentino.
Met. M. (1999). Content-based instruction: Defining terms, making decisions. NFLC
Reports. Washington, DC: The National Foreign Language Center. At
http://www.carla.umn.edu/cobaltt/modules/principles/decisions.html (Date accessed 24th
October, 2008)
Murphy, J. and F. Stoller (eds.) (2001) 'Sustained-Content Language Teaching. An
Emerging Definition.' TESOL Journal 10/2-3:3-4.
Navès, T. (2000) Grid of CBI and CLIL. At www.ub.es/filoan/CLIL/CLILbyNaves.htm (Date
accessed 27th October, 2008)
Peachey, N. (2003) Content based instruction. At
http://www.teachingenglish.org.uk/think/articles/content-based-instruction (Date accessed
22th October, 2008).
Powell, P. and R. Ponder (2001) 'Sourcebooks in a Sustained-Content Curriculum.' TESOL
Journal 10/2-3:18-22.
Salatin, A. (2008) 'Presentazione,' in Lucietto, S. (ed.) …e allora…CLIL! .Trento: Editore
Provincia Autonoma di Trento-IPRASE del Trentino.
Shang, H. (2006) 'Content-based Instruction in the EFL Literature Curriculum'. The Internet
TESL Journal, XII: 11, at http://iteslj.org/Techniques/Shang-CBI.html (Date accessed 20th
October, 2008).
Sticht, T. (nd) The Theory Behind Content-Based Instruction. At
http://www.ncsall.net/?id=433 (Date accessed 20th October, 2008).
Stoller, F. (2002). Content-Based Instruction: A Shell for Language Teaching or a
Framework for Strategic Language and Content Learning? At
http://www.carla.umn.edu/cobaltt/modules/strategies/Stoller2002/READING1/stoller2002.ht
m (Date accessed 24th October, 2008).
Swain, M. and Johnson, R. (1997) 'Immersion education: A category within bilingual
education', in Johnson, R., and M. Swain (eds.) Immersion Education: International
Perspectives. New York: Cambridge University Press.
Troncale, N. (nd) Content-Based Instruction, Cooperative Learning, and CALP Instruction:
Addressing the Whole Education of 7-12 ESL Students. At http://journals.tclibrary.
org/index.php/tesol/article/viewFile/19/24 (Date accessed 22th October, 2008).
Whitney, N. (2002) Dream Team 3. Oxford: Oxford University Press.
Wolff, D. (1999) 'Languages across the curriculum: A way to promote multilingualism in
Europe,' in Gnutzmann, C. (ed.) Teaching and Learning English as a Global Language.
Tübingen: Stauffenburg Verlag.
Wolff, D. (2002) 'Content and language integrated learning: a framework for the
development of learner autonomy,' in Little, D., Ridley, J. and Ushioda, E. (eds.) Learner
Autonomy in the Foreign Language Classroom: Teacher, Learner, Curriculum and
Assessment. Dublin: Authentik.
Wood, N. (2004) Perspectives on Argument. Upper Saddle River: Pearson.
APPENDIX 1: Critical Thinking, sample syllabus
CRITICAL THINKING
SYLLABUS with BIBLIOGRAPHY 2007 (students will have underlined material)
Set One
1- What is Critical Thinking? (Fisher, 2004: 1-14).
2- A perspective on argument (Wood, 2004: 3-20).
3- Argument style (Wood, 2004: 41, 47, 49-61).
4- The structure of an argument (Diestler, 1998: 3-11, 12-13).
5- Considering some issues 1 (Numrich, 1995)
- Give me my place to smoke.
- Gang violence
- Facing the wrong end of a pistol
Set Two
1- Logic at a glance.
2- The language of reasoning (Fisher, 2004: 15-32)
3- Assumptions (Diestler, 1998: 78-80; 47-50)
4- Deductive reasoning (Diestler, 1998: 80-100)
5- Inductive reasoning (Diestler, 1998: 101-222)
6- Considering some issues 2 (Numrich, 1995)
- Is it a sculpture, or is it food?
- Women caught in the middle of two generations.
- What constitutes a family?
Set Three
1- The Toulmin Model: the essential parts of an argument (Wood, 2004: 126-145;
146-151).
2- Types of claims (Wood, 2004: 159-196; Fisher, 2004: 82-105).
3- Types of proof (Wood, 2004: 199-218, 220).
4- Fallacies (Wood, 2004: 231-237; Diestler 1998: 224-261).
5- Considering some issues 3 (Numrich, 1995)
- Green consumerism.
- Finding discrimination where one would hope to find relief.
Set Four
1- Rogerian argument and common ground (Wood, 2004: 251-259).
2- Visual and oral argumentation (Wood, 2004: 394-411).
3- The power of language and the language of power (Diestler, 1998: 264-307).
4- Suggestion in media (Diestler, 1998: 310-340; 341-353).
5- Writing a research paper that presents an argument (Wood, 2004: 294-382).
APPENDIX 2: A lesson on Knowledge-Science-Education, March 2008 (what follows is a sketch of what was done in class)
1. Remind stu of booklet for this year
2. Introduce topic. Elicit answers by asking What is knowledge? How has knowledge been
divided and put in black and white?, brainstorm ideas, invite stu to write on the board.
3. Ask students to work in groups of three. Answer these questions:
1- We generally divide sciences into two broad groups. Which are they?
2- Give five examples of each category.
3- What are the features of each group? What makes them distinctive?
4- Why do some people say that Natural Sciences are more scientific and
factual even truer than Social Sciences?
5- What's the difference between rationalism and empiricism?
6- How do we imagine a typical scientist? Personality? Appearance?
7- Why is it said that science and feelings are incompatible?
8- What's the role of education as regards Science?
9- How can you 'murder' innocence in young learners?
10- How important is imagination for you? And for scientists?
11- Are you more logical that imaginative or the opposite?
4. Plenary: compare answers and make general comments.
5. Pairwork: listen to the song GOODBYE MR. A, and edit the lyrics (handout). There are ten
wrong words. Then compare answers with another group.
6. All together: listen again and correct. How can you relate this song to today's topic?
Goodbye Mr A (The Hoosiers, 2007) EDITED VERSION
There's a hole in your logic
You who know all the answers
You claim science ain't magic
And expect me to buy it
Goodbye Mr A
You promised that you would love us
But you knew too much
Goodbye Mr A
You had all the answers but no human touch
If life is subtraction your number is up
Your love is a fraction it's not adding up
So busy showing me where I'm wrong
You forgot to switch your feelings on
So so superior are you not?
You'd love a little bit but you forgot
(repeat chorus)
Goodbye Mr A
The world was full of wonder
Til you opened my eyes
Goodbye Mr A
Wish you hadn't blown my mind
And killed the surprise
(repeat chorus)
© 2011 by Dario Banegas.
------------------------------------------------------------------------