21.-        2011 URUTESOL BIENNIAL CONVENTION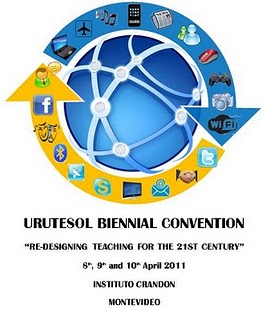 Uruguayan Teachers of English to Students of Other Languages.
CALL FOR PAPERS.
The Call for Papers to be presented at our biennial convention "Redesigning Teaching for the 21st Century" on 8th, 9th and 10th April 2011 is now open. We hereby invite aspiring speakers to submit their proposals for the consideration of the Academic Committee.
If you have something you want to share with colleagues and friends, click on the image or the link below and fill out the form. We will contact you back as soon as it has been evaluated to coordinate further details.
Deadline for submissions is 30th November 2010.
If you require further assistance or need to contact us for any other reason, do not hesitate to write to us to urutesol@gmail.com or follow the convention blog: www.urutesol.blogspot.com.
"URUTESOL: The association of teachers of English you can be proud of."
------------------------------------------------------------------