SHARE
An Electronic Magazine by Omar Villarreal, Marina Kirac and Martin Villarreal ©
Year 9                 Number 190          August 17th 2008

12,874 SHARERS are reading this issue of SHARE this week
__________________________________________________________
Thousands of candles can be lighted from a single candle, and the life of the candle will not be shortened. Happiness never decreases by being SHARED
__________________________________________________________
Dear SHARERS,
The 2008 SHARE Convention is over and to say that it was a huge success has the distinctive smell of commonplace and of the kind of marketing gimmick that our profession (through painful over exposure in these last few years) has learnt to readily identify and despise.
They say that strength is in numbers, if this is true, then, 637 participants might probably paint a fairly accurate picture of what the Convention was. But, it is not precisely the number of participants (though we are deeply indebted to each one of them) that have contributed to this sense of achievement that we experience today.
What makes us feel more than satisfied is the certainty of having accomplished what we had promised our SHARERS that they could expect from our Convention: a highly academic environment for professional development in the care of real teacher trainers and specialists and, not less importantly, the cosiness of feeling "at home" in the company of other teachers who shared their passion to learn in what for our family will always be three unforgettable days.
And, even if it sounds repetitive, allow us to finish this editorial with the same words we used in the introduction of our Convention booklet:
"…to you dear SHARERS, from the bottom of our hearts, a big Thank You for your unfailing loyalty, for helping us to celebrate teaching and learning together, for being here with us once again and for being there for us ALWAYS!"
Welcome home!
Welcome to SHARE!
Love
Omar and Marina
PS: Our specially gratitude to the SHARERS who came from the hinderland of the Province of Buenos Aires and from Córdoba, Jujuy, Salta, Santiago del Estero, La Rioja, Corrientes, Misiones, Rio Negro, Chubut, Neuquén and…Santa Fé.
As well as those who came from neighbouring countries: Brazil, Chile, Uruguay or from a long way off as Tim Warren who came (for the second time) all the way from Hong Kong.
______________________________________________________________________
In SHARE 190
1.-    Use of the L1 During Consciousness-Raising, Form-Focused Tasks
2.-    Authority in the ELT Classroom
3.-    The Future of Reading: Online, Are you really reading?
4.-    Advanced Vocabulary in Context: Beating Unwanted Fat
5.-    English & Fun : VI International ELT Forum
6.-    Curso de Literatura Infantil y Juvenil en Lengua Inglesa
7.-    Jornada de Actualización Profesional para Traductores
8.-    Workshops at "At Home – Buenos Aires"
9.-    Workshops in Posadas, Misiones
10.-   On The Road's Updates
11.-   Entrance Course at Profesorado Nro 8 "Guillermo Brown",Santa Fé
12.-   First Studio Institute: Online Courses
13.-   Seminars by Herbert Puchta in Buenos Aires
14.-   Workshop on "Translating for Profit"
15.-   Jornada de Actualización de la Fundación Litterae
16.-   Taller de escritura narrativa at T.S. Eliot Bilingual Studies
17.-   Terceras Jornadas de Capacitación Profesional de Expolenguas
18.-   Taller de Juegos para Profesores de Español a Extranjeros
19.-   The Suburban Players: Acting Workshops
20.-   Seminar: From Story Reading to storytelling
21.-   Net Learning: Video Conferencia Abierta
------------------------------------------------------------------------

1.- USE OF THE L1 DURING CONSCIOUSNESS-RAISING, FORM-FOCUSED TASKS
What's the Problem? L2 Learners' Use of the L1 During Consciousness-Raising, Form-Focused Tasks
Virginia M. Scott
Department of French and Italian
Vanderbilt University
María José De La Fuente
Department of Romance, German, and Slavic Languages and Literatures
George Washington University
Abstract
This qualitative study provides preliminary insight into the role of the first language (L1) when pairs of intermediate-level college learners of French and Spanish are engaged in consciousness-raising, form-focused grammar tasks. Using conversation analysis of audiotaped interactions and stimulated recall sessions, we explored the ways students used the L1 and their second language (L2) to solve a grammar problem. Students who were allowed to use the L1 (Group 1) worked collaboratively in a balanced and coherent manner; students who were required to use the L2 (Group 2) exhibited fragmented interaction and little evidence of collaboration. Findings from the stimulated recall sessions suggested that reading, thinking, and talking appeared to be simultaneous and integrated processes for the students in Group 1, whereas these processes appeared to be sequential and competing for the students in Group 2. In addition to suggesting that using the L1 for these kinds of tasks reduces cognitive overload, these findings invite teachers to tackle the "problem" of the L1 in the foreign language classroom.
Recent attention to the role of the first language (L1) in second language (L2) learning has challenged long-held anti-L1 attitudes that have dominated foreign language (FL) pedagogy for several decades.1 In particular Cook (1999, 2001), basing his idea on the premise that the L1 and the L2 coexist collaboratively in the learner, set forward the notion that L2 learners should be viewed as multicompetent language users rather than as deficient L2 users when compared to native speakers. Although this notion goes against communicative language teaching approaches that focus on the primary importance of L2 input and L2 interaction in L2 learning, it offers applied linguists and FL teachers the opportunity to grapple with the "problem" of the L1.
For more than 30 years, FL teachers have been in general agreement that the target language should be used as much as possible in the FL classroom. The teacher is, generally, the primary source of target language input and is therefore responsible for maximizing its use in the classroom. In fact, the measure of an FL teacher's success often is related to his or her ability to conduct the entire class in the target language (Koike & Liskin-Gasparro, 1999; Valdés, 1998). Some researchers have argued, however, that using the L1 in the classroom may facilitate L2 acquisition (Antón & DiCamilla, 1998; Artemeva, 1995; Cook, 1999, 2001; Levine, 2003). Yet, there is no agreement on this subject, and questions abound: When should the L1 be used? What is productive use of the L1, and what is too much? Is the use of the L1 a hindrance or a help in L2 acquisition?
Theoretical Perspectives on the use of L1 in L2 Learning
According to Atkinson (1993), the belief that L2 teachers and learners should use only the L2 in the classroom is founded on the notion that acquisition is better than learning. Referring to Krashen's (1988) monitor theory,2 Atkinson pointed out that approaches to teaching FL that focused on a subconscious and spontaneous development of L2 competence (which was much like the way in which children acquire their L1) gained in favor over rule-governed approaches to developing L2 competence. Several well-known approaches to FL teaching stress the importance of using the L23 and implicitly suggest that using the L1 may be detrimental to the acquisition process. Although nearly exclusive use of the L2 in FL teaching has been an unspoken rule since grammar translation approaches were largely abandoned in the 1960s, Atkinson argued that there was no research to support the requirement for L2 use 100% of the time.
Krashen's theories have played a significant role in underscoring the importance of using the L2 in FL teaching,4 and most practitioners would agree with this stance. Cook (2002) contended, however, that regardless of whether a language is acquired in an immersion or in a classroom setting, the L1 and the L2 (and the L3, etc.) relate in some way. In addition, Cook (2001) argued that the L1 may serve a useful purpose in FL teaching, particularly in task-based learning approaches: "Through the L1, they [students] may explain the task to each other, negotiate roles they are going to take, or check their understanding or production of language against their peers" (p. 418). Belz (2002) endorsed Cook's position on classroom FL teaching, and added that "L1 and/or multiple language use may provide insight into the ways in which multicompetent language users inhabit and relate to a pluralistic, multilingual world" (p. 216), creating "third places from which they could both play with and reflect on multiple linguistic identities" (p. 234).
In recent decades, an increasing number of studies have shown that multilingual functioning is a normal process that involves a nearly subconscious interaction between or among a person's different languages. Research on cognition and multilingual functioning has supported the view that two (or more) languages interact collaboratively in understanding and speaking both languages (de Bot, 1992, 1993; de Groot, 1993; Fabbro, 1999; Grosjean, 1997; Hermans, Bongaerts, de Bot, & Schreuder, 1998; Kroll, 1993; Kroll & Sunderman, 2003; Kroll & Tokowicz, 2001). Of particular interest is Paradis's (2004) notion that bilingual functioning involves a complex set of independent systems (i.e., pragmatic, linguistic) that collaborate at every step of the microgenesis of an utterance. Indeed, there is some question as to whether bilingual people need, or are even able, to suppress their L1 during L2 retrieval tasks (Hermans et al., 1998).
Research on L2 Learners
Most research on the role of the L1 in L2 learning has been conducted from an interactionist perspective. Using this framework, various studies of L2 learners engaged in a variety of FL classroom activities have suggested that use of the L1 may make an important contribution to L2 learning. For example, Brooks and Donato (1994) incidentally found that metatalk (language talk to reflect on language use) in the L1 was productive in sustaining verbal interaction. Moreover, in a study on cooperative learning and small group work, Brooks, Donato, and McGlone (1997) observed that communication problems were often resolved when the learners reverted to the L1. Similarly, Swain and Lapkin (1998) found that the L1 was a "mediational tool fully available to [learners], to regulate their own behavior, to focus attention on specific L2 structures, and to generate and assess alternatives" (p. 333). A more recent study by Centeno-Cortés and Jiménez (2004) addressed the importance of the L1 during problem-solving tasks. They found that, during private verbal thinking—private speech that surfaces during problem-solving tasks, intermediate and advanced L2 learners of Spanish used both Spanish and their L1, English. Furthermore, they noted that although most of the advanced learners were able to use the L2 during the reasoning or problem-solving stage of the tasks, the intermediate learners conducted this process in their L1. The researchers concluded that "private verbal thinking plays a crucial role in the case of L2 speakers engaged in problem-solving, and therefore it should be recognized as very important in the process of learning" (p. 31).
Using a sociocultural interactionist approach to study how learners use the L1 when engaged in a collaborative meaning-based L2 language task, Antón and DiCamilla (1998) noted the benefits of L1 use for scaffolding and establishing interparticipant relations, in addition to its role in private speech. In particular, their study showed that the learners used their L1 to externalize their inner speech during a writing task. Drawing on a similar theoretical framework, Tomlinson (2000) stressed the importance of the inner voice in L2 learning. His findings indicated that L2 learners make use of an L1 inner voice, often failing to develop an L2 inner voice. Although Tomlinson's goal was to underscore the importance of helping L2 learners develop an L2 inner voice, in this article he proposed that we "find out how we can help learners of an L2 to make use of their L1 inner voice" (p. 150). Storch and Wigglesworth's (2003) study of English as a second language students working on writing tasks, also conceptualized within a sociocultural framework, investigated to what extent the students used the L1, what particular functions the L1 served, and the students' attitudes toward L1 use in the L2 setting. Their findings indicated that use of the L1 was significantly linked to the students' attitudes about the importance of using the L2 in the classroom setting. When the students used their shared L1s, they reported that it was useful for task management, task clarification, determining meaning and vocabulary, and explaining grammar.
These studies confirmed what most teachers already know: L1 use occurs in some form in the FL classroom. Students use the L1 to clarify vocabulary and meaning, to discuss grammar points, and to manage many kinds of classroom tasks. Chavez's (2002) analysis of FL students' views on classroom language use revealed that they did not consider the classroom a social arena or a simulation of the target culture in which the L2 should be used all the time. Rather, they preferred classroom speech that included using both the L1 and the L2 to achieve learning goals. In response to this pervasive use of the L1, Levine (2003) concluded that denying a role to the L1 is futile and that learners should play an active role in managing the use of the L1 and the L2 to create bilingual norms that are typical of multilingual environments outside the classroom. Moreover, he made a case for using the L1 as the marked code in the classroom to relieve anxiety. Furthermore, Macaro (2001) argued that no study has been able to demonstrate a relationship between exclusion of the L1 and improved L2 learning.
Collaborative, Form–Focused Tasks and L2 Learning
Given the need for a more informed understanding of the role of the L1 in L2 learning, the current study was designed to examine how students use the L1 when they are asked to work collaboratively on form-focused tasks (Ellis, 1991, 2003).5 The benefits of collaborative tasks for both research and pedagogical purposes are well known (Bygate, Skehan, & Swain, 2001; Ellis, 2003; Long & Porter, 1985; Pica, 1994). In a classroom setting, these kinds of tasks offer students the opportunity to produce output, negotiate meaning, and focus their attention on L2 features they do not know. Form-focused tasks, which target the use of particular, predetermined L2 features, also may be done collaboratively. Swain and Lapkin (1998) argued that it is important to design output tasks that draw learners' attention to grammatical forms. They stated that such output tasks, during which students engage in collaborative dialogue in either the L1 or the L2, may be beneficial specifically because they stimulate reflection and metatalk about the L2. Although different task types may prompt students to use the L1 to different degrees (Swain & Lapkin, 2000), it has been documented that form-focused, language-related episodes tend to prompt switching to the L1. Swain (1998) defined language-related episodes as "any part of a dialogue in which students talk about the language they are producing, question their language use, or other- or self-correct" (p. 70).
One way to construct a focused task is to make the L2 itself the content of the task. Ellis (1991) called these activities consciousness-raising (CR) tasks. Consciousness-raising instruction (Ellis, 1991; Rutherford & Sharwood Smith, 1985) recognizes that learner acquisition of grammatical aspects of an L2 takes place over time and in developmental sequences. Thus, consciousness-raising activities aim to promote awareness of new target language items. The value of consciousness-raising tasks in the FL classroom is that they may provide opportunities for the explicit learning6 of specific linguistic features, and, as Ellis (2003) explained, they "may even be necessary to ensure the acquisition of certain grammatical features" (p. 150). The outcome of a consciousness-raising task is, therefore, awareness and discovery of how a specific structure works. By talking about the linguistic form as an object, learners reflect on the form.
Various studies have shown the benefits of consciousness-raising tasks (Fotos, 1993; Fotos & Ellis, 1991; Mohammed, 2001). Mohammed (2001) observed, however, that consciousness-raising tasks may work better with high intermediate or advanced learners because these learners are more capable of engaging in the kind of sophisticated metalinguistic talk that is needed to accomplish the task than learners with a lower proficiency. Although this observation implicitly suggested that learners should use the L2 when engaged in consciousness-raising tasks, research has indicated that the L1 may be crucial in regulating thinking and in enabling learners to acquire new knowledge (Brooks & Donato, 1994). According to Brooks and Donato (1994), L1 use "is a normal psycholinguistic process that facilitates L2 production and allows the learners both to initiate and sustain verbal interaction with one another" (p. 268). Thus, learner use of the L1 during consciousness-raising tasks may be effective not only for priming L2 learning, but also for regulating thinking. These functions of the L1 clearly fit well with the overall rationale for the task-based learning approach, which posits that learners acquire the L2 through tasks, or through doing something. The problem is, however, that researchers and teachers have largely discouraged learners' natural tendencies to invoke the L1 during cognitively demanding tasks and that current pedagogy does not recognize the potential role of the L1 in the task-based FL classroom. As Cook (2001) pointed out, "bringing the L1 back from exile … may liberate the task-based learning approach so that it can foster the students' natural collaborative efforts in the classroom through their L1 as well as their L2" (p. 419).
Methods
Research Questions
This qualitative exploratory study was designed to provide insight into the role of the L1 when L2 learners are engaged in consciousness-raising, form-focused tasks. Two fundamental questions guided our inquiry:
1. How do learners use the L1 while working collaboratively in pairs on consciousness-raising, form-focused tasks in the L2?
2. What are the effects of prohibiting the use of the L1 when learners are working collaboratively in pairs on consciousness-raising, form-focused tasks in the L2?
Because the researchers teach in two different departments (French and Spanish), 12 students of French and 12 students of Spanish participated in the study. Participants were selected based on their native languages and prior experience with French or Spanish. English was the L1 for all participants, and prior language learning in French or Spanish in high school or college, or both, ranged from 2 to 5 years. All 24 intermediate-level (third-semester) college students volunteered to participate in the research project and signed voluntary participation forms. Of the 24 participants, 7 participants were male, and 17 were female. The students were randomly divided in pairs: 6 pairs of French language learners and 6 pairs of Spanish language learners.
Materials
In designing the tasks for this study, we used Ellis's (1991) description of consciousness-raising tasks in which (a) a linguistic point is isolated for focused attention, (b) the learners are provided with data that illustrate the targeted form, (c) the learners need to make a cognitive effort to understand the targeted feature, and (d) the learners may be required to verbalize a rule. The task designed for this study required the learners to talk about a specific grammar structure and to articulate a grammar rule in their L1.
We designed the same consciousness-raising grammar task for both French and Spanish (see Appendixes A and B). The goal of the task was to raise the students' awareness of and elicit conscious reflection on a grammatical structure through a focus on the difference between the relative pronouns que and dont in French, and que and cuyo/a/os/as in Spanish. In French, que can be translated as 'that' or 'whom'; dont can be translated as 'of which,''of whom,' or 'whose.' For the purposes of this study, however, dont was used only when it meant 'whose.' In Spanish, que can be translated as 'that' or 'whom'; cuyo can be translated as 'whose.' Although students at the intermediate level are generally familiar with the relative pronouns que in French and Spanish, we know from our teaching experiences that the relative pronouns dont and cuyo/a/os/as are often difficult for students to learn and use spontaneously. In general, students of French and Spanish at this level of study do not fully understand the differences between these pronouns.
Procedures
Each pair of students (6 pairs of French students and 6 pairs of Spanish students) met with the investigator (either French or Spanish) in a small classroom. They were given a text containing the targeted structures used in context (see Appendixes A and B). The targeted structures were enhanced (in boldface type), and they each appeared three times in the text. The learners were asked to read the text and interact with each other to figure out both the meanings of the two targeted structures and the usage differences between them. The outcome of their task was to be a verbalized, written rule describing the meaning of the two forms and how they were used in the target language—French or Spanish.
The students were randomly divided into two groups: 3 pairs of French students and 3 pairs of Spanish students were assigned to Group 1, and the other 6 pairs (3 French and 3 Spanish) were assigned to Group 2. The students in Group 1 were allowed to use the L1 (English) to complete the task; the students in Group 2 were instructed to use only the L2 (French or Spanish). Time on task for both groups was limited to 5 minutes. Immediately following the interaction, each student was asked to write a rule in the L1 for both the meaning and function of the targeted structures. The main purpose of this written activity was to keep the students on task; the written products were not part of the data analysis for this study. After the students wrote the rule, the investigators asked them to reflect on their interactions while they were engaged in solving the problem.
Data Collection Procedures
All 12 interactions (6 French and 6 Spanish) were videotaped. Immediately after the task, the investigators (one for French and one for Spanish) showed each pair of students the videotape of their interaction and engaged them in a 20-minute stimulated recall session. The investigators asked questions and encouraged the students to pause the video whenever they wanted to comment on any of their taped interactions. Each of the 20-minute stimulated recall sessions was conducted in English and also was videotaped for later analysis.
Data Analysis Procedures 
We analyzed the 5-minute talk-in-interaction sessions of the student pairs who were allowed to use the L1 and transcribed the portions of the sessions that offered specific insights into the uses of the L1 to solve the grammar task. Similarly, we analyzed the 5-minute talk-in-interaction sessions of the student pairs who were required to use the L2 and transcribed the portions of the sessions that offered specific insights into the effects of the exclusive use of the L2. We then identified, transcribed, and analyzed relevant portions of the corresponding videotaped stimulated recall protocols to determine how the learners described their use of either the L1 or the L2 while working on the task and to gain insight into their cognitive processing.
Findings and Discussion
To answer our first research question (How do learners use the L1 while working collaboratively on consciousness-raising, form-focused tasks in the L2?), we compared both the talk-in-interaction and the stimulated recall reflections of the students who were allowed to use the L1 (Group 1) to those of the students who were required to use the L2 (Group 2). Our analysis revealed both similarities and differences. In order to assess the effects of prohibiting the use of the L1 when the learners were working on consciousness-raising, form-focused tasks in the L2 (our second research question), we compared the stimulated recall sessions of the students in Group 1 with those of the students in Group 2.
Similarities Between Groups 1 and 2
The analysis of the talk-in-interactions revealed general similarities between the students who were allowed to use the L1 (Group 1) and the students who were required to use the L2 (Group 2). Above all, both groups responded similarly to the task in that they understood the purpose of the task, they focused their attention on the enhanced structures, and they talked about the structures. In addition, 10 pairs of students reported during the stimulated recall sessions that they did not consider the content of the passages to be the subject of the interaction; only 2 of the 12 pairs of students made reference to the content of the passages about Aix-en-Provence or Cuzco. Because the content seemed irrelevant to the students, they did not concentrate their attention on discourse-level analyses but rather focused on sentence-level, form/meaning processing to execute the task.
The most important similarity between the two groups was that the L1 played an important role in the students' performance of the task. The stimulated recall sessions indicated that, regardless of the language of interaction, the students tried to complete the task by translating the enhanced structures into English (L1) in order to determine their meaning. The following excerpt is typical of the students in Group 1, who openly acknowledged that translation was an important strategy for solving the task.
Excerpt 1
S1: I read the sentence and then translated it into English … because everything is positioned different in English.
S2: I pretty much do the same but then I found myself going back and going word for word around 'que' and 'cuyo'… and then I figured it out.
The same translation strategy was evident among the students in Group 2. In the following excerpt, 2 students in Group 2 respond to the investigator's question about what they were thinking during a long silence.
Excerpt 2
Investigator: What were you thinking about?
S1: Processing the words and translating them pretty much.
Investigator: Are you translating every single word?
S1: Uh … no really … just 'que' and 'dont.'
S2: I thought the text was pretty simple so I kinda just read it straight through and probably most of the time wasn't just as focused on the text as … (laughing) … how am I going to explain in French the difference between 'que' and 'dont'? So, I was really, mostly while I was reading it, I was thinking of 'que' and 'dont,' uh, in English, and I was trying to figure out if I knew all those words in French…. I was gonna say 'introduce a description,' but then I decided to go with 'makes a description.'
Similarly, Excerpt 3 from a stimulated recall session indicates the students' compliance with the "Spanish only" rule for the task, but presents a forthright admission that English (L1) was consistently present.
Excerpt 3
We did not say that 'que' is 'that' and 'cuyo' is 'whose' because you said we could not use any English … but I knew that, I did it in my head, I mean, when I read "una ciudad que" I translated in my head 'a city that' I mean, I still think in English.
The stimulated recall sessions indicated clearly that all students—those who were required to use the L2 as well as those who were allowed to use the L1—relied on the L1 to carry out the task.
The analyses of the talk-in-interactions of the students in Group 1 provided clear evidence of the role of translation. The interactions in the L1 supplied repeated examples of students saying such things as "que is like that,""dont means which,""cuyas is whose." In some cases, such as in Excerpt 4, the interactions in the L2 reveal the same translation strategies and reliance on the L1.
Excerpt 4
S1: Pues … yo pienso que 'que' is like 'that' in English, you know? Like "una ciudad que muchas turistas visitan" is like …es como'a city that many tourists visit.' It's the same thing, right? I mean, en español, es la mismo cosa, ¿sí?
S2: Sí, sí, y también "los turistas que yo veo" es…
S1: the tourists that I see …
S2: that I see … right …Sí!…
S1: 'cuyas' is …es…'whose,' like 'whose' in English, porque "ciudad cuyas ruinas"… city whose ruins …
S2: Yes, Sí, y … un amigo (reading the passage) whose name is Roberto …
(Translation:
S1: Well … I think that 'que' is like 'that' in English, you know? like "a city that many tourists visit" is like … is like 'a city that many tourists visit.' It's the same thing, right? I mean, in Spanish, it's the same thing, right?
S2: Yes, yes, and also "the tourists that I see" I …
S1: the tourists that I see …
S2: that I see … right … Yes!…
S1: 'cuyas' is … is …'whose,' like 'whose' in English, because "city whose ruins"… city whose ruins …
S2: Yes, yes, and … a friend (reading the passage) whose name is Roberto …)
Several students in Group 2 avoided both code-switching and using the L1 openly during their interactions, and their conversations were characterized by long, uncomfortable silences. Other students in Group 2 openly said, for example "Je veux parler anglais" (I want to speak English). Ultimately, both the stimulated recall sessions and the talk-in-interaction sessions of both Groups 1 and 2 indicated that all students used the L1 to determine the meaning of the targeted forms.
Differences Between Groups 1 and 2
A comparison of the talk-in-interactions of Groups 1 and 2 revealed four important differences (see Table 1). First, there was a difference in the fluidity of their interactions. Pairs in Group 1 engaged in smooth, continuous interaction. They talked while reading and reviewing the passage, and while discussing the target structures. By contrast, the interactions of pairs in Group 2 were characterized by frequent pauses and fragmented interaction. The students in Group 2 often laughed nervously and looked out the window during pauses, some of which went on for nearly 2 minutes. Although the majority of the students in Group 1 verbalized their thoughts in the L1, the students in Group 2 who were trying to use only the L2 had to translate their L1 thoughts into the L2 in order to be able to share them with their conversation partners.
<![if !vml]>

<![endif]>
Excerpt 5
S1: Yo pienso que la uso de 'que' es… (long silence) …es use cuando tú… (long silence) …ten…tengas un sujeto… (long silence)
S2: …sujeto, sí y…¿una cosa?
S1: … (long silence) Ummmm dos sujetos… (long silence)
S2: Oh, sí, sí…
S1: … (long silence) que sirve de un conexión… (long silence)
(Translation:
S1: I think that the use of 'que' is … ([long silence]… is used when you …[long silence]… ha … have a subject …[long silence]
S2: … subject, yes, and … a thing?
S1: …[long silence] Ummmm two subjects …[long silence]
S2: Oh, yes, yes …
S1: …[long silence] that serves as a connection …[long silence])
In this excerpt, S1 abandoned interaction right after this exchange and, when asked during the stimulated recall session about this particular episode and her silences, she responded:
Whenever I started speaking in Spanish I had to stop because I had to think of the words to use before I speak … it does not come just naturally to me…. I was trying to see if I could come up with something else and I could explain it to him … like I realized that these forms agree, but I did not know how to explain it…. I was looking for the Spanish words, the right equivalent, to speak …
During the stimulated recall sessions, several students in Group 2 voiced their frustrations while describing the reasons for their hesitations and silences:
Excerpt 6
S1: I had the vocabulary to talk as I would in English, so I was trying to find the best way to explain …
S2: We both knew what it is and we can't say it.
S3: Here I am just trying, you know, to explain more the difference … but I just … could not…. It was very frustrating.
The second important difference between the two groups was the degree to which the conversation was balanced. Students in Group 1 participated nearly equally in the interaction, taking turns, often offering comments such as "I don't know," or "could it be," or "I don't think I have seen this word before." In all pairs of students in Group 2, however, the conversation was unbalanced with one student dominating the conversation. In the following example, S1 is controlling the interaction, and S2's contributions are limited to affirmations.
Excerpt 7
S1: Creo que 'cuyo,''cuyas' es posesión.
S2: Sí.
S1: ¿Sí? Es como (reading) "los visitantes cuyo interés…"
S2: Right.
S1: ¿Sí?
S2: Sí.
S1: Es una relación entre los dos … o "la ciudad cuyas ruinas" porque la ciudad tiene ruinas…
S2: Mmm, uh, sí…
S1: Pero cuando usas 'que' es más una relación entre los dos … no posesión.
(Translation:
S1: I think that 'cuyo,''cuyas' is possession.
S2: Yes.
S1: Right? It is like (reading) "the visitors whose interest …"
S2: Right.
S1: Yes?
S2: Yes.
S1: It is a relationship between the two … or "the city whose ruins" because the city has ruins …
S2: Mmm, uh, yes …
S1: But when you use 'que' is more a relationship between the two … not possession.)
During the stimulated recall session, S2 from this excerpt reported:
I am just listening to what he is saying…. I know the explanation but I just can't explain it in Spanish so I listen to him and if he says more or less the same things I would say, I say yes or nod my head a lot … you can see.
Her frustration is clearly not linked to her understanding of the structure, but rather to her inability to articulate an explanation in Spanish. In this instance, S1's proficiency in Spanish allows him to talk more and may create the illusion that he knows more about the target structure than S2 does.
The fragmented, unbalanced interactions between the student pairs in Group 2, as shown in the previous examples, inhibited their capacity to engage in collaborative dialogue.7 This third difference between Groups 1 and 2 is central among our findings in this study. When required to interact exclusively in the L2, the students were generally less successful at collaborating productively to work on the task. The following excerpt clearly shows two individuals struggling side by side.
Excerpt 8
S1: Si … si éste tiene un 'cuyo,'¿qué escribimos aquí para completir?"Cuzco es una ciudad cuyo"… or …no…tiene el 'cuyo'…
S2: 'cuyo' va…con este, esto verbo…
S1: Sí…cuyo…
S2: …con este…sus…sustantivo…
S1: Yeah, sí…es un…es un…es todo diferente…necesitas cambiar todo para… (long silence)
(Translation:
S1: Yes … if this one has a 'cuyo,' what do we write here to complete?"Cuzco is a city cuyo"… or … no … it has the 'cuyo'…
S2: 'cuyo' goes … with this, this verb …
S1: Yes …cuyo…
S2: … with this … no … noun …
S1: Yeah, yes … it is a … it is a … it is all different … you need to change everything to …[long silence])
Although this excerpt is typical of students in Group 2, there was one pair of students whose level of proficiency in Spanish was high enough to support collaborative exchange:
Excerpt 9
S1: En mi opinión, el mejor diferencia en 'que' y 'cuyo' es las palabras después.
S2: Sí, sí…ahhh, 'cuya, cuyo, cuyas' se usa para describir características
S1: Sí y objetos…
S2: Es un adjetivo…
S1: Sí…sí
S2: Sí, un adjetivo…que…
S1: que describe un…nombre
S2: sustantivo…
S1: …o un sustantivo, sí
(Translation:
S1: In my opinion, the greatest difference between 'que' and 'cuyo' is the words [that go] after.
S2: Yes, yes … ahhh, 'cuya, cuyo, cuyas' is used to describe characteristics
S1: Yes, and objects …
S2: It is an adjective …
S1: Yes … yes
S2: Yes, an adjective … that …
S1: that describes a … name
S2: noun …
S1: … or a noun, yes)
Although Excerpt 9 suggests that S1 and S2 were capable of working on the task collaboratively while using the L2 exclusively, their interactions are brief and telegraphic. It is not surprising that the students in Group 1 were able to engage in collaborative dialogue characterized by longer and more meaningful utterances:
Excerpt 10
S1: 'Que' is like 'that.'
S2: Something like that. 'That' or 'which.'
S1: I translated 'dont' kinda like 'which.'
S2: I translated 'dont' like 'whose.'
S1: 'Whose'? But isn't 'qui''who'?
S2: (Reads sentences in the passage with dont aloud.) It's kinda the same thing …'whose' and 'which.' It seems kind of possessive, but I don't know …
S1: I thought of the word 'donc.'8
This excerpt shows that S1 and S2 agree very quickly on the meaning of que. The next few exchanges show that neither of them is sure about the meaning of dont and that they engage in productive hypothesis testing together. By the end of the interaction, they come to a mutual agreement about the meaning of dont and express satisfaction with their work. Overall, use of the L1 helped the students maintain an equal level of collaboration, engage productively in a problem-solving activity, and build on each other's explanations to solve the task.
The fourth substantive difference between the groups was the degree to which they used metalinguistic terminology. Although FL teachers may have differing opinions about when and how to use metalinguistic terminology when teaching grammar, this study showed that students try to use grammar terms to explain grammar problems. The students in Group 1 were frequently engaged and relatively confident in talking about the target structures. References to grammatical terms, such as subject pronoun, possessive, preposition, proposition, main clause, and conjunction recurred regularly in their discussions and seemed to help them clarify their understanding of the structures. During the stimulated recall session, one student from Group 1 explained that he felt fairly proficient in conversational Spanish, but did not believe he would be able to talk about grammar in Spanish:
Grammar rules are hard to get in Spanish … if I was trying to explain this in Spanish. Like, I could describe something for you, I could use the vocab that I have … do a lot of stuff in Spanish. But, like explaining a grammar rule … I don't think I can do that in Spanish.
Most students in Group 2 had substantial difficulty using metalinguistic terminology to discuss the target structures. Their attempts to talk about the target structures were clumsy ("de lequel …um … c'est la même chose que dont"[de lequel… um … is the same thing as dont]), unclear ("que et dont sont similaires parce qu'ils les deux fait une description de quelque chose"[que and dont are similar because they both do a description of something]), and incomplete ("creo que cuyo, cuyas es posesión"[I think that cuyo, cuyas is possession]). During the stimulated recall sessions, students in Group 2 expressed their frustrations clearly. One student noted, "I mean, the explaining grammar in Spanish was just not … happening." In the words of another student, "If I had been able to use English, I would have explained it in English…. I could have said, well, this is a noun, this is a verb, this goes here…. I mean if you did not read what I wrote, and just listened to what I said, you would have thought I had no idea … that I did not understand."
Comparison of Stimulated Recall Sessions for Groups 1 and 2
During the stimulated recall sessions, the students were able to explain the strategies they used to work on the form-focused tasks and discuss what they were thinking during the 5-minute talk-in-interaction sessions. As indicated previously, the students in both groups stated that they translated the enhanced structures to determine their meaning. In other words, translation was the dominant strategy used by all students to solve the task. Of particular interest, however, were the students' reports that they talked to themselves throughout the talk-in-interaction sessions. Students in Group 1 stated that they talked to themselves in the L1 while also talking aloud in the L1. This intrapersonal speech9 was both hidden and observable. When the students were talking to themselves out loud—vocalized intrapersonal speech—their voices became softer and reflective, and they appeared to be talking to the task on the page:
Excerpt 11
S1: [Beginning of intrapersonal speech] But … why can't you say 'cuyas' like instead use 'whose many tourists'… ah, that doesn't really make any sense I guess but … like it is always good to know …[end of intrapersonal speech]
[Later in the conversation:]
S1: 'Visitantes' is the subject.
S2: Oh, OK, that's like a … it's like a phrase, like a … like a clause … like a dependent …
S1: a dependent clause …
S2: Yeah, [beginning of intrapersonal speech] because you take that out and say "los visitantes disfrutan"… but then inside you have "cuyo interés"…[end of private speech]. Yeah, that's a clause!
It is evident in this excerpt that S1 and S2 are using their L1 to verbalize hypotheses about the meaning and use of the relative pronouns que and cuyo. At first, S1 is not talking to S2. She asks herself a question and then answers it after a brief pause. Later, S2 tests a hypothesis about the syntax of the sentence they are analyzing. These two examples of intrapersonal speech reveal productive cognitive processes that are experienced as spontaneous and natural.
The students in Group 1 also described being engaged in silent (nonvocalized) intrapersonal speech. One of the French students admitted that she did not know if the word dont was real or invented, but she did not dare voice her doubt aloud. During the stimulated recall session, she confessed what she had been thinking throughout the interaction: "I kept wondering if it's a real word." Another student said "I just wanted to think about the task in English," suggesting that she would have preferred to process the problem internally by talking to herself in English.
Like the students in Group 1, the students in Group 2 also talked to themselves in the L1. There was, however, a significant difference in the content of their intrapersonal speech. Whereas the students in Group 1 talked to themselves about the task, the students in Group 2 talked to themselves on two levels, namely, about the task and about explaining it in the L2. Simply put, they used the L1 to think about the task and plan what to say in the L2. Excerpts from the stimulated recall sessions of two students make this complex cognitive process clear:
Excerpt 12
Most of the time [I] wasn't just as focused on the text as … (laughing) … how am I going to explain in French the difference between 'que' and 'dont'? So, I was really, mostly while I was reading it, I was thinking of 'que' and 'dont,' uh, in English, and I was trying to figure out if I knew all those words in French…. I was gonna say 'introduce a description,' but then I decided to go with 'makes a description.' (French, Group 2)
Excerpt 13
I was trying to say 'one phrase refers to the other phrase' but I did not know how to say 'refers to the previous phrase,' so I was just there trying to figure out a way … and I was nervous so I did not know what to say. (Spanish, Group 2)
The students in Group 2 experienced frustration and indicated openly during the stimulated recall sessions that they had wanted to be able to use the L1.
There is no question that the students in Groups 1 and 2 engaged in different cognitive processes (see Table 2). The students in Group 1 used the L1 to process the L2 input (the task). The specific strategies they used to process the input included translating portions of the passage, recalling what they knew about grammar that might help in understanding the problem, and reviewing the task and information they exchanged. The output, or interaction, also was mostly in the L1. This set of processes—reading, thinking, and talking—appeared to be simultaneous and integrated. Like the students in Group 1, the students in Group 2 used the L1 to translate, recall, and review the L2 input (the task). Unlike the students in Group 1, however, they had the additional task of processing the L2 output. They used the L1 to translate and plan what they were going to say in the L2. This set of processes—reading, thinking, and talking—appeared to be sequential and competing. That is, the students in Group 2 had an added cognitive burden: In order to complete the task, they had to solve the problem and plan how to explain it in the L2.10
<![if !vml]>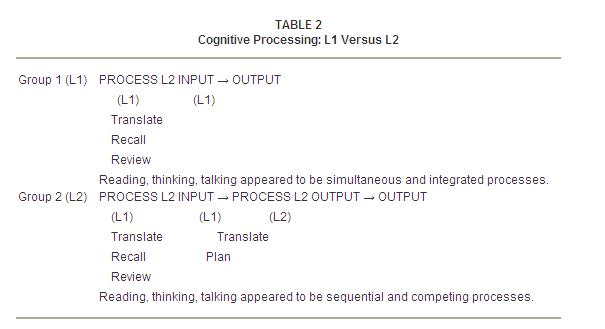 <![endif]>
Conclusions, Limitations, and Future Research
The findings from this study indicated that learners use the L1 even when they appear to be operating exclusively in the L2. The students' reflections from the stimulated recall sessions indicated that when they are required to use the L2 during a collaborative consciousness-raising, form-focused task, they talk to themselves in the L1 as they translate the text, recall grammar rules, review the task, and plan what to say in the L2. In addition, the findings suggested that exclusive use of the L2 during consciousness-raising, form-focused tasks may impose cognitive demands on learners that may have a negative impact on the allocation of cognitive resources for the task. In particular, exclusive use of the L2 during this type of task appears to inhibit collaborative interaction, hinder the use of metatalk, and impede "natural" learning strategies. By contrast, use of the L1 for these kinds of tasks may reduce cognitive overload, sustain collaborative interaction, and foster the development of metalinguistic terminology. In fact, the use of the L1 appears to be a natural and spontaneous cognitive strategy, which suggests that it may be futile to prevent learners from using the L1 during consciousness-raising tasks. This study offers evidence that learners' two languages function in tandem to complete a consciousness-raising, form-focused task when they are permitted to use the L1. By extension, this study suggests that when students are forbidden to use the L1, their two languages compete, causing frustration and cognitive strain.
As stated at the outset, we do not endorse random use of the L1 in the FL classroom. Quite the contrary, we are proponents of nearly exclusive use of the L2 for communicative interactions. Furthermore, we agree with a growing body of research that recommends the use of consciousness-raising tasks in the L2 classroom. When we engage students in this type of reflective inquiry about grammar structures, however, banning the L1 may impede the learners' ultimate success. If students are discouraged from using the L1 for quiet reflection and are not given the opportunity to verbalize intrapersonal L1 speech, they may not benefit from natural and spontaneous cognitive processes that support L2 learning.
Apart from the small number of participants, two other limitations of this study need to be acknowledged. First, we did not assess the participants' level of oral proficiency in either French or Spanish. Very much like the students in a typical intermediate-level FL class, the participants in our study had varied speaking ability. This variability may have had an impact on the results, especially for the students in Group 2 who were required to use the L2. A second limitation is that we did not assess the difficulty of the French and Spanish texts used for the task. Although we tried to make the texts simple and direct, it is possible that the participants had varied reading proficiency, which may have affected their ability to execute the task.
This preliminary exploratory study on the role of the L1 during form-focused, consciousness-raising tasks raises more questions than it answers. In particular, it would be important to investigate further the role of the L1 in cognitive processing when learners work independently (as opposed to collaboratively), the role of the L1 when learners are engaged in focused tasks other than consciousness-raising tasks, the role of the L1 when learners are engaged in other kinds of tasks with no predetermined grammar focus, and the ways that L2 proficiency affects the use of the L1 in cognitive processing. Ultimately, even if a cause–effect relationship can be established to support the use of the L1 for explicit learning of L2 forms, we are still a long way from understanding the role of the L1 in the ultimate acquisition of target L2 forms. Finally, second language acquisition research that considers both cognitive and interactionist perspectives is needed to address the problem of the L1 in the FL classroom. In our view, it is essential that contemporary pedagogical approaches and practices be based on an informed understanding of the benefits of L1 use in the L2 classroom.
Notes
1 We use the terms L1 and L2 to refer to first and second languages in a general sense. The term FL in this article refers to foreign language learning that takes place in a classroom setting.
 2 The "acquisition–learning distinction" is the first hypothesis of Krashen's monitor theory, described in his 1988 book.
3 See, for example, Omaggio Hadley (2001), Lee and VanPatten (2003), and Shrum and Glisan (1994).
4 It is worth noting here that, prior to Krashen's cognitive theories about L2 learning (or acquisition), behaviorist theories associated with the audiolingual method also endorsed principal use of the L2 in FL teaching.
5 The term form-focused task should not be confused with Long's (1991 and elsewhere) FonF. In this article, the authors use the term form-focused to refer to any task designed to develop awareness of key aspects of the target language (see Ellis, 2003).
6 See, for example, Robinson's (1996) study offering evidence that instruction with an explicit focus on form can be valuable for short-term learning for both simple and complex grammar rules.
7 Our use of the term collaborative dialogue may be understood as interaction that involves the Vygotskyan notion of scaffolded help (Swain & Lapkin, 2000). That is, students who engage in collaborative dialogue are likely to have different skills and be at different levels of ability. By working together, they co-construct a more complete understanding of the problem.
8 The French word donc means 'therefore.'
9 Our use of the term intrapersonal speech is similar to the Vygotskyan terms inner speech and private speech in that it includes both silent and vocalized thoughts (Vygotsky, 1987).
10 Storch and Wigglesworth (2003), had similar results, noting that one student in their study "composed part of the text for Task 1 in her head in the L1 and then verbalized her thoughts aloud in the L2" (p. 766).
References
Antón, M., DiCamilla, F. J. (1998). Socio-cognitive functions of L1 collaborative interaction in the L2 classroom. Canadian Modern Language Journal , 54 , 314–342. Links 
Artemeva, N. (1995). The adult learner as incipient bilingual: The role of L1 in the adult ESL classroom. Carleton Papers in Applied Language Studies , 12 , 113–136.  
Atkinson, D. (1993). Teaching in the target language: A problem in the current orthodoxy. Language Learning Journal , 8 , 2–5.  
Belz, J. A. (2002). Identity, deficiency, and first language use in foreign language education. In C. Blyth (Ed.), The sociolinguistics of foreign-language classrooms: AAUSC issues in language program direction (pp. 209–248). Boston : Heinle & Heinle.
Brooks, F. B., Donato, R. (1994). Vygotskyan approaches to understanding foreign language learner discourse during communicative tasks. Hispania , 77 , 262–274.  
Brooks, F. B., Donato, R., McGlone, J. (1997). When are they going to say "it" right? Understanding learner talk during pair-work activity. Foreign Language Annals , 30 , 524–541.  
Bygate, M., Skehan, P., Swain, M. (2001). Researching pedagogic tasks . London : Pearson Education.
Centeno-Cortés, B., Jiménez, A. (2004). Problem-solving tasks in a foreign language: The importance of the L1 in private verbal thinking. International Journal of Applied Linguistics , 14 , 7–35.  
Chavez, M. (2002). The diglossic foreign-language classroom: Learners' views on L1 and L2 functions. In C. Blyth (Ed.), The sociolinguistics of foreign-language classrooms: AAUSC issues in language program direction (pp. 163–208). Boston : Heinle & Heinle.
Cook, V. (1999). Going beyond the native speaker in language teaching. TESOL Quarterly  33 , 185–209.  
Cook, V. (2001). Using the first language in the classroom. Canadian Modern Language Review , 57 , 402–423.  
Cook, V. (2002). Background to the L2 user. In V. Cook (Ed.), Portraits of the L2 user (pp. 1–28). Buffalo , NY : Multilingual Matters.
de Bot, K. (2002). A bilingual production model: Levelt's "speaking" model adapted. In L. Wei (Ed.), The bilingualism reader (pp. 420–442) New York : Routledge. (Reprinted from Applied Linguistics, 13, pp. 1–24, 1992, Oxford: Oxford University Press.)
de Bot, K. (1993). Word production and the bilingual lexicon. In R. Schreuder B. Weltens (Eds.), The bilingual lexicon (pp. 191–214). Philadelphia : John Benjamins.
de Groot, A. M. B. (1993). Word-type effects in bilingual processing tasks: Support for a mixed-representational system. In R. Schreuder B. Weltens (Eds.), The bilingual lexicon (pp. 27–51). Philadelphia : John Benjamins.
Ellis, R. (1991). Second language acquisition and language pedagogy . Clevedon , UK : Multilingual Matters.
Ellis, R. (2003). Task-based language learning and teaching . Cambridge : Cambridge University Press.
Fabbro, F. (1999). The neurolinguistics of bilingualism: An introduction . East Sussex , UK : Psychology Press.
Fotos, S. (1993). Consciousness-raising and noticing through focus on form: Grammar task performance vs. formal instruction. Applied Linguistics , 14 , 385–407.  
Fotos, S., Ellis, R. (1991). Communicating about grammar: A task-based approach. TESOL Quarterly , 25 , 605–628.  
Gass, S. M., Mackey, A. (2000). Stimulated recall methodology in second language research . Mahwah , NJ : Lawrence Erlbaum.
Grosjean, F. (2002). Processing mixed language: Issues, findings, and models. In L. Wei (Ed.), The bilingualism reader (pp. 443–469). New York : Routledge. (Reprinted from Tutorials in bilingualism, pp. 225–254, by A. M. de Groot and J. F. Kroll, Eds., 1997, Mahwah, NJ: Lawrence Erlbaum.)
Hadley, A. O. (2001). Teaching language in context (3rd ed.). Boston : Heinle & Heinle.
Hermans, D., Bongaerts, T., de Bot, K., Schreuder, R. (1998). Producing words in a foreign language: Can speakers prevent interference from their first language? Bilingualism: Language and Cognition , 1 , 213–229.  
Koike, D. A., Liskin-Gasparro, J. E. (1999). What is a near-native speaker? Perspectives of job seekers and search committees in Spanish. ADFL Bulletin , 30 , 54–62.  
Krashen, S. D. (1988). Principles and practice in second language acquisition . New York : Pergamon.
Kroll, J. F. (1993). Accessing conceptual representations for words in a second language. In R. Schreuder B. Weltens (Eds.), The bilingual lexicon (pp. 53–81). Philadelphia : John Benjamins.
Kroll, J. F., Sunderman, G. (2003). Cognitive processes in second language learners and bilinguals: The development of lexical and conceptual representations. In C. J. Doughty M. H. Long (Eds.), The handbook of second language acquisition (pp. 104–129). Malden , MA : Blackwell.
Kroll, J. F., Tokowicz, N. (2001). The development of conceptual representation for words in a second language. In J. L. Nicol (Ed.), One mind, two languages: Bilingual language processing (pp. 49–71). Malden , MA : Blackwell.
Lee, J. F., VanPatten, B. (2003). Making communicative language teaching happen (2nd ed.). New York : McGraw Hill.
Levine, G. S. (2003). Student and instructor beliefs and attitudes about target language use, first language use, and anxiety: Report of a questionnaire study. Modern Language Journal , 87 , 343–364.  
Long, M., Porter, P. (1985). Group work, interlanguage talk, and second language acquisition. TESOL Quarterly , 19 , 207–228.  
Macaro, E. (2001). Analyzing student teachers' codeswitching in foreign language classrooms: Theories and decision making. Modern Language Journal , 85 , 531–548.  
Mohammed, N. (2001). Teaching grammar through consciousness-raising tasks: Learning outcomes, learner preferences and task performance . Unpublished master's thesis, University of Auckland, New Zealand .
Paradis, M. (2004). A neurolinguistic theory of bilingualism . Philadelphia : John Benjamins.
Pica, T. (1994). Research on negotiation: What does it reveal about second language learning conditions, processes and outcomes? Language Learning , 44 , 493–527.  
Robinson, P. (1996). Learning simple and complex second language rules under implicit, incidental, rule-search, and instructed conditions. Studies in Second Language Acquisition  18 , 27–68.  
Rutherford, W., Sharwood Smith, M. (1985). Consciousness-raising and universal grammar. Applied Linguistics , 6 , 274–292.  
Shrum, J. L., Glisan, E. (1994). Teacher's handbook: Contextualized language instruction . Boston : Heinle & Heinle.
Storch, N., Wigglesworth, G. (2003). Is there a role for the use of the L1 in an L2 setting? TESOL Quarterly , 37 , 760–770.  
Swain, M. (1998). Focus on form through conscious reflection. In C. Doughty J. Williams (Eds.), Focus on form in classroom second language acquisition (pp. 64–81). Cambridge : Cambridge University Press.
Swain, M., Lapkin, S. (1998). Interaction and second language learning: Two adolescent French immersion students working together. Modern Language Journal , 82 , 320–337.
Swain, M., Lapkin, S. (2000). Task-based second language learning: The uses of the first language. Language Teaching Research , 4 , 251–274.
Tomlinson, B. (2000). Talking to yourself: The role of the inner voice in language learning. Applied Language Learning , 11 , 123–154. 
Valdés, G. (1998). The construct of the near-native speaker in the foreign language profession: Perspectives on ideologies about language. ADFL Bulletin , 29 , 4–8.  
Vygotsky, L. S. (1987). Thinking and speech. (Transl. N. Minick) In The collected works of L. S. Vygotsky, Volume 1: Problems of general psychology . New York : Plenum Press.
Appendix A
 Maryse, une étudiante française, parle d'Aix-en-Provence.
--------
Aix-en-Provence est une ville que tout le monde adore. Située dans le sud de la France, Aix est une ville dont la réputation est connue par les touristes et les étudiants. En été les touristes que je vois dans les cafés viennent pour profiter de l'ambiance charmante et les jours ensoleillés. Pendant l'année on trouve des étudiants de tous les coins du monde. Mon ami suédois, dont le nom est Sven, est venu à Aix pour faire ses études en droit. Je suis née à Aix (que vous prononcez comme <<ex>>), et l'artiste Paul Cézanne, dont les peintures sont très connues, était aixois aussi.
Answer the following question in English in the space below:
What is the difference between QUE and DONT?
[Translation: Aix-en-Provence is a city that everyone adores. Located in the south of France, Aix is a city whose reputation is known by tourists and students. In the summer, the tourists that/whom I see in the cafés come to enjoy the charming atmosphere and the sun-filled days. During the year one can find students from every corner of the world. My Swedish friend, whose name is Sven, came to Aix to study law. I was born in Aix (pronounced like "ex"), and the artist Paul Cézanne, whose paintings are well known, was also a native of Aix.]
Appendix B
 Nicolás, un estudiante peruano, habla sobre su ciudad, Cuzco.
--------
Cuzco es una ciudad que muchos turistas visitan cuando viajan a Perú. Situada al sur de Perú, es una ciudad cuyas ruinas incas son muy conocidas por todo el mundo. Los turistas que yo veo en Cuzco durante todo el año vienen especialmente para visitar las ruinas de Machu Picchu. Los visitantes cuyo interés es la arqueología disfrutan muchísimo de la visita a Machu Picchu. Un amigo mío mexicano, cuyo nombre es Roberto, viene a Cuzco todos los veranos para investigar en Machu Picchu. Aquí en Cuzco, que nosotros pronunciamos también "Cusco," hay muchísimas cosas que hacer y ver.
Answer the following question in English in the space below:
What is the difference between QUE and CUYO/OS/A/AS?
[Translation: Cuzco is a city that many tourists visit when they travel to Peru. Located in the south of Peru, it's a city whose Incan ruins are well known by everyone. The tourists that I see in Cuzco during the year come especially to visit the ruins at Machu Picchu. Visitors who are interested in archeology benefit a great deal from the visit to Machu Picchu. My Mexican friend, whose name is Roberto, comes to Cuzco every summer to do research in Machu Picchu. Here in Cuzco, which we pronounce "coosco") has many things to do and see.]
© Copyright 2008 by The Modern Language Journal
The Modern Language Journal
ISSN: 1540-4781 (Online)
ISSN: 0026-7902 (Print)
Volume 92, Issue 1, 2008.
Pages: 100–113
------------------------------------------------------------------------

2.- AUTHORITY IN THE ELT CLASSROOM
The question of authority   
By Rose Senior
Exploring the meanings of words can be a helpful way of reaching a deeper understanding of complex situations. For this article I've selected the word authority and will examine its meaning with regard to teacher behaviour in language classrooms. Investigating the expressions to be an authority, to be in authority, to speak with authority and to behave in authoritarian ways can help us reach a fuller understanding of our multifaceted roles as language teachers. We have been appointed English teachers because of our ability to speak English, our knowledge of vocabulary and idiomatic expressions, our understanding of the structure of the language, and our ability to teach effectively using a range of appropriate techniques. Although we must take care not to display our knowledge in a boastful manner – reeling off strings of unusual words or explaining obscure linguistic rules in great detail – we should demonstrate confidence in our skills and knowledge of the language by speaking with authority and quiet assurance. We must make an effort to explain why an answer is incorrect, rather than simply saying that it is wrong, and supply additional words and expressions as and when students require them. This ability to respond quickly and appropriately to queries and requests earns us the right to be regarded as being authorities by our students.
We cannot, of course, know all the answers or be right 100 percent of the time, particularly when tricky questions are unexpectedly fired at us. Sometimes we must confess that we have made an error or admit that we do not know the answer (reassuring the class that we will check and report back in the next lesson). No teacher knows everything, and often those who have had to work hard to learn for themselves make better teachers. If we can clarify tricky concepts or grammar points in ways that our students readily understand, even if our overall knowledge of English is restricted, we earn the right to be regarded by our students as speaking with authority. We have also been appointed to our teaching positions because we have the necessary qualifications, and because our employers have confidence in our ability to exercise authority in appropriate ways. There is an expectation that teachers will not allow their classes to run riot, but will remain in authority over their students at all times. This authority role is expected of us, and we should live up to expectations by setting up and maintaining suitable codes of behaviour and using sanctions fairly and appropriately. By so doing, we earn the respect of our students, who trust us to keep control of unruly individuals and not let things get out of hand.
Do we need to behave in authoritarian ways to achieve this goal? Sometimes beginner teachers are confused by the advice commonly given by well-meaning colleagues who have been in the business of teaching for a long time. 'Go in and be strict with them – and don't stand any nonsense!' they are told. 'Don't let them get the better of you!' Unfortunately, it is easy for novice teachers – particularly when facing large classes of exuberant youngsters – to misinterpret this advice. Fearful of losing control, they go into the room grim-faced and with an aggressive manner, sometimes pouncing on individuals and threatening punishment before any serious misdemeanour has even been committed. By doing this, they are inadvertently behaving in authoritarian ways – and potentially making matters worse.
The word authoritarian is commonly used to refer to a leadership style in which the leader keeps tight control over the behaviour of those for whom they are responsible, requiring immediate, unquestioning responses and leaving little room for independent decision-making, individuality or freedom of expression. Such a style may be acceptable for military commanders, but it is not appropriate for language teachers who wish their students to work thoughtfully and independently, to take control over their learning, and to participate willingly and responsibly in interactive tasks. A collaborative leadership style, in which the teacher earns respect by virtue of being both an authority and in authority, is far more suitable.
A further reason why authoritarian behaviour is inappropriate for classroom language teaching – or, indeed, for any kind of classroom teaching – has to do with group processes. Group behaviour is a powerful social force which has a strong influence over the actions of individuals. If teachers unwittingly reinforce the divide between themselves and their students by behaving in bossy, authoritarian ways and revealing a 'me-versus-them' attitude, their classes are likely to unite against a common enemy: themselves. Students united in opposition to their teacher can make that person's life a misery. If we adopt a softer, less confrontational attitude towards our students, while still maintaining our authority as teachers, a collaborative classroom atmosphere that benefits both teaching and learning is far more likely to develop. In sum, when discussing with teachers the kinds of roles that they play in their classrooms, I often draw attention to the different meanings of the word authority. I tell them that yes, they should strive to be regarded as authorities by virtue of their linguistic knowledge, and that yes, they should retain authority over their classes at all times. I also stress that they should avoid behaving in authoritarian ways for the reasons outlined above.
About the Author
Rose Senior is a conference presenter and teacher educator. She is the author of The Experience of Language Teaching, published by Cambridge University Press.
© English Teaching Professional
© 2007 by Humanising Language Teaching
------------------------------------------------------------------------

3.- THE FUTURE OF READING: ONLINE, ARE YOU REALLY READING?
Literacy Debate: Online, R U Really Reading?
By Motoko Rich
Berea, Ohio — Books are not Nadia Konyk's thing. Her mother, hoping to entice her, brings them home from the library, but Nadia rarely shows an interest.
Instead, like so many other teenagers, Nadia, 15, is addicted to the Internet. She regularly spends at least six hours a day in front of the computer here in this suburb southwest of Cleveland.
A slender, chatty blonde who wears black-framed plastic glasses, Nadia checks her e-mail and peruses myyearbook.com, a social networking site, reading messages or posting updates on her mood. She searches for music videos on YouTube and logs onto Gaia Online, a role-playing site where members fashion alternate identities as cutesy cartoon characters. But she spends most of her time on quizilla.com or fanfiction.net, reading and commenting on stories written by other users and based on books, television shows or movies.
Her mother, Deborah Konyk, would prefer that Nadia, who gets A's and B's at school, read books for a change. But at this point, Ms. Konyk said, "I'm just pleased that she reads something anymore."
Children like Nadia lie at the heart of a passionate debate about just what it means to read in the digital age. The discussion is playing out among educational policy makers and reading experts around the world, and within groups like the National Council of Teachers of English and the International Reading Association.
As teenagers' scores on standardized reading tests have declined or stagnated, some argue that the hours spent prowling the Internet are the enemy of reading — diminishing literacy, wrecking attention spans and destroying a precious common culture that exists only through the reading of books.
But others say the Internet has created a new kind of reading, one that schools and society should not discount. The Web inspires a teenager like Nadia, who might otherwise spend most of her leisure time watching television, to read and write.
Even accomplished book readers like Zachary Sims, 18, of Old Greenwich, Conn., crave the ability to quickly find different points of view on a subject and converse with others online. Some children with dyslexia or other learning difficulties, like Hunter Gaudet, 16, of Somers, Conn., have found it far more comfortable to search and read online.
At least since the invention of television, critics have warned that electronic media would destroy reading. What is different now, some literacy experts say, is that spending time on the Web, whether it is looking up something on Google or even britneyspears.org, entails some engagement with text.
Setting Expectations
Few who believe in the potential of the Web deny the value of books. But they argue that it is unrealistic to expect all children to read "To Kill a Mockingbird" or "Pride and Prejudice" for fun. And those who prefer staring at a television or mashing buttons on a game console, they say, can still benefit from reading on the Internet. In fact, some literacy experts say that online reading skills will help children fare better when they begin looking for digital-age jobs.
Some Web evangelists say children should be evaluated for their proficiency on the Internet just as they are tested on their print reading comprehension. Starting next year, some countries will participate in new international assessments of digital literacy, but the United States, for now, will not.
Clearly, reading in print and on the Internet are different. On paper, text has a predetermined beginning, middle and end, where readers focus for a sustained period on one author's vision. On the Internet, readers skate through cyberspace at will and, in effect, compose their own beginnings, middles and ends.
Young people "aren't as troubled as some of us older folks are by reading that doesn't go in a line," said Rand J. Spiro, a professor of educational psychology at Michigan State University who is studying reading practices on the Internet. "That's a good thing because the world doesn't go in a line, and the world isn't organized into separate compartments or chapters."
Some traditionalists warn that digital reading is the intellectual equivalent of empty calories. Often, they argue, writers on the Internet employ a cryptic argot that vexes teachers and parents. Zigzagging through a cornucopia of words, pictures, video and sounds, they say, distracts more than strengthens readers. And many youths spend most of their time on the Internet playing games or sending instant messages, activities that involve minimal reading at best.
Last fall the National Endowment for the Arts issued a sobering report linking flat or declining national reading test scores among teenagers with the slump in the proportion of adolescents who said they read for fun.
According to Department of Education data cited in the report, just over a fifth of 17-year-olds said they read almost every day for fun in 2004, down from nearly a third in 1984. Nineteen percent of 17-year-olds said they never or hardly ever read for fun in 2004, up from 9 percent in 1984. (It was unclear whether they thought of what they did on the Internet as "reading.")
"Whatever the benefits of newer electronic media," Dana Gioia, the chairman of the N.E.A., wrote in the report's introduction, "they provide no measurable substitute for the intellectual and personal development initiated and sustained by frequent reading."
Children are clearly spending more time on the Internet. In a study of 2,032 representative 8- to 18-year-olds, the Kaiser Family Foundation found that nearly half used the Internet on a typical day in 2004, up from just under a quarter in 1999. The average time these children spent online on a typical day rose to one hour and 41 minutes in 2004, from 46 minutes in 1999.
The question of how to value different kinds of reading is complicated because people read for many reasons. There is the level required of daily life — to follow the instructions in a manual or to analyze a mortgage contract. Then there is a more sophisticated level that opens the doors to elite education and professions. And, of course, people read for entertainment, as well as for intellectual or emotional rewards.
It is perhaps that final purpose that book champions emphasize the most.
"Learning is not to be found on a printout," David McCullough, the Pulitzer Prize-winning biographer, said in a commencement address at Boston College in May. "It's not on call at the touch of the finger. Learning is acquired mainly from books, and most readily from great books."
What's Best for Nadia?
Deborah Konyk always believed it was essential for Nadia and her 8-year-old sister, Yashca, to read books. She regularly read aloud to the girls and took them to library story hours.
"Reading opens up doors to places that you probably will never get to visit in your lifetime, to cultures, to worlds, to people," Ms. Konyk said.
Ms. Konyk, who took a part-time job at a dollar store chain a year and a half ago, said she did not have much time to read books herself. There are few books in the house. But after Yashca was born, Ms. Konyk spent the baby's nap time reading the Harry Potter novels to Nadia, and she regularly brought home new titles from the library.
Despite these efforts, Nadia never became a big reader. Instead, she became obsessed with Japanese anime cartoons on television and comics like "Sailor Moon." Then, when she was in the sixth grade, the family bought its first computer. When a friend introduced Nadia to fanfiction.net, she turned off the television and started reading online.
Now she regularly reads stories that run as long as 45 Web pages. Many of them have elliptical plots and are sprinkled with spelling and grammatical errors. One of her recent favorites was "My absolutely, perfect normal life ... ARE YOU CRAZY? NOT!," a story based on the anime series "Beyblade."
In one scene the narrator, Aries, hitches a ride with some masked men and one of them pulls a knife on her. "Just then I notice (Like finally) something sharp right in front of me," Aries writes. "I gladly took it just like that until something terrible happen ...."
Nadia said she preferred reading stories online because "you could add your own character and twist it the way you want it to be."
"So like in the book somebody could die," she continued, "but you could make it so that person doesn't die or make it so like somebody else dies who you don't like."
Nadia also writes her own stories. She posted "Dieing Isn't Always Bad," about a girl who comes back to life as half cat, half human, on both fanfiction.net and quizilla.com.
Nadia said she wanted to major in English at college and someday hopes to be published. She does not see a problem with reading few books. "No one's ever said you should read more books to get into college," she said.
The simplest argument for why children should read in their leisure time is that it makes them better readers. According to federal statistics, students who say they read for fun once a day score significantly higher on reading tests than those who say they never do.
Reading skills are also valued by employers. A 2006 survey by the Conference Board, which conducts research for business leaders, found that nearly 90 percent of employers rated "reading comprehension" as "very important" for workers with bachelor's degrees. Department of Education statistics also show that those who score higher on reading tests tend to earn higher incomes.
Critics of reading on the Internet say they see no evidence that increased Web activity improves reading achievement. "What we are losing in this country and presumably around the world is the sustained, focused, linear attention developed by reading," said Mr. Gioia of the N.E.A. "I would believe people who tell me that the Internet develops reading if I did not see such a universal decline in reading ability and reading comprehension on virtually all tests."
Nicholas Carr sounded a similar note in "Is Google Making Us Stupid?" in the current issue of the Atlantic magazine. Warning that the Web was changing the way he — and others — think, he suggested that the effects of Internet reading extended beyond the falling test scores of adolescence. "What the Net seems to be doing is chipping away my capacity for concentration and contemplation," he wrote, confessing that he now found it difficult to read long books.
Literacy specialists are just beginning to investigate how reading on the Internet affects reading skills. A recent study of more than 700 low-income, mostly Hispanic and black sixth through 10th graders in Detroit found that those students read more on the Web than in any other medium, though they also read books. The only kind of reading that related to higher academic performance was frequent novel reading, which predicted better grades in English class and higher overall grade point averages.
Elizabeth Birr Moje, a professor at the University of Michigan who led the study, said novel reading was similar to what schools demand already. But on the Internet, she said, students are developing new reading skills that are neither taught nor evaluated in school.
One early study showed that giving home Internet access to low-income students appeared to improve standardized reading test scores and school grades. "These were kids who would typically not be reading in their free time," said Linda A. Jackson, a psychology professor at Michigan State who led the research. "Once they're on the Internet, they're reading."
Neurological studies show that learning to read changes the brain's circuitry. Scientists speculate that reading on the Internet may also affect the brain's hard wiring in a way that is different from book reading.
"The question is, does it change your brain in some beneficial way?" said Guinevere F. Eden, director of the Center for the Study of Learning at Georgetown University. "The brain is malleable and adapts to its environment. Whatever the pressures are on us to succeed, our brain will try and deal with it."
Some scientists worry that the fractured experience typical of the Internet could rob developing readers of crucial skills. "Reading a book, and taking the time to ruminate and make inferences and engage the imaginational processing, is more cognitively enriching, without doubt, than the short little bits that you might get if you're into the 30-second digital mode," said Ken Pugh, a cognitive neuroscientist at Yale who has studied brain scans of children reading.
But This Is Reading Too
Web proponents believe that strong readers on the Web may eventually surpass those who rely on books. Reading five Web sites, an op-ed article and a blog post or two, experts say, can be more enriching than reading one book.
"It takes a long time to read a 400-page book," said Mr. Spiro of Michigan State. "In a tenth of the time," he said, the Internet allows a reader to "cover a lot more of the topic from different points of view."
Zachary Sims, the Old Greenwich, Conn., teenager, often stays awake until 2 or 3 in the morning reading articles about technology or politics — his current passions — on up to 100 Web sites.
"On the Internet, you can hear from a bunch of people," said Zachary, who will attend Columbia University this fall. "They may not be pedigreed academics. They may be someone in their shed with a conspiracy theory. But you would weigh that."
Though he also likes to read books (earlier this year he finished, and loved, "The Fountainhead" by Ayn Rand), Zachary craves interaction with fellow readers on the Internet. "The Web is more about a conversation," he said. "Books are more one-way."
The kinds of skills Zachary has developed — locating information quickly and accurately, corroborating findings on multiple sites — may seem obvious to heavy Web users. But the skills can be cognitively demanding.
Web readers are persistently weak at judging whether information is trustworthy. In one study, Donald J. Leu, who researches literacy and technology at the University of Connecticut, asked 48 students to look at a spoof Web site (http://zapatopi.net/treeoctopus/) about a mythical species known as the "Pacific Northwest tree octopus." Nearly 90 percent of them missed the joke and deemed the site a reliable source.
Some literacy experts say that reading itself should be redefined. Interpreting videos or pictures, they say, may be as important a skill as analyzing a novel or a poem.
"Kids are using sound and images so they have a world of ideas to put together that aren't necessarily language oriented," said Donna E. Alvermann, a professor of language and literacy education at the University of Georgia. "Books aren't out of the picture, but they're only one way of experiencing information in the world today."
A Lifelong Struggle
In the case of Hunter Gaudet, the Internet has helped him feel more comfortable with a new kind of reading. A varsity lacrosse player in Somers, Conn., Hunter has struggled most of his life to read. After learning he was dyslexic in the second grade, he was placed in special education classes and a tutor came to his home three hours a week. When he entered high school, he dropped the special education classes, but he still reads books only when forced, he said.
In a book, "they go through a lot of details that aren't really needed," Hunter said. "Online just gives you what you need, nothing more or less."
When researching the 19th-century Chief Justice Roger B. Taney for one class, he typed Taney's name into Google and scanned the Wikipedia entry and other biographical sites. Instead of reading an entire page, he would type in a search word like "college" to find Taney's alma mater, assembling his information nugget by nugget.
Experts on reading difficulties suggest that for struggling readers, the Web may be a better way to glean information. "When you read online there are always graphics," said Sally Shaywitz, the author of "Overcoming Dyslexia" and a Yale professor. "I think it's just more comfortable and — I hate to say easier — but it more meets the needs of somebody who might not be a fluent reader."
Karen Gaudet, Hunter's mother, a regional manager for a retail chain who said she read two or three business books a week, hopes Hunter will eventually discover a love for books. But she is confident that he has the reading skills he needs to succeed.
"Based on where technology is going and the world is going," she said, "he's going to be able to leverage it."
When he was in seventh grade, Hunter was one of 89 students who participated in a study comparing performance on traditional state reading tests with a specially designed Internet reading test. Hunter, who scored in the lowest 10 percent on the traditional test, spent 12 weeks learning how to use the Web for a science class before taking the Internet test. It was composed of three sets of directions asking the students to search for information online, determine which sites were reliable and explain their reasoning.
Hunter scored in the top quartile. In fact, about a third of the students in the study, led by Professor Leu, scored below average on traditional reading tests but did well on the Internet assessment.
The Testing Debate
To date, there have been few large-scale appraisals of Web skills. The Educational Testing Service, which administers the SAT, has developed a digital literacy test known as iSkills that requires students to solve informational problems by searching for answers on the Web. About 80 colleges and a handful of high schools have administered the test so far.
But according to Stephen Denis, product manager at ETS, of the more than 20,000 students who have taken the iSkills test since 2006, only 39 percent of four-year college freshmen achieved a score that represented "core functional levels" in Internet literacy.
Now some literacy experts want the federal tests known as the nation's report card to include a digital reading component. So far, the traditionalists have held sway: The next round, to be administered to fourth and eighth graders in 2009, will test only print reading comprehension.
Mary Crovo of the National Assessment Governing Board, which creates policies for the national tests, said several members of a committee that sets guidelines for the reading tests believed large numbers of low-income and rural students might not have regular Internet access, rendering measurements of their online skills unfair.
Some simply argue that reading on the Internet is not something that needs to be tested — or taught.
"Nobody has taught a single kid to text message," said Carol Jago of the National Council of Teachers of English and a member of the testing guidelines committee. "Kids are smart. When they want to do something, schools don't have to get involved."
Michael L. Kamil, a professor of education at Stanford who lobbied for an Internet component as chairman of the reading test guidelines committee, disagreed. Students "are going to grow up having to be highly competent on the Internet," he said. "There's no reason to make them discover how to be highly competent if we can teach them."
The United States is diverging from the policies of some other countries. Next year, for the first time, the Organization for Economic Cooperation and Development, which administers reading, math and science tests to a sample of 15-year-old students in more than 50 countries, will add an electronic reading component. The United States, among other countries, will not participate. A spokeswoman for the Institute of Education Sciences, the research arm of the Department of Education, said an additional test would overburden schools.
Even those who are most concerned about the preservation of books acknowledge that children need a range of reading experiences. "Some of it is the informal reading they get in e-mails or on Web sites," said Gay Ivey, a professor at James Madison University who focuses on adolescent literacy. "I think they need it all."
Web junkies can occasionally be swept up in a book. After Nadia read Elie Wiesel's Holocaust memoir "Night" in her freshman English class, Ms. Konyk brought home another Holocaust memoir, "I Have Lived a Thousand Years," by Livia Bitton-Jackson.
Nadia was riveted by heartbreaking details of life in the concentration camps. "I was trying to imagine this and I was like, I can't do this," she said. "It was just so — wow."
Hoping to keep up the momentum, Ms. Konyk brought home another book, "Silverboy," a fantasy novel. Nadia made it through one chapter before she got engrossed in the Internet fan fiction again.
The New York Times Books Update
Published: July 27, 2008
© Copyright 2008 by The New York Times Company
------------------------------------------------------------------------

4.-    ADVANCED VOCABULARY IN CONTEXT: BEATING UNWANTED FAT
1½ hour workout 'is only way to beat flab'
By Kate Foster
Published Date: 10 August 2008
It has been revered as the perfect way to keep healthy and stay in shape.
But the traditional 30-minute-a-day exercise target is insufficient and overweight Scots will need a daily 90-minute workout to stand any chance of fighting the flab, according to new public health guidance.
The advice, which GPs and nurses are to pass on to NHS patients, also warns that light housework such as cleaning or dusting, or strolling round the supermarket, must not be counted in the daily exercise regime.
Instead, only "moderate" or "vigorous" activity such as brisk walking, running, swimming and heavy domestic chores like vacuuming, mowing the lawn or painting and decorating count.
And as part of their weekly regime all adults should perform two sessions of weight training exercises.
The updated guidance on exercise targets has been published by the Scottish Government's public health advisory body NHS Health Scotland. The recommended levels of physical activity have been renewed with ambitious new targets following a recent change in international guidelines.
The guidance is being sent out to GPs, practice nurses, health visitors and pharmacists so they can advise members of the public on how to incorporate exercise into their daily lives as part of the NHS drive to reduce the nation's soaring obesity problem.
But though it has been welcomed by some experts, others have dismissed it as "dictatorial and inappropriate", and unrealistic for many busy professionals. The guidance document, 'Energising Lives', states that NHS staff must make physical activity a "higher priority", with 60% of men and 70% of women not thought to be taking enough exercise.
It sets out a number of tips that staff can offer to patients. It adds: "You should do at least 30 minutes of moderate-intensity physical activity, above usual activity at work or home, on at least five days of the week. If you are already overweight or obese, then you should aim to do between 60 and 90 minutes on five days of the week."
Approved activities according to the guidance include brisk walking, running, badminton and cycling as well as heavier household and gardening chores such as mowing the lawn and vacuuming.
However, many ordinary activities of "light intensity" such as office work, shopping or cooking do not count towards the daily target. Nor does anything that takes less than 10 minutes, such as taking out the rubbish.
It adds that weight training or stair climbing should be included twice a week and that a range of activities should be aimed for to improve stamina, strength, flexibility and balance.
Last night a spokeswoman for NHS Health Scotland said the document was based on recently updated, internationally recognised guidelines produced by the American College of Sports Medicine in Indianapolis.
She added: "NHS primary care staff felt there was a need for a guide that had appropriate advice for patients. This really spells out what type of exercise to do and making it relate to people's lives. People can interpret it in different ways so this gives examples of what staff can tell patients to do. This is about how to put it into practice.
"It's up to the discretion of the GP or nurse how they use this information. It's not about going to the gym but doing things like gardening to benefit health."
A spokeswoman for the British Medical Association said: "This has to operate in tandem with advice, support and education on healthy eating and making sensible lifestyle choices. In order to make a significant impact on the weight of individuals there has to be a commitment to do as much exercise as possible.
"If somebody is suffering from the medical consequences of being obese or overweight, they may be at risk of chronic heart disease, stroke or have high blood pressure but if they lose weight they are more likely to reduce their health risks. So it may be appropriate to raise the potential for exercise with the patient. That's a discussion that has to take place between the GP and the patient."
Margaret Watt, chairwoman of the Scotland Patients' Association, described the move as "a step in the right direction". However, she warned it would not work unless people were sufficiently motivated. She added: "It's a personal responsibility and people will not be helped unless they want to help themselves."
But Edinburgh-based personal trainer Tracy Griffen said most members of the public would find it far too difficult to meet the targets. She said: "Most people who have not exercised before would struggle even to walk for 90 minutes a day, let alone do weight training.
"What I generally recommend to my clients is 30minutes three times a week. That's based on what's practical for them. A lot of people work from 8am to 6pm. To tell them that they need to do an extra hour and a half of exercising will put people off. I think if I was an obese person I would be quite disheartened."
Scottish Conservative health spokeswoman Mary Scanlon said: "It is somewhat dictatorial and inappropriate for many people. It would be far better to make small changes to your lifestyle."
Comments from Readers
Federation, not separation 10/08/2008 07:11:49
Fat chance the fatties will follow this exercise regime; no more chance than that they will stop over-eating.
Levying a pound an over-weight pound per person per day will do it though; the sums raised will replace council tax.
It would also help if the law forbade clothes sizes over a certain girth. That should embarrass many fatties into stopping eating up the planet.
Douglas,Bathgate 10/08/2008 08:03:49
Excellent idea. Then we can start on those who offer fatuous opinions in online forums.
Labour voter,10/08/2008 08:10:09
#1
Your comments show what you are - a Fathead! (I'm not overweight by the way).
Boy Wonder,10/08/2008 08:23:00
"1½ hour workout 'is only way to beat flab'"
Untrue ... there is also liposuction ... or ... laparoscopy.
tomi,10/08/2008 08:30:42
More exercise to fight obesity and promote health? What a good idea!
But; that exercise has to be enjoyable and interesting if it people are to persevere and continue gaining its benefits.
Exercise can, of course, take various forms; but it can but it can be done in two basic locations.
Indoors or Outdoors.
Indoor exercise can be done as part of a group or individually; both have problems. Group exercise, as in a team, would generally assume that one would need to go to a particular location to all participate.(That could be a disincentive in the long term).
Individual indoor exercise is very vulnerable to all the distractions of everyday life, TV, compiuters, phones, family demands, etc. etc.
Outdoor exercise also has problems, but if the conditions are right, it can be very enjoyable, and encourage one to continue in that exercise regeme, and thus benefit from its healthful benefits.
But! The problem in Britain is that the weather often is a great dampner to person's desire to follow a exercise regimen. And after one or two, or a few, interuptions, it is hard to resume it again.
If the weather is good, it is easy to out and engage in an exercise program: but if it is bad, it is too easy to get out of the habit, just take a day off, just stay home and watch TV.
What is my point?
What is easier? To change the habits of the inert, the increasingly overweight and obese of Britain, or to change the weather?
The modern consensus is that we should change the people's habits and then all the would's problems will be solved.
But why not say that we should change the weather?
In fact, the general concensus does already say that we are changing the weather!
They call it "Global Warming" or "Climate Change"
Wether the weather is getting warmer or colder, what can be more discouraging to outdoor exercise than those many British days of cold, damp, dull, dismal weather?
We should be welcoming the prospect of "Climate Change"!!
DeniseX,10/08/2008 08:31:05
Three medium sized meals per day and no snacks, especially in the evening. Then just an half hours walk per day.
Don't get fat in the first place. If you do, liposuction will lift the weight off you.
Charles Linskaill,Edinburgh 10/08/2008 09:03:46
Boy Wonder took the words out of my keyboard, infact I had the "lypo" bit written, but deleted it due to lack of interest. (paper soo poor today)
Its all to how much food you put down your 'Gob'!
Dinny do much exercise, well dinny eat, 'SIMPLE'!
Poor metabilisum, dinny eat soo much, 'SIMPLE'!
...............1+1=2, 'SIMPLE'!
Why even talk about it, unless you are, 'SIMPLE'!
Charles Linskaill,Edinburgh 10/08/2008 09:07:31
Simple Simon met a pieman going to the fair;
Said Simple Simon to the pieman "Let me taste your ware"
Said the pieman to Simple Simon "Show me first your penny"
Said Simple Simon to the pieman "Sir, I have not any!"
Simple Simon went a-fishing for to catch a whale;
All the water he had got was in his mother's pail.
Simple Simon went to look if plums grew on a thistle;
He pricked his fingers very much which made poor Simon whistle.
He went for water in a sieve but soon it all fell through;
And now poor Simple Simon bids you all "Adieu"
CurlySue,10/08/2008 09:09:33
Forget the gym - thats boring. We need more ceilidhs (hope that's who you spell it) an hour an a half of 'strip the willow''eightsome reel' 'dashing white sergent' etc is fun and gives you a really good workout. Let's have more after work drop in ceilidh sessions.Report Unsuitable10 Mcsnagpile,10/08/2008 09:34:04
To do a 1.5 hours work out per day requires a high level of fitness, a certificate of health from the doctor, and a regime constructed and monitored by a fitness instructor. High level of fitness does not mean you will not be fat. In fact many slim people are dangerously out of condition—quite often-female models. Body modelling requires specialist diets and weight training. Some people with impressive bodies have poor quality aerobic fitness.
Daily intensive workouts are counter-productive and will eventually cause body damage.
A 30-minute per day run at 10KM/hr is impressive and sufficient. That should burn 300+ calories/day and improve your over-all calorie burn. This will still require a good level of fitness. Such a regime with normal eating will burn off at least 20 Kilos per year.
The high felt during a long run can be addictive.
This will not be of any interest to most lardy butt blog writers--just hoi another breakfast pizza down.
Peasnbarley,Glasgow 10/08/2008 10:22:36
Amazing, first time I have been on a Scotsman forum and not heard anyone blame Gordon Brown and London Labour.
Charles Linskaill,Edinburgh 10/08/2008 10:34:31
Peasnbarley ~11,
Yer havin a laugh!
Just wait for the comments to come 'flying in', everyone is sleeping-off, that 'massive' meal they had last night,
(except for us, that is)
Mcsnagpile,10/08/2008 10:47:36
ode fae a blogger
If its Sunday morning ,
And yer really glum,
Ye can always open up a blog,
And show the world yer bum.
Nellie,Liverpool 10/08/2008 12:19:45
Just as I thought my sterling (well, almost sterling) efforts to lose weight were starting to show on my belt (tighter by two holes!) my doc tells me it's probably because I've developed diabetes!
Miffed? You betcha I am. Not just because I'm losing the pounds for the wrong reason but also because I cannae pig out on a box of Cadbury's Chocolate Fingers ever again! Hells Bells, those biscuits were my "comfort food" for when I'm depressed!
Nellie,Liverpool 10/08/2008 12:33:29
MODERATOR NOTE!!!
The comments at the end of the article about knife crime appear to be being "Removed By Moderator". Seems you either have a glitch in the system or someone's fallen asleep on the Delete button.
Geraldine Firequeen,10/08/2008 13:34:25
I so agree with (9) - the gym is so boring. It takes a great deal of determination to turn up, no one talks to you, I feel embarrassed of my shape in front of men, and not all the equipment is available in the ladies hideaway. And not to mention the so horrible musak. I saw set dancing in Killarney and tried to find a group here, but 30 miles was the nearest, too far to go by bus. I cycle and walk but dont lose the weight.
PC McGarry#452,999 Letsby Avenue 10/08/2008 14:08:03
#9: And there's always the chance of a lumber as wellReport
DeniseX,10/08/2008 15:55:48
What happened to the exercise pill?
grannie,Glasgow 10/08/2008 16:53:37
Life has become too easy. My mother and others like her never gave a thought to how much they ate. Pushing a heavy load of washing to the steamie and scrubbing with a washing board in a sink full of water used up plenty calories. Down on her knees scrubbing floors and washing stairs how hard they worked in the old tenements just to keep on top of the dirt in their envirement.From morn till night they never stopped. Blame the telly we spend too much time on our hind-end
Phil1,Edinburgh 10/08/2008 18:29:56
1 Rulesbutnotrulers,Federation, not separation 10/08/2008 07:11:49
I guesss you'll be broke soon with such fathead ideas and opinions being charged at double rates
Valentinus,Glasgow 10/08/2008 18:43:04
I have to note that this u-turn is consistent with an SNP administration that is entirely adrift on education. There is no serious policy strategy beyond the windy rhetoric of 'Scotland the best' in almost every area, from crumbling university provision to the swelling ranks of unemployed schoolteaching graduates. Moreover, the current structures cynically provide the Nationalists with the perfect alibi. Education is being starved of resources in order to pay for populist demagoguery such as free prescriptions. But with the bogus subsidiarity of the so-called 'Concordat', the SNP can blame Local Authorities on the one-hand and the Westminster grant on the other whenever underfunding is highlighted. Fiona Hislop has tried this gambit countless times already. Basically, there is not a serious educational intellect in the whole cabinet.
Strange, also, how the small-nation-democracy comparisons are conveniently abandoned whenever it suits. The Irish government has been forced into 500 million Euros of cuts in the wake of the credit crunch. But education expenditure is the one area they have promised to ringfence, because they recognise that high quality education is the only game in town in the global market. Surely the Scottish peiople, with their historic attachment to education, will waken up to this soon.Report Unsuitable22 Jock Tamson,Scotland, Caledonia, Alba 10/08/2008 19:21:42
The whole thing is absolute excretum tauri. Moderation is the key. That and a healthy diet. Cook your own food from fresh ingredients and don't drive your kids to school.Report Unsuitable23 Jock Tamson,Scotland, Caledonia, Alba 10/08/2008 19:27:21
The best way to drive the message home is to feature middle-aged models as either gorgeous or hunks.
No? Then shut the fèck up.
subrosa,10/08/2008 19:54:42
# 21 Basically, there is not a serious educational intellect in the whole cabinet.
Evidence please to support this lie.
Eve,Scotland 10/08/2008 21:10:03
What ironing is light house work? These people have ovousely never treid to iron chef whites before. OMG it's so difficult to get out all the creases out of these materals.
Some times it can be a shore figureing out how to put the board up & down. Depending on the board ovbousely.
Eve,Scotland 10/08/2008 21:18:26
It really depends on what yer current fitness level is. If it's way below average then light house work would be like a work out to yer body.
If yer more fitter within averageor above it then light house work won't give yer body much of a work out.
It's all about moving on to a new goal after one is completed. If it means makeing sure yer house is clean first and then later moveing on to something thats a wee bit more diffucilt once youv'e achived the shore then this isn't a bad thing.
Douglas,Bathgate 10/08/2008 21:19:22
Hiya Eve. Where have you been?
Horrible Cankers @ Cyber Shebeen,10/08/2008 21:21:01
25...Aye Eve...hence the reason why so many women end up with "Dowagers hùmp"...you know...that wee hunchback look..all their lives their heads are either hanging over an ironing board...a sink full of dishes...a cooker....babies nappies and all sorts of domestic hùmp inducers...including their husbands....
Horrible Cankers @ Cyber Shebeen,10/08/2008 21:22:37
19....Aye the good auld days eh hen?.....that will be fkn right by the way.....
livilion,livingston 10/08/2008 22:02:39
Anyone know how many calories reading burns up?
I know one lassie in our office who regularly reads all the dieting magazines during her diet coke break and Mars bars. She always takes low calorie soft drinks with fish suppers and burgers(with low calorie dressing and lettuce) too, but somehow still puts on weight.
Not only that she pays her tenner every week to the local health club but still seems unhappy being a size 18. If she is thinner she says she might even attend a session some day.
She is also worried that she might have anorexia because she sees herself as a fat person when she looks in the mirror.
livilion,livingston 10/08/2008 22:12:39
What's really needed here is a change of attitude from the public and the medical profession to fat, ugly people who do not exercise.
Where's the campaign for equality for fat, ugly people with motivational issues?
I don't see skinny folk being tormented for passing up on crisps, sticky buns and deep fried pizzas.
jarmon,10/08/2008 22:46:06
So if i spend an hour and a half everyday letting out my pants,does that count as exercise?
The Scotman
Scotland on Sunday
Evening News
scotsman.com News – Headlines
©2008 Johnston Press plc
------------------------------------------------------------------------

5.- ENGLISH & FUN : VI INTERNATIONAL ELT FORUM
"Sharing Ideas and Knowledge"
September, 2008
Teaching English in Kindergarten and the first forms of Primary School
Moderator: Alfredo Bilopolsky
Most adults find foreign languages quite difficult. They must struggle and put in long hours of hard work to make little progress in their ability in a new language. However, a child seems to just pick it up out of thin air. To a child, it is all play and no work. Teaching English to very young children can be a very rewarding experience for both pupils and teachers. Have you ever worked with young learners? Are you looking for new ideas and ways of making young learners more involved and motivated?
This new International ELT Forum will give you the chance to share your views and gain new insights into teaching the little ones
About Prof. Alfredo Bilopolsky
Alfredo Bilopolsky is a Teacher of  English and Technical English from Instituto Nacional Superior del Profesorado Técnico de la Universidad Tecnológica Nacional, English Coordinator at Buenos Aires School, Hilel School and Kindergarten teacher at School "Scholem Aleijem", where he has been teaching for over 16 years. He has delivered workshops on Teaching Very Young Learners in different conferences in Argentina. He has taught General English to young children, teenagers and adults at prestigious ELS´s in the city of Buenos Aires. He is co-author of the Video for very young learners "Descubriendo en Inglés".  He is an Assistant Lecturer in Didactics II at Universidad Tecnológica Nacional.
When? September, 5th & 6th 
Starting Date:  Friday, 5th  (10 a.m.)
Closing Date:  Saturday, 6th  (8 p.m.)
The forum will take place at: www.welcometoenglishandfun.com
Participants will receive a Pack of Theoretical Materials,especially created by Alfredo Bilopolsky  (by e-mail) and a Certificate of Participation (via Correo Argentino).
The VI International ELT Forum provides an opportunity for people with a variety of perspectives – ELT experts and non-experts alike – to explore each other's views and share information in a casual atmosphere.  It provokes discussion as well as interaction, and creates a setting for people to truly exchange ideas on important issues regarding English Language Teaching.
Limited Vacancies
Enrolment is only guaranteed by payment of fee.
Fees
Argentina: $ 45 – (forty five pesos)
Other countries: U$S 15 – (fifteen dollars)
Payment Options
Argentina
Option 1
Bank deposit
Please email us at info@welcometoenglishandfun.com so that we send you the details.
Option 2
Pago Fácil / Rapipago 
Please email us at info@welcometoenglishandfun.com so that we send you the right pay form.
Other countries
Payment through Western Union 
Please email us at info@welcometoenglishandfun.com so that we send you the details.
………………………………………..
¿Qué son los "Foros"?
Los foros son espacios en Internet para la libre discusión de ideas, hacer comentarios, plantear opiniones y discusiones sobre un tema en particular.
El sexto Foro Internacional de ELT es un espacio de Encuentro e Intercambio que English & Fun pone a disposición de los Participantes con una modalidad propia, que lo distingue de otros Foros.
Los Participantes podrán vivenciar las siguientes características distintivas:
* ampliar su Conocimiento sobre el tema: "Teaching English in Kindergarten and the first forms of Primary School" a partir de la lectura del Material Teórico que recibirán por e mail unos días previos al inicio del Foro.
* participar sin fronteras desde cualquier lugar de residencia, todos en un mismo lugar de Encuentro.
* tener comunicación directa con el Disertante - moderador durante los días que se encuentre abierto el Foro, dentro del mismo.
*  recibir un Certificado por haber participado del Foro, el cual será enviado posteriormente por correo postal.
La modalidad virtual que aquí presentamos se caracteriza por no requerir de la simultaneidad espacio-temporal entre los participantes para que los intercambios tengan lugar. Así, esta propuesta resulta accesible para aquellos colegas que residen en zonas alejadas o no disponen de un horario regular para reunirse con otros profesionales del área. De este modo, aquí podrán conocer otras realidades, Interactuar y enriquecer su Conocimiento a partir de la experiencia Compartida entre el Disertante o Moderador y otros colegas.
No es necesario contar con una computadora personal, ya que los participantes podrán acceder a la modalidad  desde locutorios, cyber-cafés, Institución a la que pertenecen, o simplemente desde su hogar, participando los días en que se encuentre abierto el Foro, en cualquier momento del día, cuando lo disponga, sin tener la obligación de cumplir con un horario preestablecido.
¿Cómo participo de los Foros de English & Fun?
Hay que seguir los siguientes pasos:
1. Registrarse y abonar un derecho de inscripción
2. Unos días antes del inicio del Foro, recibirán por correo electrónico un material especialmente preparado por el moderador sobre la temática a tratar durante los dos días en que estará abierto el Foro.
3 – El día anterior al inicio del Foro, se les enviará una clave de participación.  A partir del viernes 5 de septiembre a las 10 hs (de Argentina)  y hasta el sábado 6 de septiembre a las 20 hs (de Argentina) , podrán ingresar al sitio, a la "sección FORUM" y anotar la clave de participación..
3. El Moderador, en este caso el Prof. Alfredo Bilopolsky, iniciará el Foro, a partir de una o dos preguntas sobre el tema, que actuarán como disparadores de los intercambios. Cada Participante podrá responder, expresar su opinión, o plantear nuevos interrogantes, completando el asunto y el mensaje que desea enviarse.
4. Las respuestas que dará el moderador y el resto de los participantes no aparecerá en el mismo momento de escribir el mensaje original. No es una sala de "Chat online". El Foro es un panel de mensajes que se irán respondiendo a lo largo de los 2 días. Les recomendamos ingresar al menos dos veces en el día para ir viendo los nuevos mensajes y seguir participando con sus ideas e inquietudes. Esto es una sugerencia, no obligatoria.
5. La riqueza de un Foro es el compromiso de los participantes en enviar sus inquietudes, realizar consultas sobre el tema, contestar mensajes de otros participantes, compartir experiencias, sugerir ideas y/o material bibliográfico sobre el tema.
6. El Foro de English & Fun tiene como característica exclusiva el envío previo de un material teórico preparado especialmente para esta ocasión por un destacado especialista en el tema. Esto lo diferencia del resto de los Foros. También el envío posterior de un Certificado de Participación le da un carácter diferencial.
¿Existe un reglamento que exprese qué tipos de mensajes son aceptados en los foros?
Sí, esperamos que los participantes de nuestros foros se traten con mutuo respeto, y expresen sus opiniones relacionadas al tema propuesto. No se admite vocabulario inadecuado ni ataques personales a otros participantes. English & Fun no se responsabiliza por el contenido de los mensajes, y se reserva el derecho de supervisar los Foros. Los moderadores se reservan el derecho de no publicar (o remover luego de ser publicados) aquellos contenidos propuestos por los usuarios que no respondan estrictamente a los objetivos del foro y a los parámetros establecidos por el mismo.
¿Cuáles son los beneficios de ser usuario registrado de English & Fun para participar en los Foros?
Poder participar de Foros especializados con personas Referentes en la materia, cualquiera sea el lugar de Residencia, en un único lugar de Encuentro, recibiendo Material teórico sobre el tema, teniendo contacto directo con el Disertante  y recibiendo posteriormente un Certificado que acredita su Participación.
Funcionalidad del servicio
El servicio de foros permite a los participantes diferentes instancias de participación respecto del tema del Foro:
1) Dejar un nuevo mensaje
2) Contestar mensajes
3) Ver los mensajes y sus respuestas.
4) Realizar consultas al Disertante o Moderador sobre el tema.
Preguntas frecuentes
1 - ¿Cómo se contesta a un mensaje o foro?
Cada participante del Foro puede iniciar un mensaje o discusión. (Add a new Topic)
Se abrirá una nueva ventana. Allí deberán poner sus datos (nombre, e-mail, el tema del mensaje y el mensaje que deseen postear). Vale aclarar que si no desean poner su e-mail el mensaje se puede subir igual.
Cuando un participante lee un mensaje expuesto, tendrá la posibilidad de contestarlo o dar su opinión sobre lo escrito (Answer this question), o volver al Foro (Back to Forum).
2 - ¿Cualquier persona puede dejar un mensaje en un foro?
Solamente los usuarios que se hayan registrado previamente y que deseen participar pueden hacerlo. Las vacantes son Limitadas.
3 - ¿Quién modera los foros?
Todos los foros son supervisados por el equipo de English & Fun, y  como Moderador un especialista en el tema que se trate. En este caso, el VI Foro será moderado por el Profesor Alfredo Bilopolsky  .
-----------------------------------------------------------

6.-    CURSO DE LITERATURA INFANTIL Y JUVENIL EN LENGUA INGLESA
Escuela Superior De Lenguas Extranjeras
Universidad Del Aconcagua
17 y 18 de octubre de 2008
Enfoques Alternativos Para la inclusión de la Literatura Infantil y Juvenil en la clase de Inglés
Profesora a cargo: Claudia Mónica Ferradas
Destinatarios
Profesores de Inglés de todos los niveles con título docente, habilitante o supletorio, Traductores de Inglés que se desempeñan en el ámbito educativo y estudiantes de los profesorados de Inglés.
Fecha de realización
Viernes 17 de octubre de 2008, 16.30 – 18.30
La narración oral y la literatura infantil en la adquisición de una lengua extranjera
Viernes 17 de octubre de 2008, 18.30 – 20-30
Lectura y escritura creativas con adolescentes
Sábado 18 de octubre de 2008, 9.30 – 11.30
De la página a la pantalla: la nueva literatura juvenil y su relación con los medios y los soportes textuales digitales
Contenidos:
La narración oral.
El docente como narrador en la escuela primaria y otros niveles.
Estrategias para invitar a la escucha y a la respuesta al relato.
Criterios para la selección de relatos.
Desarrollo de actividades para el aula sobre la base de relatos.  
Selección de textos para adolescentes.
El desafío de Internet.
Estrategias para abordar los textos.
Intertextualidad.
Desarrollo de actividades para el aula basadas en la intervención en el texto (escritura, ilustración, extensión, desarrollo de páginas web, etc.)
Duración Total del Curso: 8 horas reloj
Inscripción
Hasta el 20 de setiembre
$ 100  ó  2 cuotas de $60 Agosto/ Setiembre
Hasta el 15 de octubre
$ 120 ó  2 cuotas de $ 70 Setiembre/ Octubre 10
Del 11 al 17 de octubre
$ 150  1 sólo pago
Informes e inscripción: Lavalle 393 Ciudad- Mendoza
-----------------------------------------------------------

7.-    JORNADA DE ACTUALIZACIÓN PROFESIONAL PARA TRADUCTORES
Jornada de Actualización Profesional
Cómo aprovechar al máximo la macrocompetencia traductora
Financial Statements. Translation & Terminology
Expositor: Trad. Púb. Horacio R. Dal Dosso.
Fecha: Sábado 27 de septiembre 2008.
Lugar: CINUR. Tacuarí 237, piso 1, oficina 16.
CABA (Ciudad Autónoma de Buenos Aires, Argentina).
Horarios: - Seminario I: de 09:00 a 13:00
           - Seminario II: de 14:00 a 18:00 
Programa: consultar
Aranceles:
- Seminario I o II: $100
- Ambos Seminarios: $160
Incluye: Materiales, cafés, sorteos de suscripciones a la revista Multilingual. 
Inscripción: info@english-lab.com.ar  
Cierre: Jueves 25 de septiembre a las 17:00. - Vacantes:  25.
Pagos:
Banco Río Santander
Caja de ahorro en $ 073-357597/4
CBU: 07200731 30000035759747
Notas: Una vez efectuado el pago, envíe un mensaje de correo electrónico. - Traiga su tarjeta personal para el sorteo
-----------------------------------------------------------------------

8.- WORKSHOPS AT "AT HOME – BUENOS AIRES"
"At  Home - Buenos Aires" is running the following workshops:
1) How to Use Lost (the TV series) to teach Adults and Teenagers at an Intermediate Level
Date: Saturday, August 23rd  from 9.30 to 12.00
Fees: $75 pesos (Former participants: $65)
Teaching Resources Pack: $125 ($110) for those who have already bought material)
Vacancies: 10 (ten)
2)How to Use Mind Maps (for Children and Adults)
Date: Saturday, August 23rd (from 14 to 17)
Fees: $75 pesos (Former participants: $65)
Vacancies: 10 (ten)
(Workshops 1 and 2: 140 pesos (former participants 120 pesos)
3)How to Plan a 90-minute lesson Integrating the Four Skills (For children and Adults)
Date: Saturday 30th (from 9 to 16.30)
Fees: 160 pesos (course material included)
Vacancies: 10 (ten)
4)How to Teach English to Adults (from a Constructivist Perspective)
Date: Saturday, September 6th ( from 9 to 16.30)
Fees: 150 pesos (course material included)
Vacancies: 10(ten)
5) Teaching One to One Lessons to Adults (from a Constructivist Perspective)
Date: Saturday, September 13th (from 9.30 to 12.30)
Fees: 80 pesos (course material included)
Vacancies: 10 (ten)
All the workshops have been designed and are conducted by Mady Casco
For further information  contact (011) 4833 2965  / <info@athome-buenosaires.com.ar> 
<athome.buenosaires@gmail.com>
Mady Casco graduated as Profesora en Inglés from Instituto Superior del Profesorado "Joaquín .V. González" and specialized in Methodology II .She also graduated as Licenciada en Educación from Universidad Nacional de Quilmes.
Mady has been a teacher trainer for more than 16 years, having taught at Instituto Superior del Profesorado "Joaquín .V. González" and Universidad Belgrano. Currently, she is teaching Trayecto de Construcción de las Prácticas Docentes 1 y 2 at Escuela Normal Superior en Lenguas Vivas "Sofía Spangenberg". She has lectured widely on "Andragogy and Constructivism", "The Use of Video and DVD" and "The Use of Mind Maps".
She is the director of "At Home-Buenos Aires", an organization devoted to teaching foreign languages and helping teachers develop professionally.
She has created a number of thematic projects, such as: " A trip through the 20´s", "A trip through the Greedy  80´s", "The Pleasures of Chocolate", and "Witches".
---------------------------------------------------

9.-   WORKSHOPS IN POSADAS, MISIONES
YES - Librería Especializada announces two new workshops:
Lecturer:  Grace Bertolini
Workshops:
* How to implement Learner Autonomy in the classroom
* Using Stories, Readers and Non-Fiction in the classroom
Dates: Posadas, Misiones -  September 6th
Information and Registration:
Y.E.S. Librería especializada
San Juan 580 - Corrientes
03783-430589
Your English Spot offers you a friendly place where you can sit and look through
books or special material over a cup of coffee and decide which suit you best for your classes.
We also have COD (cash on delivery) service to our neighbouring provinces (Delivery Standard: 2-5 days).
Just contact us by phone 03783-430589 or via e-mail yesbooks@arnet.com.ar
and let us do our best to meet your needs.
-----------------------------------------------------------

10.-   ON THE ROAD'S UPDATES
Auditions for 2009!
Auditions for our Season 2009 will begin in September.
If any actor or actress wishes to apply for our upcoming Season, you may do so by sending your CV, plus two digital pictures: one of your face, and one of your full body to auditions@ontheroadonline.com
Conditions to apply:
Only excellent English please.
Live singing and dancing experience.
Experience in acting for children.
Ages: 18-35
System:
Once you have sent your CV, a pre-selection based on your formation and experience will be carried out. Once you have been chosen, you will be personally contacted by Pilar García Mur, our Casting Producer, to allot a private date and time for your audition in our calendar.
You will be sent two texts via email only, which you need to work on, and bring prepared; plus a song in English with its track to sing along. These two are mandatory to be able to participate.  Thank you.
Two dates in September only, which On the Road will provide; one in Zona Norte, and another in Capital Federal.
One final call back in Capital Federal.
Please make sure you include the following in your CV:
two e-mail addresses

your home phone number

your mobile phone
Thanks!
On the Road's Casting Crew
Season 2009 - Shows:
Kindergarten:Mowglie, a Jungle Boy                
Primary School: Beowulf
Secondary School: Romeo & his Juliet
(Plan ahead and book dates for next year to make sure On the Road is devoted to you on
 a especially chosen date)
On the Road recommends Luz Quinn, professional artist specialized in personal acting training. Sessions are only in Spanish.
Coachings Individuales
por Luz Quinn
Abierta la inscripciónal segundo cuatrimestre 2008 de coachings individuales. (Clases particulares de entrenamiento actoral) Cada encuentro es de 1.30hs y se trabaja utilizando como base el entrenamiento de sattwateatro (www.sattwateatro.blogspot.com ) o bien sobre intereses particulares que el alumno pueda traer.
entrenamientolq@yahoo.com.ar / 15.4195.9530
"On the Road" in your school. There are still a few dates available. Further Information:
Ximena Faralla - 4704.9317
http://www.ontheroadonline.com/
------------------------------------------------------------

11.-   ENTRANCE COURSE AT PROFESORADO Nro 8 "GUILLERMO BROWN",
        SANTA FÉ
Instituto Superior del Profesorado Nro. 8 "Alte.G. Brown"
25 de Mayo 3762 - Santa Fe
Departamento de Lenguas Extranjeras
Ingreso 2009
Carreras:
Profesorado de Inglés
Traductorado Técnico-científico y Literario
e Interpretariado de Inglés
Comienzo del curso preparatorio para el ingreso:
Viernes 29 de agosto 19 hs en el Salón Auditorio del Instituto
------------------------------------------------------------------------

12.- FIRST STUDIO INSTITUTE: ONLINE COURSES
First Studio Institute
Novedades: Cursos y Seminarios 2008
Capacitación Online y a distancia
Calendario Agosto – Septiembre
Professional Courses
Ingles para la Industria del Turismo

E-mail English

Telephoning English

Ingles para Medicina y Profesionales de la salud

Business English: the language of negotiation
Próximamente en nuestra plataforma de e-work:
Ingles para Ingeniería

Ingles para la Industria Minera y Petrolera

Ingles para Agro negocios y Agricultura

Ciclos de escritura: nuevos tópicos todos los meses.
Tutorías online, foros específicos de consulta y salas de Chat. Soporte de material electrónico especialmente diseñado para uso del campus virtual.
Consulte nuestros precios, importantes descuentos a empresas!
Para mas información, puede enviarnos un correo electrónico a firststudio@lpguatrache.com.ar o ingrese a nuestra pagina Web  www.first-v.com.ar
y envíenos su consulta.
-------------------------------------------------------------------

13.- SEMINARS BY HERBERT PUCHTA IN BUENOS AIRES
Herbert Puchta holds a Ph.D. in ELT Pedagogy from the University of Graz, Austria and is currently Professor of English at the Teacher Training University in Graz. He has been a plenary speaker at various international conferences and conducted workshops and given seminars in over 30 countries. He has also worked as a speaker for the British Council and has contributed to various British Council Specialist Seminars.
Herbert is a Master Practitioner in Neuro Linguistic Programming. For more than two decades, he has done research into the practical application of findings from cognitive psychology to the teaching of English as a foreign language. Herbert has co-authored numerous textbooks for the teaching of English as a foreign language, as well as articles and resource books.
His latest course books are English in Mind and More!, both published by Cambridge University Press.
Get inspired! Don't miss Herbert's talks!
Ciudad de Buenos Aires
The Ministry of Education of the City of Buenos Aires and Cambridge University Press are pleased to invite you to the following event:
Date and Time: Monday 1 September - 18:00 to 20:00
Venue: Teatro 25 de mayo, Av. Triunvirato 4444 - Villa Urquiza
Talk: CLIL (Content and language integrated learning): Just jumping on a new band wagon?
Content and language integrated learning (CLIL) is becoming increasingly popular in ELT. However, a critical look at some CLIL material produced for lower secondary students shows that CLIL does not automatically mean quality in the foreign language class. In this session, a framework and concrete examples will be suggested that can help you teach CLIL in a more meaningful and motivational way.
Greater Buenos Aires North
Date and Time: Wednesday 3 September - 17:30# to 20:00
Venue: Colegio Santa Inés, Alem 372 - San Isidro
Talk: Success with teaching lower secondary students: Balancing real world content with imagination and creativity
'Tweenagers' go through a period of significant change in their lives: they are not really young children any more, and yet they sometimes behave so childishly. They are not really adolescents yet, either – but they can, at least sometimes, show behaviour that is very typical of teenagers. In fact, they frequently aspire to be older than they are, and would like nothing more than being as 'cool' as students who are one or two classes above them.
In this session we will look at practical ways of how we can meet these challenges through the application of latest findings in cognitive psychology to the tweenage classroom.
# You will be treated to coffee at 17:30. The talk will start at 18:00 sharp.
These events are FREE of charge, but confirmation is needed.
Certificates of attendance will be issued.
Further details and Registration: Cambridge University Press - Argentina infoarg@cambridge.com.mx
-----------------------------------------------------------------------

14.- WORKSHOP ON "TRANSLATING FOR PROFIT"
Translating for Profit. Más allá de la teoría.
Todo lo que un traductor necesita saber y no se estudia en la universidad.
Modalidad: taller eminentemente práctico donde cada asistente contará con una computadora de alta velocidad, con dos monitores de 17 pulgadas, software original en inglés e Internet, para realizar los ejercicios de creación de proyectos, traducción, uso de glosarios y memorias con SDLX.
Sábado 23 de agosto de 2008 de 9 a 18.
Objetivos: acercar a estudiantes y profesionales las herramientas y los procesos que deben conocer para brindar un excelente servicio de traducción.
Destinatarios: traductores públicos, traductores literarios y técnico-científicos, intérpretes, estudiantes, empresas, estudios y agencias de traducción, docentes de carreras vinculadas a la traducción.
Requisitos mínimos: manejo avanzado de PC y conocimientos avanzados de traducción inglés-español.
Cupo máximo: 25 asistentes.
Este taller puede organizarse especialmente a pedido de instituciones y empresas
del interior.
Temario
• Cambio de paradigmas en el proceso de la traducción.
• Aumento de la productividad/capacidad de traducción.
• Fundamentos de las herramientas de traducción.
• Por qué, cuándo y cómo usar herramientas de traducción.
• Ejemplos de herramientas de traducción: SDLX, Transit, Trados, Wordfast.
• Producción y calidad de procesamiento.
• Procesos exitosos y confiables que ayudan a mejorar los circuitos de trabajo en forma coherente y cuantificable.
• Control de calidad: normas ISO, ASTM y EU orientadas a la traducción.
• Cómo conseguir nuevos niveles de rentabilidad.
• Retorno de las inversiones en tecnología.
• Cómo optimizar mi "empresa" de servicios de traducción.
• Satisfacción del cliente. Cómo conservar a los clientes.
Nivel II. En función del interés expresado por los participantes, se realizará un segundo taller avanzado de herramientas de traducción para explorar las funciones más complejas de estos  sistemas.
Docentes
María D. Cernello de Herbert (Pini). Traductora Pública e Intérprete de Conferencias por la Universidad del Salvador, Buenos Aires. Matriculada en el CTPCBA, miembro de AIIC y de ATA. Miembro Fundadora y ex Presidente de ADICA. Ex docente de la Universidad del Salvador y del IESLV Juan Ramón Fernández. Pini ha sido disertante en numerosas conferencias nacionales e internacionales, y ha publicado varios artículos sobre su especialidad. Se ha desempeñado como intérprete en más de 8.000 conferencias y 7.000 reuniones privadas, y ha sido responsable de la traducción de más de 100 millones de palabras. Desde hace más de 15 años es Vicepresidenta y Directora Profesional de Linguistic Services SA.
Dr. Richard T. Herbert. Nacido y educado en Londres, con formación científica, técnica y gerencial. Licenciado en Biología y Doctorado en Medicina Comparada por la Universidad de Londres, Reino Unido. Richard ha trabajado en una variada gama de organizaciones que incluyen Guy's Hospital London, The Nuffield Institute of Comparative Medicine, The Zoological Society of London y The British Council. Desarrolló su experiencia en el Reino Unido, el Caribe, Grecia, Irlanda, Etiopía, Italia, Paquistán y, desde hace 25 años, en la Argentina. Es autor de varios trabajos y artículos científicos. Desde hace más de 15 años, es CEO y Presidente de Linguistic Services SA.
Informes e inscripción
• Personalmente: en Tte. B. Matienzo 1831 6º "G" de lunes a viernes de 13 a 18.
• Por teléfono: (54-11) 4775-2870/2198.
• Por correo electrónico: info@expo-lenguas.com.ar
• Por Internet: www.expo-lenguas.com.ar
Inversión
• Estudiantes: $ 295 - Profesionales: $ 385.
• Descuento por inscripciones grupales (mínimo diez personas).
Lugar de realización del taller
Centro de capacitación de Linguistic Services SA
Av. Ricardo Balbín 3034 – Ciudad de Buenos Aires
(Barrio Núñez, a 30 minutos del centro)
-----------------------------------------------------------------------

15.- JORNADA DE ACTUALIZACIÓN DE LA FUNDACIÓN LITTERAE
Fundación Litterae
Jornada De Actualización Sobre Lengua Española Para Correctores, Traductores Y Docentes
Sábado 13 de septiembre de 2008 de 10.00 a 13.00 y de 15.00 a 18.00
Programa
• Nuevas normas académicas. Las dudas lingüísticas que se presentan en los trabajos de corrección y de traducción.
•  Corrección de Textos. Los errores que se presentan en textos en español y en textos traducidos al español
Profesoras: Dra. Alicia María Zorrilla
              Trad.ª Estela Lalanne de Servente
Arancel: $ 60 toda la Jornada
La vacante queda reservada con el pago del arancel.
Informes e inscripción: Avda. Callao 262  Piso 3.°  Buenos Aires
De lunes a viernes, de 9.00 a 13.00 y de 16.30 a 20.30
Tel./Fax: 4371-4621
-----------------------------------------------------------------------

16.-   TALLER DE ESCRITURA NARRATIVA AT T.S. ELIOT BILINGUAL STUDIES
"En busca de palabras esquivas"
Taller de escritura narrativa
Ocampo – Cortázar – Borges – Faulkner - Salinger - Saramago
Comienza el 22 de agosto: Viernes 18-20 hrs:
Módulo 1: (22 de agosto, 5 y 19 de septiembre)
Análisis y reflexión sobre la estructura del cuento y de la novela.
Descripciones.
Punto de vista. Identificación de recursos que lo señalan.
Lectura y comentario de textos producidos por los participantes.
Módulo 2: (3, 17 y 31 de octubre)
Punto de vista. Transgresiones y sus efectos.
Elaboración de personajes.
Figuras retóricas.
Lectura y comentario de textos producidos por los participantes.
Coordinadora: Lidia Rissotto
Lidia es Traductora Pública (UBA) y actualmente está cursando la Maestría en Análisis del Discurso. Fue docente de Lengua y Literatura en idioma inglés como segunda lengua.
Se formó como escritora junto a Juan Carlos Martín Real, Martha Nos, Humberto Costantini y Syria Poletti y desde 1995 participa como coordinadora de un grupo de escritura integrado por escritores.
Lidia es también autora de: "Los Morotíes" (2006), y ha integrado diversas antología y libros compartidos: "Voces que cuentan", "Cuentos de abril", "Cuentos desde el taller" y "Antología de la SADE Surbonarense".
En 2007 recibió la Faja de Honor de la Sociedad Argentina de Escritores en la categoría Cuento y en 2003 el premio único del Concurso Internacional Emecé-Zoetrope (Buenos Aires-California) para escritores de habla hispana, entre otras distinciones.
Lidia ha integrado jurados para concursos literarios convocados por la Provincia de Buenos Aires, la Municipalidad de Lomas de Zamora, la SADE Surbonaerense y por escuelas de nivel primario y medio.
Vacantes limitadas
L.N. Alem 1380 – Banfield – Pcia de Buenos Aires
e-mail : info@tseliot.com.at
web site: www.tseliot.com.ar
Administración: Lunes a Viernes de 16 a 21 hrs.
Llámenos al 4202-3672 o comuníquese a través de info@tseliot.com.ar
---------------------------------------------------------

17.-   TERCERAS JORNADAS DE CAPACITACIÓN PROFESIONAL DE EXPOLENGUAS
Expolenguas anuncia
Terceras Jornadas de Capacitación Profesional
5 y 6 de septiembre de 2008 - Howard Johnson Hotel & Suites
M. T. de Alvear 1368 -  Ciudad de Buenos Aires
Información detallada sobre los talleres y antecedentes de los docentes en www.expo-lenguas.com.ar  
Viernes 5 de septiembre de 9 a 13 – Salón Zafiro
Estructuras Comparadas para estudiantes, profesores y traductores. Are you sure you master the Genitive Case? , Dra. María Teresa Viñas Urquiza.
Objetivo: To get an awarenes of the problems of ambiguity in the Genitive Case, both in English and in Spanish.
Temario: plain genitive; redundant genitive; group genitive; appositive genitive; independent genitive; locative genitive; nominalized genitive
Viernes 5 de septiembre de 9 a 13  - Salón Marfil
Redacción: práctica de la composición y del estilo, Lic. Laura Andrea Pérgola y Lic. Catalina Sosa
Objetivos: el objetivo fundamental de este taller es el de contribuir a mejorar la redacción de todo aquel que tenga interés en presentar un texto claro, original y conciso. En este taller intentaremos enseñar cómo manipular el lenguaje para hacerlo rendir al máximo. Para lograrlo hay que aprender a reflexionar sobre el lenguaje, no es simplemente dominar algunas técnicas de redacción y las normas gramaticales. Por ello, no se buscará implementar recetas infalibles ni reglas arbitrarias. Desde la teoría buscaremos las herramientas que nos permitan usar mejor la lengua escrita para redactar cualquier tipo de texto, en cualquier profesión.
Información detallada sobre los talleres y antecedentes de los docentes en www.expo-lenguas.com.ar Viernes 5 de septiembre de 14 a 18 –  Salón Marfil
Traducción directa de informes bursátiles, Trad. Públ. Silvana Debonis
En este taller se trabajará con textos extraídos de informes bursátiles publicados por sociedades de bolsa y por los departamentos de análisis de bancos de inversión. Se analizarán las expresiones técnicas que generan dificultad para su traducción.
Viernes 5 de septiembre de 14 a 18 – Salón Zafiro
Programa de entrenamiento del español basado en la práctica oral del idioma, María Héguiz.
Hablar un idioma es comprender al pueblo que lo expresa.
Sábado  6 de septiembre de 9 a 13 – Salón Marfil
Traducción inversa de informes macroeconómicos, Trad. Públ.  Silvana Debonis
Este taller se centrará en la traducción de textos macroeconómicos del español al inglés extraídos de distintas fuentes para abordar distintos tipos textuales (artículos de periódicos, informes especializados, diapositivas de power point para presentaciones en empresas, etc.).
Sábado 6 de septiembre de 14 a 19 – Salón Zafiro  
Redacción publicitaria y para marketing directo e interactivo, Lic. Ricardo Palmieri
Objetivos: * Dar a conocer los principios básicos de la redacción publicitaria y para marketing directo e interactivo; * Hacer posible que esos principios ayuden a generar textos más claros y adaptados a cada soporte y target; * Brindar y poner en práctica las herramientas que permiten la escritura de los distintas piezas; * Demostrar que las habilidades escriturales para esas áreas no son innatas sino que pueden desarrollarse; * Exponer la relación existente entre la tarea de redacción y la de dirección de arte o diseño, como potenciadora del mensaje; * Llevar a los alumnos, en todo momento, a situaciones de learning by doing.
Informes e Inscripción: info@expo-lenguas.com.ar
Personalmente en Tte. B. Matienzo 1831 6º Piso Oficina "G", Ciudad de Buenos Aires de 13 a 18.
Inversión
Estudiantes $ 105 - Profesionales $135
Taller Redacción publicitaria y para marketing directo e interactivo
Estudiantes $115
Profesionales $ 155
Descuentos
15% por inscripciones grupales (mínimo diez personas).
Quienes hayan participado en Jornadas anteriores tendrán un 10% de descuento.
Los descuentos no son acumulables.
Durante las Jornadas estará el stand de Torre de Papel con bibliografía especializada
-----------------------------------------------------------

18.-    TALLER DE JUEGOS PARA PROFESORES DE ESPAÑOL A EXTRANJEROS
Invasión de juegos
Juegos y creatividad en las clases
Prof. Celeste Grimau
María Celeste Grimau es directora de Steps -Cultural Inglesa de Bariloche- y ha sido Directora del Departamento de Inglés del Colegio del Sol. Ha escrito artículos sobre educación para diarios nacionales y publicaciones especializadas y ha coordinado numerosos talleres en Argentina. Es escritora, narradora y diseñadora de juegos como recursos para enseñanza de idiomas.  Ha desarrollado su propio método basado en el uso de juegos en la clase.
Objetivo del taller: lograr que las técnicas y juegos que los participantes van a experimentar les sirvan para aplicarlas en sus áreas de trabajo.
Dirigido a docentes de español para extranjeros y demás lenguas.
Contenidos:
Los tres tipos de aprendizaje en uso: visual, auditivo y kinestésico presentes
El docente convertido en un facilitador
La cooperación entre docente y alumnos
La competencia positiva
La alta motivación, la diversión y la atmósfera distendida
Encuentro: 26 de agosto, 18 horas - Duración: 3 horas
Lugar: Basi Spanish, Talcahuano 90, entrepiso, departamento, Ciudad de Buenos Aires
e-mail: info@basi-spanish.com  - 4383 0214
------------------------------------------------------------

19.-   THE SUBURBAN PLAYERS: ACTING WORKSHOPS
(1) Teen Acting Course
Hello Teen Actors!
It's that time of the year again when our annual Teen Acting Course begins.
The Suburban Players are celebrating their 45th Anniversary, so we have some exciting plans for this year.
We do hope that you will come and join us!
Remember, we need at least ten students to start the course, so ask your friends.
The more the merrier!
What?      Acting for Teenagers in English
Where?    The Playhouse    Moreno 80, San Isidro
When?     Saturdays 11am to 1 pm
                  August 30th 2008 - November 22, 2008
Cost?    120 pesos each month (discount for enrollment of two students)
Performance at the end of the course for family and friends
Contact:    JulyBanner@aol.com  or fermargenet@yahoo.com.ar
The course will be conducted by Fernando Margenet who studied acting with Raul Serrano at the Escuela de Teatro de Buenos Aires and continued his preperation in Workshops on
Comedy Clown, Fencing and Acrobatics.
Since 1987, he has dedicated himself mostly to theater, both for children and adults,
and has appeared in a few TV shows such as Grande Pa, Son de Diez and Tumberos.
He acted in short films, video clips and two feature films, 1000 Boomerangs and Whiskey Romero Zulu.
Since 1991 he has been teaching Drama in schools: Micheal Ham, Victoria College, Cardinal Newman, and currently Holy Cross and San Marcos.
(2)  Theatre  Workshop for Adults (in English)
For Adults:
Starting, Tuesday 19th 2008
The workshop is for those who have an interest in theatre, and some  experience  or training. We experience acting for the camera, review basic skills for performing and auditioning, work directly on play scripts, scenes and monologues.
Tuesdays  from 8:30 to 10:30 Pm
At The Playhouse, Moreno 80, San Isidro. Fee: $120 per month .
For Information and registration contact:  hugohalbrich@yahoo.com.ar
The Adult Workshop will be conducted by Hugo Halbrich. Mr. Halbrich has a BA in Theatre Arts (California State University, San Diego) and an MA from the University of Connecticut. He trained in New York with Raul Julia, Harold Clurman (one of the founders of the Actors Studio), Mitchell Nestor, Joan Lange. He has also attended workshops with Eric Morris and Augusto Fernandes
------------------------------------------------------------

20.-   SEMINAR: FROM STORY READING TO STORYTELLING
Building openings and endings
Building dialogues
Showing characters through their actions
Distribution of the script
Perspective vs. staging
The time of the story and the time of the telling
Levels of protagonism
Storytelling Activities & a Storytelling Performance!
September 12th – 6.00 to 8.30 PM
Venue: Begrano
Limited vacancies
Material included
Certificates of attendance will be issued
Cost: $40
For enrolment and further information, contact fabianaparano@hotmail.com, fabianaparano@yahoo.com.ar  or call 4784-9616 or 15 4187-2017
Fabiana Parano is a Teacher Trainer, ELT Consultant, Writer and Storyteller. She holds a Self-esteem Practitioner Degree (SEAL Argentina and The International Council for Self-esteem, USA) and an Accreditation for Creative Writing (Cambridge University, UK). She has majored in Storytelling both in English (with A Mckenna) and Spanish (with Ana Padovani). At the moment, she's exploring the world of Mime Acting (Escobar-Lerdunchi). She has given workshops and presentations throughout the country, at schools, teachers' training colleges and for publishing houses.
Fabiana has been a School Headmistress (Amapola School) and an English Coordinator (Jardinar-Septiembre School). At the moment, she is the Director of DEAL (Dynamic English for All Learners).
------------------------------------------------------------

21.-   NET LEARNING: VIDEO CONFERENCIA ABIERTA
Próximo Webinar Abierto (sin cargo):
"El e-learning como medio articulador de la gestión del conocimiento y la mejora en las Organizaciones Públicas."
Lic. Graciela Falivene
Administradora Gubernamental, Planificadora (FAU-UBA 1987), profesora universitaria. Investigadora, experta en formación activa para directivos, profesionales y comunidades de  desarrollo local. Actualmente se desempeña como Coordinadora del  Programa de Innovación de la Capacitación de la Dirección del Sistema Nacional de Capacitación del INAP de Argentina. Responsable de la Plataforma Educativa TeleINAP. Coordinadora del General del Curso iberoamericano de GE, en el marco de la Escuela Iberoamericana de Administración y políticas publicas. Fue Directora Nacional de Capacitación del INAP.
Fecha: sábado 6 de setiembre, 11 hs de Buenos Aires
Para mayor información contactar: info@net-learning.com.ar - (+54 11) 4796-0181 - 4464-0350 - Visite nuestro blog: http://www.net-learning.com.ar/blog/
----------------------------------------------------------------------
We would like to finish this issue of SHARE with two messages from two dear SHARERS
who attended our Annual Convention:
Hi Marina and Omar!
I'm Mabel from Blenheim Language Institute -San Miguel. I had the great opportunity to 'Share' with you and many other colleagues the different stages of the annual 'Share' conference and from many of those lectures and lecturers I was able to appreciate a wide-range of creativity, versatility and imagination. All those items allowed me to reflect positively toward the teaching-learning process, something which I sometimes neglect due to many social circumstances that make many of us feel a little depressed. I really got involved with the spirit of the conference which was full of happiness, interaction and knowledge. I congratulate you and your team for the organization and for being always present at any moment. A big hug for all of you! Mabel
Mabel Conocheli mabicoza@yahoo.com.ar
Dear Omar,
Sorry we didn´t have time for a chat, but everybody was extremely busy. I´d never seen so much people at a convention before - and believe me, I´ve seen many - or such an enthusiastic audience.
My heartfelt congratulations on the enormous success. You and your family really deserve it. I have a complaint, though. At the closing ceremony you never mentioned "people from Santa Fe"!
I also want to thank you for having allowed me to really enjoy some of the talks, and profitted from their unsurmountable quality.
Congrats again!
Big hug and kiss,
Ana Lía Passarotto de Cabrera
HAVE A WONDERFUL WEEK!
Omar and Marina.
------------------------------------------------------------------------
SHARE is distributed free of charge. All announcements in this electronic magazine are also absolutely free of charge. We do not endorse any of the services announced or the views expressed by the contributors. For more information about the characteristics and readership of SHARE visit: http://www.groups.yahoo.com/group/ShareMagazine
VISIT OUR WEBSITE : http://www.ShareEducation.com.ar There you can read all past issues of SHARE in the section SHARE ARCHIVES.
------------------------------------------------------------------------