SHARE
<![if !supportEmptyParas]> <![endif]>
An Electronic Magazine by Omar Villarreal and Marina Kirac ©
<![if !supportEmptyParas]> <![endif]>
Year 3                                   Number 66                    March  23rd     2002
______________________________________________________________
<![if !supportEmptyParas]> <![endif]>
Thousands of candles can be lighted from a single candle, and the life of the candle will not be shortened. Happiness never decreases by being SHARED
_______________________________________________________________
<![if !supportEmptyParas]> <![endif]>
Dear SHARERS,
<![if !supportEmptyParas]> <![endif]>
Undoubtedly these are very hard times. And even if it sounds terribly common place now:  this is the worst crisis we have ever had in our country.  In the face of deceit,
rampant corruption, distrust, justified outrage and unjustified violence, we should make every possible effort to give and to share as generously as we can afford ( and this does not necessarily mean material riches), to do our work as professionally as we can and to listen to others with an open mind and an open heart. And most importantly to turn to friends and family for comfort, shelter and protection.
<![if !supportEmptyParas]> <![endif]>
Here is a message that our dear friend and SHARER Nicolas Ridley,  Publisher of
ENGLISH TEACHING professional, sent us from the UK. and that we would like to share with you.
<![if !supportLineBreakNewLine]>
<![endif]>
Dear Omar
 
 I know that I'm writing on behalf of a great many people in the UK with friends in Argentina and a great affection for the country when I say that our thoughts have been with you during the last few months. We have been watching events unfold with a sense of disbelief and helpless outrage. It would be impertinent and quite inappropriate to offer any other comment on the situation. May I simply say that we have great faith in the industry, resilience and ingenuity of the people of Argentina and that we know you will win through in the end. I hope this doesn't sound too pompous - but sometimes (just sometimes!) pomposity is worth risking.
 
With best wishes
Nicolas - nicridley@etprofessional.com
<![if !supportEmptyParas]> <![endif]>
Thank you for your kind and affectionate message, Nicolas. It certainly was worth risking it. And to all of you dear SHARERS : let´s stick together!
<![if !supportEmptyParas]> <![endif]>
Omar and Marina.
<![if !supportEmptyParas]> <![endif]>
<![if !supportEmptyParas]> <![endif]>
<![if !supportEmptyParas]> <![endif]>
In SHARE 66
<![if !supportEmptyParas]> <![endif]>
1.-      Maestría en Inglés.
2.-     God is under the bed.
3.-     Book News:  Stephen Krashen´s "Three Arguments …"
4.-     Bernieh´s Corner: Discover your own Learning Style.
5.-     Especialización en Filosofía del Lenguaje.
6.-     Licentiate Diploma in Applied Drama.
7.-     Nexus : Call for Submissions.
8.-     Roger, Wilco!
9.-     II  Congreso Internacional Virtual de Educación
10-     2002 FAAPI Conference.
11-     Forthcoming Courses.
<![if !supportEmptyParas]> <![endif]>
---------------------------------------------------------------------------------------
<![if !supportEmptyParas]> <![endif]>
1.-      MAESTRÍA EN INGLÉS
<![if !supportEmptyParas]> <![endif]>
A most welcomed piece of news for the ELT community in Argentina: as from this year Facultad de Ciencias Humanas of Universidad Nacional de Río Cuarto will offer a Maestría en Inglés with two different orientations : Applied Linguistics and British and American Literature. Enrolment is open to teachers of English, B.A. holders ( Licenciados en Inglés) and Translators.
<![if !supportEmptyParas]> <![endif]>
The Plan for this course of studies and detailed information can be found in our Website : www.share.itgo.com in the NEWSBOARD section (open that section and double click on the words "Maestría en Inglés".
<![if !supportEmptyParas]> <![endif]>
You can also require further information from Ms. Georgina Nogara at Universidad Nacional de Rio Cuarto : gnogara@hum.unrc.edu.ar
<![if !supportEmptyParas]> <![endif]>
---------------------------------------------------------------------
<![if !supportEmptyParas]> <![endif]>
2.-     GOD IS UNDER THE BED
<![if !supportEmptyParas]> <![endif]>
Our dear SHARER,  Bethina Viale, sends us this incredibly beautiful story and this messagae "If you don't have time to read it now, please save it and read it later when you do have time. It's awesome!"
Lots of love,
Bethina

<![if !supportLineBreakNewLine]>
<![endif]>
God's Under the Bed

My brother Kevin thinks God lives under his bed. At least that's what I heard him say one night. He was praying out loud in his dark bedroom, and stopped outside his closed door to listen. Are you there, God?" he said. Where are you? Oh, I see. Under the bed."
I giggled softly and tiptoed off to my own room. Kevin's unique perspectives are often a source of amusement.
But that night something else lingered long after the humour. I realized for the first time the very different world Kevin lives in. He was born 30 years ago, mentally disabled as a result of difficulties during labour. Apart from his size (he's 6-foot-2), there are few ways in which he is an adult. He reasons and communicates with the capabilities of a 7-year-old, and he always will.
<![if !supportLineBreakNewLine]>
<![endif]>
He will probably always believe that God lives under his bed, that Santa Claus is the one who fills the space under our tree every Christmas, and that airplanes stay up in the sky because angels carry them.

I remember wondering if Kevin realizes he is different. Is he ever dissatisfied with his monotonous life? Up before dawn each day, off to work at a workshop for the disabled, home to walk our cocker spaniel, returning to eat his favourite macaroni-and-cheese for dinner, and later to bed. The only variation in the entire scheme are laundry days, when he hovers excitedly over the washing machine like a mother with her newborn child.
He does not seem dissatisfied. He lopes out to the bus every morning at 7:05, eager for a day of simple work. He wrings his hands excitedly while the water boils on the stove before dinner, and he stays up late twice a week to gather our dirty laundry for his next day's laundry chores. And Saturdays-oh, the bliss of Saturdays! That's the day my dad takes Kevin to the airport to have a soft drink, watch the planes land, and speculate loudly on the destination of each passenger inside.
"That one's goin' to Chi-car-go!" Kevin shouts as he claps his hands. His anticipation is so great he can hardly sleep on Friday nights.

I don't think Kevin knows anything exists outside his world of daily rituals and weekend field trips. He doesn't know what it means to be discontent. His life is simple. He will never know the entanglements of wealth, of power, and he does not care what brand of clothing he wears or what kind of food he eats. He recognizes no differences in people, treating each person as an equal and a friend. His needs have always been met, and he never worries that one day they may not be. His hands are diligent. Kevin is never so happy as when he is working. When he unloads the dishwasher or vacuums the carpet, his heart is completely in it. He does not shrink from a job when it is begun, and he does not leave a job until it is finished. But when his tasks are done, Kevin knows how to relax.

He is not obsessed with his work or the work of others. His heart is pure. He still believes everyone tells the truth, promises must be kept, and when you are wrong, you apologize instead of argue. Free from pride and unconcerned with appearances, Kevin is not afraid to cry when he is hurt, angry or sorry. He is always transparent, always sincere. And he trusts God.
Not confined by intellectual reasoning, when he comes to Christ, he comes as
a child. Kevin seems to know God-to really be friends with Him in a way that is difficult for an "educated" person to grasp. God seems like his closest companion. In my moments of doubt and frustrations with my Christianity, I envy the security Kevin has in his simple faith. It is then that I am most willing to admit that he has some divine knowledge that rises above my mortal questions. It is then I realize that perhaps he is not the one with the handicap - I am.

My obligations, my fear, my pride, my circumstances - they all become disabilities when I do not submit them to Christ. Who knows if Kevin comprehends things I can never learn? After all, he has spent his whole life in that kind of innocence, praying after dark and soaking up the goodness and love of the Lord. And one day, when the mysteries of heaven are opened, and we are all amazed at how close God really is to our hearts, I'll realize that God heard the simple prayers of a boy who believed
that God lived under his bed. Kevin won't be surprised at all!
------------------------------------------------------------------
<![if !supportEmptyParas]> <![endif]>
3.-     BOOK NEWS:  STEPHEN KRASHEN´S "THREE ARGUMENTS …"
<![if !supportEmptyParas]> <![endif]>
Our dear SHARER, Germán Estevez from Montevideo sends this bibliographical note:
<![if !supportEmptyParas]> <![endif]>
Three Arguments Against Whole Language & Why They Are Wrong
Stephen D. Krashen
<![if !supportEmptyParas]> <![endif]>
<![if !vml]>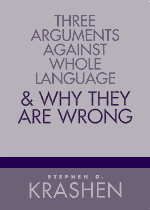 <![endif]>Stephen Krashen, one of the most respected authorities on language and literacy, sets the record straight about today's reading wars, offering an incisive analysis of the three major "battle cries" of whole language critics. In a step-by-step dissection, Krashen reiterates the three arguments, then explores the most salient studies that support or refute them.
<![if !supportEmptyParas]> <![endif]>
CLAIM: Eye movement studies prove that readers assay text "completely," and therefore do not sample text to confirm predictions, as maintained by whole language advocates. In exploring the Eye Fixation Studies, which attempted to disprove the Goodman-Smith reading theory, Krashen reveals that study participants had no alternative but to examine every fine detail of the print. Further evidence is provided that supports the hypothesis that literacy development and comprehension are in fact closely related.
<![if !supportLineBreakNewLine]>
<![endif]>
CLAIM: Context interferes with reading. This is only true, says Krashen, if the context (e.g. pictures) is too rich, or "overdetermining." We also see how the results of studies supporting this claim were biased by the methodology used.
<![if !supportLineBreakNewLine]>
<![endif]>
CLAIM: Skill-building approaches to reading have been shown to produce better results than whole language. In fact, asserts Krashen, when whole language is correctly defined as providing comprehensible texts, it is a consistent winner.
<![if !supportEmptyParas]> <![endif]>
The author also skewers the  frenzy over early intervention and illustrates his point with a humorous scenario showing how "prenatal phonemic awareness testing" could be the logical outgrowth of an entirely skills-based approach! But beyond its point/counterpoint format, Three Arguments offers some real solutions, chief of which is making sure that all children have access to interesting reading material so they can finally achieve the standards of literacy they deserve.
<![if !supportEmptyParas]> <![endif]>
Contents:
Three Arguments, Three Answers
Eye Fixation Studies Do Not Disprove the Smith-Goodman Hypothesis
Does Context Interfere with Learning to Read?
When Whole Language Means Real Reading, It Is a Consistent Winner over Skills in Method Comparison Studies II. Two Solutions: One Real, One Imaginary
Eliminating Print Deprivation
Phonemic Awareness Training for Prelinguistic Children: Do We Need Prenatal PA?
<![if !supportEmptyParas]> <![endif]>
Published by Heinemann / ISBN 0-325-00119-7 / 1999 / 103pp / Paper / $10.00
<![if !supportEmptyParas]> <![endif]>
-----------------------------------------------------------------------------------
<![if !supportLineBreakNewLine]>
<![endif]>
4.-     BERNIEH´S CORNER: DISCOVER YOUR OWN LEARNING STYLE
<![if !supportEmptyParas]> <![endif]>
Our indefatigable collaborator and friend Bernieh strikes back:
<![if !supportEmptyParas]> <![endif]>
Hello, dear SHARERS!

A quick note to tell you that I found a reference/inventory/test on learning styles at: http://www.vark-learn.com/

Here's the intro (NB: VARK stands for Visual, Aural, Read/Write, Kinesthetic):

"VARK tells you something about yourself that you may or may not know. It can be used to understand your boss, your colleagues, your parents, your relatives and yourself. It is a short, simple inventory that has been well-received because its dimensions are intuitively understood and its applications are practical. It has helped people understand each other and especially students to learn more effectively and faculty to become more sensitive to the diversity of teaching strategies necessary to reach all students. Although copyrighted, VARK is free for use in student or faculty
development as long as attribution is given. It may not be published in paper or electronic form without permission of the authors. If used commercially, say for training, a small fee must be paid.

Although we have known for centuries about the different modes, this inventory, initially developed in 1987 by Neil Fleming, Lincoln University, New Zealand, was the first to systematically present a series of questions with help-sheets for students, teachers, employees, and others to use in their own way."

 
Kind regards,
Bernieh.
Bernardo Humberto Banega (h)
http://www.bernieh.com.ar
<![if !supportEmptyParas]> <![endif]>
----------------------------------------------------------------------------
<![if !supportEmptyParas]> <![endif]>
5.-     ESPECIALIZACIÓN EN FILOSOFÍA DEL LENGUAJE.
<![if !supportEmptyParas]> <![endif]>
A partir de este año, comenzará a dictarse la Carrera de Especialización en Filosofía del Lenguaje en la Facultad de Filosofía, Historia y Letras de la Universidad del Salvador.
El objetivo esta Carrera, de un año de duración, es formar especialistas en
el área del lenguaje que puedan proporcionar una argumentación racional,
crítica y metódica de los problemas relacionados con la teoría del signo,
del sentido, de la gramática y la sintaxis. Los interesados deberán contar
con título universitario en carreras de no menos de cuatro años de duración
(filosofía, letras, historia, ciencias sociales, derecho, psicología,
comunicación social, etc.).
Para informes y pre-inscripción, llamar al 4811-9728 o por e-mail:
uds-filo@salvador.edu.ar
--------------------------------------------------------------------------------
<![if !supportEmptyParas]> <![endif]>
6.-     LICENTIATE DIPLOMA IN APPLIED DRAMA
<![if !supportEmptyParas]> <![endif]>
Our dear friend and SHARER, Ana Maria Rossi de Bergel sends us this message:
<![if !supportEmptyParas]> <![endif]>
Universidad CAECE, CENTUM Language Services and Trinity College London (Music, Speech, Drama and Dance Department) are pleased to announce their second course leading to the Licentiate Diploma in Applied Drama, for teachers of English as a Foreign Language.
This unique course focuses on creative methodologies, the creation and management of centres of interest, integrative project work and an exploration of the dramatic nature of communication and human interaction.
The course consists of two interrelated components:
a. Drama for TEFL, dealing with cognitive processes, classroom practice, planning, project work and cross-curricular integration.
b. Practical Skills, providing training in acting, storytelling, mime and puppetry.
Practical work includes teaching and video-taping three lessons based on the application of drama principles and techniques to the teaching and learning of English as a Foreign Language. To pass the course, teachers must present these video-taped lessons, with their rationale and self-evaluation, a portfolio of assessed coursework and a 5,000-word paper on a practical experience of having used drama for their lessons.
Upon successful completion of the course, Trinity College London (Music, Speech, Drama and Dance Department) issues the Licentiate Diploma, which is not an official degree in Argentina and is not equivalent to an Argentine Licenciatura. Teachers not wishing to sit for the TCL moderation obtain a certificate of attendance and completion from Universidad CAECE.
The tutors are:
Lic. Ana María R. de Bergel: Drama for TEFL
Alfred Hopkins, B.A:: Practical skills - Acting and Storytelling.
Lic. Alberto Ivern: Practical skills - Mime
Prof. Angélica Violante: Practical skills - Puppetry.
For a complete copy of the syllabus and further information, please contact amrbergel@speedy.com.ar or centum@velocom.com.ar
We will be looking forward to your queries.
Lic. Ana María R. de Bergel
Co-ordinator
<![if !supportEmptyParas]> <![endif]>
------------------------------------------------------------------------------- 
<![if !supportEmptyParas]> <![endif]>
7.-     NEXUS : CALL FOR SUBMISSIONS 
<![if !supportEmptyParas]> <![endif]>
Susan L. Schwartz,  editor and publisher of "Nexus" writes to us:
<![if !supportLineBreakNewLine]>
<![endif]>
This is a call for submissions to the fifth issue of "Nexus: A Journal for Teachers in Development." The deadline for submissions is June 30 and the expected date of publication is November 2002.

"Nexus" is a non-commercial email journal aimed at ESOL teacher trainers. It is not affiliated with any organization, nor is there any charge to receive the journal. Articles are being solicited on a wide variety of topics related to the field of teacher training, education, and development. Please note that articles submitted for consideration should deal with some aspect of how to increase the expertise of people who train teachers of English to speakers of other languages. General articles about teaching English to second/foreign language students are not the focus of the journal.

If you would like to receive the complete guidelines for submissions, please email me at <slschwartz@earthlink.net> and write "Nexus—Request Guidelines" on the Subject line. If you have received the guidelines in the past, it is not necessary to request them again.

The November 2001 issue is available and if anyone would like to receive a copy to get an idea of what kinds of articles are published, please email me at the same address and write "Nexus--Request Journal" on the Subject line. If you would like to subscribe, please email me and write "Nexus--Subscribe" on the Subject line. Journal subscriptions are free.

Thank you for your interest.

Susan L. Schwartz
Editor and publisher, "Nexus"
Haverhill, MA, USA
slschwartz@earthlink.net
---------------------------------------------------------------------------
<![if !supportEmptyParas]> <![endif]>
8.-     ROGER, WILCO !
<![if !supportEmptyParas]> <![endif]>
Our dear SHARER Pedro Anguis from Longchamps in Provincia de Buenos Aires sends us this article for the word lovers. It was originally published in : The Words Web site is at <http://www.worldwidewords.org>.
<![if !supportLineBreakNewLine]>
<![endif]>
Q. I've been getting space-e-mails (a friend on the station) and it's reminded me that I've been long pondering "Roger that" in the meaning of "I've heard what you've said". I realize all occupations have their own buzzwords, and one can't get distracted by them all, but this one's well-known, and, well, why "Roger"? Why not "Ginger" or "Daniel"? [Sharlene Baker, USA]

A. They came from outer space ...

The word is definitely the proper name, but it's not been chosen randomly. Nor was there a famous early radio operator named Roger, as some wit somewhere is probably at this moment trying to convince somebody. It all goes back to phonetic radio alphabets, designed to transmit words by spelling them out letter by letter over poor- quality circuits. The phonetic expressions are chosen to be as distinctive as possible to limit the risk of confusing them.

We're so used to the internationally accepted "Alpha, Bravo,Charlie ... X-Ray, Yankee, Zulu" alphabet, dating from about 1955, that only the older among us remember that there were others that preceded it. In particular, the phonetic alphabets used by the US Navy and the Royal Air Force from about 1941 both used "Roger" as the standard abbreviation for the letter "R". Some at different times used the very similar "Robert", but we are most familiar with "Roger" because it was standard for a large part of the Second World War.

(A friend of mine many years ago had served in the RAF during the War - so long ago, he would say, that Pontius was a pilot. He once had to spell a word out to a telephone operator - this would have been about 1970 - and automatically used the "Able", "Baker", "Charlie" alphabet he had learnt in signals training. After he had finished, there was a little pause, then the operator said, very sweetly, "You *are* old-fashioned, aren't you, sir".)

The letter R, expanded to "Roger", was used to mean "message received". Since the operator was often acknowledging receipt of a message on which he would have to act in some way, the response came not only to mean that he had received it, but that he had understood it, a subtle but crucial extension. (If he wanted to say explicitly that he would carry out an instruction, he would add "wilco", short for "I will comply".   Hence all these handle-bar moustached aviators in films like The Dam Busters shouting "Roger, Wilco!" into their handsets before peeling off to do some deed of
daring.)

This meaning for "Roger" became so stereotyped that it survived the shift to the international phonetic alphabet that almost everybody now uses, which instead has "Romeo" for "R". It's a good thing it only came in after the War: "Romeo, Wilco!" doesn't have the same ring ... 
<![if !supportLineBreakNewLine]>
<![endif]>
World Wide Words is copyright (c) Michael Quinion 2002. All rights
reserved.
<![if !supportEmptyParas]> <![endif]>
---------------------------------------------------------------------------------
<![if !supportEmptyParas]> <![endif]>
9.-     II CONGRESO INTERNACIONAL VIRTUAL DE EDUCACIÓN
Our dear SHARER, Marta Arana from Mar del Plata wants to share this piece of news with all of us:
<![if !supportEmptyParas]> <![endif]>
CIVE-2002
II Congreso Internacional Virtual de Educación,
del 15 al 26 de Abril, vía Internet
Organizado por:
CiberEduca.com y Escola de Formació en Mitjans Didàctics (STEI-i) (España)
Con el soporte de:  Conselleria d'Educació i Cultura del Govern de las Islas
Baleares (España) y Universidad de las Islas Baleares (España)

CIVE 2002 es una conferencia anual sobre educación organizada sobre plataforma Internet por CiberEduca.com y la Escola de Formació en Mitjans Didàctics. Este congreso pretende representar tanto a educadores individuales como organizaciones e instituciones del mundo de la educación, interesadas en la creación y discusión de una base de conocimiento, en relación a la educación y las tecnologías de la información aplicadas a la educación.
<![if !supportLineBreakNewLine]>
<![endif]>
CIVE 2002 debe entenderse como una reunión científica que utiliza como
canal de comunicación Internet, de forma que los participantes acuden, desde sus
propios ordenadores sin necesidad de desplazamientos físicos, pero que a todos los niveles, representa un congreso con las mismas posibilidades y características que los congresos convencionales, incluso podríamos decir que aporta algunas ventajas como son: menores costes, programa más amplio,
<![if !supportLineBreakNewLine]>
<![endif]>
Desde CIVE-2002 les invitamos a participar activamente.
Para acceder al formulario de inscripción ingresar en esta dirección:
http://www.cibereduca.com/cive/ins-participante.HTM
Más información en: http://www.cibereduca.com/cive/cive2002.htm
Secretaría de CIVE-2002: cive@cibereduca.com 
Tel. 971-769-416 (de 17 a 20h. De lunes a viernes)
---------------------------------------------------------------------------------
<![if !supportEmptyParas]> <![endif]>
10-     2002 FAAPI CONFERENCE
This year the Córdoba Association is organizing the traditional and biggest ELT event of the year, the Federation  Conference. Here are some details for this year´s meeting:
<![if !supportEmptyParas]> <![endif]>
"Curriculum development: managing the change"
19, 20, 21 September 2002
Córdoba, Argentina
<![if !supportEmptyParas]> <![endif]>
Changes in educational settings and the introduction of new study programmes
prompt decision taking at the level of objectives, contents and methodologies, in short, of the main components of the curriculum. How do these changes affect the business of ELT, especially in the context of school ELT? What have we learnt in the process of implementing the new curricula? Where do we stand today? And where are we heading?
The 2002 FAAPI Conference intends to be a forum where these questions will be addressed.
The main topics include:
Schools curricula: EGB and Polimodal Education
Teacher education curricula
Curricula for ESP
Curricula and International Examinations
Content based curricula
Technology applied to EFL
<![if !supportEmptyParas]> <![endif]>
Additionally, there will be a number of plenaries, papers and workshops dealing with different aspects of ELT in the Argentine context.
For information, contact  faapi2002@hotmail.com 
<![if !supportEmptyParas]> <![endif]>
-----------------------------------------------------------------------------------------------
<![if !supportEmptyParas]> <![endif]>
11-     FORTHCOMING COURSES
<![if !supportEmptyParas]> <![endif]>
(A) Resourceful Teaching – 
In Versailles, Capital Federal, Buenos Aires - (5411) 4641-9068
jamie@abaconet.com.ar  or lauraszmuch@aol.com
All Courses taught by Jamie Duncan and Laura Szmuch
<![if !supportEmptyParas]> <![endif]>
Friday April 5 -             Beyond belief: How beliefs affect teaching and learning
Friday April 26 -            Everyone's a winner - conflict resolution in the classroom
Starting on April 6-        NEW Practitioner Certificate
12 module training course leading to an international certificate. 8 hour modules once a month on Saturdays.
<![if !supportEmptyParas]> <![endif]>
(B) Language Network  - Billinghurst  2476  2°piso  1425  Buenos Aires
4805-6586 - 4805-8452 - languagenetwork@sinectis.com.ar
All Courses taught by Norma Benesdra
Taller Socrático de Método:  8 encuentros para desarrollar la creatividad                          
El factor humano en la educación : Integración de intelecto, arte y emociones.
Maximizing audio-comprehension
Education and technology: no dichotomies
Teaching to think in English
Teaching FCE successfully
( C) Café Borges - R. Gutiérrez 909 Olivos - 4796-2220
Course taught by Débora Masovetzky
<![if !supportEmptyParas]> <![endif]>
Starting Monday 1st April                  How to Tell Stories
<![if !supportEmptyParas]> <![endif]>
(D) On site Talks for Teachers -
All Courses taught by Pierre Stapley - stapley@arnet.com.ar 
<![if !supportEmptyParas]> <![endif]>
What are Catchphrases and why are they important to know about?
Colloquial and English Slang.
Teen Speak
Business Terminology and Sayings.
Taboo English
Idioms: "What idioms are old and which are still in use?"
<![if !supportEmptyParas]> <![endif]>
------------------------------------------------------------------------------
<![if !supportEmptyParas]> <![endif]>
Time to say goodbye again. This time let us share this humorous message that our very dear friend Alicia Nasca from San Miguel de Tucumán sent us. No doubt sound advice for times of crisis.
Everything I need to know about life, I learned from Noah's Ark....
<![if !supportLineBreakNewLine]>
<![endif]>
One: Don't miss the boat.
Two: Remember that we are all in the same boat.
Three: Plan ahead. It wasn't raining when Noah built the Ark.
Four: Stay fit. When you're 600 years old, someone may ask you to do something really big.
Five: Don't listen to critics; just get on with the job that needs to be done.
Six: Build your future on high ground.
Seven: For safety's sake, travel in pairs.
Eight: Speed isn't always an advantage. The snails were on board with the cheetahs.
Nine: When you're stressed, float a while.
Ten: Remember, the Ark was built by amateurs; the Titanic by professionals.
Eleven: No matter the storm, when you are with God, there's always a rainbow waiting.

<![if !supportLineBreakNewLine]>
<![endif]>
HAVE A WONDERFUL WEEK !
<![if !supportEmptyParas]> <![endif]>
Omar and Marina.
<![if !supportEmptyParas]> <![endif]>
SHARE is distributed free of charge. All announcements in this electronic magazine are also absolutely free of charge. We do not endorse any of the services announced or the views expressed by the contributors.  For more information about the characteristics and readership of SHARE visit: http://groups.yahoo.com/sharemagazine
VISIT OUR WEBSITE : http://www.share.itgo.com . There you can read all past  issues of SHARE in the section SHARE ARCHIVES.
<![if !supportEmptyParas]> <![endif]>
<![if !supportEmptyParas]> <![endif]>
<![if !supportEmptyParas]> <![endif]>
<![if !supportEmptyParas]> <![endif]>
<![if !supportEmptyParas]> <![endif]>
<![if !supportEmptyParas]> <![endif]>
<![if !supportEmptyParas]> <![endif]>
<![if !supportEmptyParas]> <![endif]>