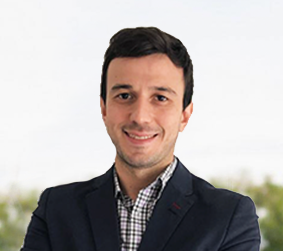 Lic. Martín Villarreal
Share Education - Impactar Idiomas
Profesor en Inglés e Inglés Técnico, Instituto Nacional Superior del Profesorado Técnico de la UTN. Licenciado en Lengua Inglesa ,Universidad Tecnológica Nacional. Certificado Universitario de Especialista en Lengua Inglesa, Facultad Regional Villa María de la UTN. Certificado Superior de Especialización en Lengua Inglesa y Certificado de Profesor Especialista en Fonética y Fonología Inglesas, INSPT- UTN.
Especialista en Administración de la Educación, Universidad Torcuato Di Tella. Maestrando en Marketing Estratégico, Universidad UCES . Ex Profesor del Colegio Nacional de Buenos Aires (UBA) y de la Universidad Siglo XXI. Actualmente Profesor en Universidad Nacional de Lanús, Escuela Normal Superior en Lenguas Vivas "Sofía E. Broquen de Spangenberg", Facultad Regional Buenos Aires – UTN.
Presidente Ejecutivo de SHARE Education. Co Fundador y director de Marketing de Impactar Idiomas. Emprendedor educativo. Ha dictado cursos y conferencias en Argentina, Chile y Uruguay.
Becario del Departamento de Estado de los Estados Unidos para el Programa "International Visitors Leadership Program in the US". En 2010 completó summa cum laude el curso "Critical Thinking in the Teaching of English as a Second Language", Departmento de Lingüística de Universidad de Oregon, USA.