SHARE
An Electronic Magazine by Omar Villarreal, Marina Kirac and Martin Villarreal ©
Year 9 Number 186               May 12th 2008

12,478 SHARERS are reading this issue of SHARE this week
__________________________________________________________
Thousands of candles can be lighted from a single candle, and the life of the candle will not be shortened. Happiness never decreases by being SHARED
__________________________________________________________
Dear SHARERS,
We would like to start this issue of SHARE, as we had done so many times before, with a big "thank you" for all the congratulatory notes we received on our son's (Martin) graduation as a  teacher of English and Technical English from Universidad Tecnológica Nacional. It is really good to feel that SHARE is still a bit like that "little house on the prairie" it used to be when we started our magazine 9 years ago. The number of subscribers might have gone up (we were only 48 in our first issue!), but the spirit remains and that is something we cherish.
Another piece of news that we are proud to announce is that Marina has received her M.A. in TEFL from Universidad de Jaén, Spain and is currently working hard towards her M.A. in the teaching of Spanish as a foreign language with Universidad de León, Spain and on her Maestría en la Enseñanza de la Lengua y la Literatura at Universidad de Rosario, Argentina.
As for our youngest son, Sebastian, he is halfway his course of studies in Law at Universidad Austral, Buenos Aires and doing quite well indeed.
We are an ordinary Argentinian family and we celebrate learning because we strongly believe in the value of education, as we know all of you, dear SHARERS do. This is what has kept us all together, you and us, beyond own or "borrowed" anniversaries and special occasions in our efforts to move one tiny little bit forward every day on our road to knowledge and to freedom from false prophets and mere (and pitifully ignoramus) babbitts.
Love
Omar and Marina
______________________________________________________________________
In SHARE 186
1.-    Blogging in the Language Classroom: It Doesn't "Simply Happen"
2.-    What do we mean by "Postcolonial Literature"?
3.-    Using Synonym Maps to Explore Connotation
4.-    Advanced Vocabulary in Context: Motorcycles: Bobbers and Choppers
5.-    XL Jornadas de Estudios Americanos en Rafaela
6.-    ESSARP Centre: Juegos teatrales en el aula by Alejandra Alliende
7.-    2º Seminario de Capacitación en Lenguas Extranjeras in La Pampa
8.-    Course on Kindergarten at Leeds
9.-    URUTESOL National and International Convention 
10.-   "At Home" Workshops
11.-   Theatre and Storytelling Workshop
12.-   Primer Congreso del NOA para Profesores y Estudiantes de Inglés
13.-   Analia Kandel on FM Identidad 92.1
14.-   Especialización en  la Enseñanza del Español como Lengua Extranjera en la
Universidad de La Plata
15.-   Tools for Teachers : Workshops May 2008
16.-   Cursos para Traductores con Horacio R. Dal Dosso
17.-   Top Girls at the British Arts Centre
18.-   Expolenguas: Jornadas de Capacitación Profesional
19.-   International Conference at Puerto Vallarta. Mexico
20.-   Literature & Media Workshop in La Plata
21.-   Course on Legal English at APrIR
22.-   "Por Vos, Buenos Aires": Método de enseñanza de español rioplatense como LE
------------------------------------------------------------------------

1.- BLOGGING IN THE LANGUAGE CLASSROOM: IT DOESN'T "SIMPLY HAPPEN"
Blogging in the Language Classroom: It Doesn't "Simply Happen"
Carla Arena
Casa Thomas Jefferson
Binational Center, Brasilia-DF, Brazil
Abstract
This paper describes the importance of guiding students to use blogs (Web logs) for educational purposes. While blogs are commonly thought of as "simply happening," in fact, educators in a media literate world need to rethink and redefine best practices for using this tool.
Introduction
Ideally, through blogs, students would create content and construct knowledge using the wonders of these publishing tools that abound online. I definitely believe in the power of blogs to improve students' abilities while learning a second language, in my case, in an EFL context. However, blogging doesn't simply happen. The word has been spread about the potential of blogging for the language classroom, but there needs to be more than an idea to convince students that they can really profit from this tool on the read/write Web. There are numerous options for blogs, depending on the goals set for them. In the English as a Foreign Language setting, one can find blogs for professional development, class blogs, and students' individual blogs, among others. In this sense, unleashing the potential of blogs for language learning will be directly related to teachers' understanding of the pedagogical benefits of such a tool, and the students' perception of its value in their learning process. As pointed out by Glogowsky (2008) in his post about blogtalk, "Blogging is not about choosing a topic and writing responses for the rest of the term. It is about meaningful, thoughtful engagement with ideas" (para. 2).
Blogs as Conversations
Blogs imply conversations. And, for these conversations to happen, there first needs to be a redefinition of the educator's presence and role in the blogging classroom. Educators should be facilitate the process of establishing the online conversations within oneself, among learners, with other teachers, and possibly the world. Students will have to get used to the blogging experience to learn how to properly answer posts, how to cite, and how to establish their own blogging tone through their posts. in such a way that they find their unique channel of communication in the target language.
In fact, there are many ways that students will become proficient after blogging, enhancing more than their language skills. They will be dealing with some of the current "buzz" concepts associated with literacy. They will have to be media literate as well as information literate to become proficient bloggers. As Richardson (2006) states, "this is a world where literacy is changing, where readers need to be editors" (para. 18). In order to fully engage in conversations through blogs, students will have to reflect on the quality of their writing and the language being used, be more attentive to their audience, and more selective of their sources. Furthermore, there are some blogging tricks and technicalities that educators and learners will need to be aware of in order to keep track of the online dialogues.
Blogging lends itself to aggregating content produced by our online communities in spaces in which everybody in the process can follow what's happening in that particular corner of the blogosphere. This means that concepts such as staying updated on new content through RSS feed aggregators and the nuances of tagging become essential elements that connect the learner's voices and engage them in conversations. Some blogging platforms make this aggregation process easier than others, as explained in Glogowsky (2008):
What I like about this platform--21Classes [http://21classes.com/shop/product/] is that my comments appear in a separate space from that devoted to comments left by other students. The author of the blog can use the dashboard to quickly scan the entries where the teacher left comments. It may not be a very important feature to all teachers, but it is of significant value to me and my students because it makes conversations easier to track. (para. 3)
In my opinion, this feature encourages instructional conversations. Comments are not just an extrinsic part of having a blog--in 21Classes they are presented as an integral part of the activity. The caption at the top says "Follow Your Threads" thus making it seem like there's a discussion forum attached to every blog entry. . . . [T]he students can easily follow all the comments left by their teacher. They don't have to check every single entry. All they need to do is log into their dashboard and the latest comments and the entries they are attached to will be displayed for them. (para. 4)
Although the digital jargon and concepts may seem "Greek," once these new literacies are part of the bloggers' array of tools, chances are that through blogging, discourse in the language classroom can blossom, and learners will not only be better speakers of a foreign language, but also 21st century literate netizens. I couldn't agree more with Davis (2006), a blogger and information systems training specialist, who says that once the blogging framework is part of the routine of the group:
Blogging lets many more become engaged. Blogging can be a place where we can make connections and dig deeper into how and what we are learning, both student and teacher. Sharing these thoughts and discoveries with others builds networks of learning that can cross continents. We get to toss our ideas out, have reactions to them, receive suggestions to build upon them and many more become involved in the process. It becomes more personalized and certainly more meaningful. Students are creating meanings that make sense to them because they are constructing them, not having pieces delivered to them that they just repeat. (para. 4)
Blogging for Thinking Skills
Another aspect of blogging is the promotion of higher order thinking skills. In order to establish a conversation, to encourage people to comment on a certain topic, and to construct knowledge collectively, students and teachers will have to go beyond superficialities, posting entries that increase reflection, analysis, discussion, and synthesis. Students should be writing from their hearts about topics that engage them in the act of writing. Teachers, in their transforming role as educators, must be prepared to support learners in the process of finding their voice by inquiring, commenting, and dialoguing with students. Educators must also highlight the numerous possibilities of the powerful features a blog provides through the addition of visual cues, external media sources, and hyperlinks that can engage the audience in the discussion of topics.
Students have the choice to organize their ideas and content in their own ways, leading to divergent and creative thinking. That's exactly the point Weinberger (2007) makes in his book, Everything is Miscellaneous, when he mentions that in the online world people have "wide flexibility to order the pieces as they want, even and especially in unanticipated ways" (p. 100). Thus, while the group chooses how they are going to share meaning, they're certainly using their higher order thinking skills to connect the pieces together and yet being challenged to communicate in a foreign language.
Blogs give the teachers the possibility to establish a different kind of rapport with and among their students, which is a positive development in the language classroom. Blogging allows the chance to give a voice to each one of the learners. Some who were not prepared to expose themselves in the face-to-face classroom can become brilliant bloggers. Talents are discovered and personal vignettes are revealed in ways that wouldn't be possible in a three-hour weekly encounter. In fact, when Weinberger (2007) talks about the characteristics of this digital era, he points out that "it's the wisdom of groups, employing social expertise, by which connections among people help guide what the group learns and knows" (p. 131).
Blogging gives this sense of belonging to writers and readers. They become part of a community who engage in meaningful conversations in which what each one says matters. However, it's not an ideal, organized world. And that's why so many language teachers are so uneasy with blogging. Incorporating blogs in teaching routines requires an educational paradigm shift in which educators need to relinquish control and authority in order to favor a collective construction of knowledge. Many teachers still don't feel prepared to take the plunge, but it's a totally enriching, engaging process that is worth experiencing even if it seems a bit chaotic given lack of control by the teacher over what is being produced.
Blogging for Authentic Audience
Also, blogs promote a relationship with an audience beyond just the instructor. This can motivate more carefully written texts, including an expansion of new vocabulary to convey the ideas of the student bloggers precisely. As Ferdig and Trammel (2004) state:
Blogs allow all students to participate in a discussion, opening up diverse perspectives. By blogging, the classroom also extends from the physical constraints of those who fit in the room and are registered to a limitless international audience. It is likely that someone outside of a class will come across student blogs, thereby extending diversity to include perspectives outside of the classroom. (para. 4)
Therefore, due to this potentially extended global audience, major benefits of blogging in the language classroom include:
The choice of more appropriate language on the part of the learners. leading to better writing skills. The addition of new perspectives to the learners' thoughts, giving them the possibility to move forward in their own reflections
The motivational aspect of realizing that one's voice echoes in distant parts of the globe and is heard by others.
However, the most positive impact of blogs in the language class is having students perceive the importance of learning a language as a communication tool. They can learn about different cultures, develop a more comprehensive understanding of cultural differences, and internalize the idea of the benefits of diversity. Blogging promotes the authenticity every language educator seeks, authenticity that makes language learning stick and makes the students embark on a rich cultural experience. Herrington, Oliver, and Reeves (2003) list these affordances as including authentic activities that:
- have real world relevance
- are ill-defined, requiring students to define the tasks and sub-tasks needed to complete the activity
- comprise complex tasks to be investigated by students over a sustained period of time
- provide the opportunity for students to examine the task from different perspectives, using a variety of resources
- provide the opportunity to collaborate
- provide the opportunity to reflect
- can be integrated and applied across different subject areas and lead beyond domain specific outcomes
- are seamlessly integrated with assessment
- create polished products valuable in their own right rather than as preparation for something else
- allow competing solutions and diversity of outcome (para. 10)
Blogging and Tagging
During this year's annual Electronic Village Online free professional development seminars [http://evo08sessionscfp.pbwiki.com] we held a session entitled Blogging for Educators [http://blogging4educators.pbwiki.com]. This session included a week totally dedicated to the concept of tagging and RSS. From the beginning of the session, we advised participants to tag all their content with our unique tag for the session, blogging4educators, without further explanation about the idea behind it. In due time, when the participants had grasped the basics of blogging and had created their own blogs, we then emphasized the importance of tagging and how the Writingmatrix concept would be applied to our blogging reality. First, the educators made a search in Technorati with the posts that had already been tagged as blogging4educators. Surprise! The tagged posts were already there, ready to be explored in one single place.
As we moved on, we decided to create a unique tag for each week so that it would be easier to keep track of participant's blogging tasks, much simpler, in fact, than following participants' blog posts through the feed aggregators we were using, Pageflakes [http://www.pageflakes.com] and Google Reader [http://reader.google.com]. Due to the quantity of content being produced and the fact that participants were not at the same point of their blogging production, some were just keeping pace with the weekly tasks, while others were falling behind. Thus, by defining specific workshop tags for the weekly tasks, we were able to aggregate voices and keep the conversations flowing.
Those who gave the Writingmatrix concept of tagging a try were even better able to understand how easily it could be applied to the classroom without spending time with students explaining much about technical aspects of how to keep track of conversations. This could be accomplished simply by finding a unique tag to keep the distributed conversations aggregated. Also, by knowing those tags, the interactions around a topic could be happening as long as participants keep tagging with our session's tags, blogging4educators, edublogtalk, edublogpractice, and b4echallenge.
One of the most exciting uses of this tagging connectivity utilizing Technorati in our session was the b4echallenge in which many participants decided to write a post about what the others didn't know about them (and the others had to discover the secrets by aggregating those posts). It was like unveiling secrets that you might have never known even if they were your best friends in real life! Tagging can take a community of bloggers to establishing dialogs on any topic that interests the group and keep them archived in one single online space with the advantage of its being dynamic. Often when you tag, you can get an unexpected feedback and start a new node in the communication network you are building up with others who share common interests. After my informal introduction to the Writingmatrix concept, I was able to fully apply it with my tagging partners in the blogging4educators community making powerful global connections with educators I might never have interacted with if it weren't for this new era of folksonomies.
Conclusion
As mentioned before, I'm very optimistic about the benefits of blogging in the language classroom, but much depends on the teacher's efforts in establishing the basis for an active group of student-bloggers, which is certainly a challenge due to schedule constraints, overflow of information, resistance from students, and constraints on educators and their institutions. Nonetheless, when a community of bloggers is created, the learning outcomes can be far-reaching. Going beyond the classroom has never been so easy, literally just at the tip of the learners' fingers. The audience is there, content is produced, meaning is developed, reflection is encouraged, and the target language is the means to establish these elements of communication. Nothing could be more meaningful for a language learner. But language learning through blogging doesn't "simply happen"; it happens only if learners and educators apply themselves to developing semantic webs taking all into another level of understanding of the language being studied and of the vast, fascinating world surrounding them. To summarize the potential of blogging in the language classroom, consider Richardson's (2006) reflection of his own blogging/learning journey: Some 2,500 pieces of published writing later (with almost as many comments back from readers), I can say without hesitation that all my traditional educational experiences combined, everything from grade school to grad school, have not taught me as much about learning and being a learner as blogging has. My ability to easily consume other people's ideas, share my own in return, and communicate with other educators around the world has led me to dozens of smart, passionate teachers from whom I learn every day. It's also led me to technologies and techniques that leverage this newfound network in ways that look nothing like what's happening in traditional classrooms. (para. 7)
Note
A recording of this presentation at the WiAOC may be found at Alado [http://www.alado.net/webheads/]. To enter, use any name as the User and leave the Password blank. The presenter and co-moderator Carla Raguseo discuss the EVO 2008 session, Blogging for Educators [http://evo08sessionscfp.pbwiki.com/Blogging4educators/] in a Webcast on the EdTechTalk channel at WorldBridges [http://www.worldbridges.com], for Teachers Teaching Teachers [http://teachersteachingteachers.org/?cat=223].
About the Author
Carla Arena, a Brazilian EFL teacher, explorer of the potential of technology integration into language learning, Carla Arena started to investigate the possibilities of technology applications some years ago and has been trying them out ever since. She is a teacher trainer and site content manager at Casa Thomas Jefferson, a Binational Center in Brasilia. She teaches an online listening course. She's part of the TESOL CALL-IS's Electronic Village Online Coordinating Team [http://www.call-is.org/moodle/course/view.php?id=5] and has been co-moderating the EVO online sessions on blogging for educators all over the globe for the past two years. She's a blogging fan (or addict!) and enthusiastic Webhead [http://groups.yahoo.com/group/evonline2002_webheads/]. Carla's blog is The Journey: On Learning and Teaching [http://explorations.bloxi.jp/].
References
21Publish, Inc. (2004-2007). 21Classes. Retrieved March 15, 2008 from: http://21classes.com/shop/product/
Davis, A. (2006). Blogs and pedagogy. Retrieved January 3, 2007, from: http://anne.teachesme.com/2006/05/31/blogs-and-pedagogy/
Ferdig, R., & Trammel, K. (2004). Content delivery in the 'Blogosphere.' T.H.E Journal, February 2004. Retrieved February 12, 2007, from http://www.thejournal.com/articles/16626_4
Glogowsky, K. (2008). Towards reflective blogtalk. Retrieved March 13, 2008 from: http://eduspaces.net/konrad/weblog/266002.html
Herrington, J., Oliver, R. & Reeves, T. (2003). Patterns of engagement in authentic online learning environments. Australian Journal of Educational Technology, 19(1), 59-71. Available at http://www.ascilite.org.au/ajet/ajet19/herrington.html
Richardson, W. (2006). The new face of learning: The Internet breaks school walls down. Retrieved November 3, 2006, from: http://www.edutopia.org/new-face-learning/
Weinberger, D. (2007). Everything is miscellaneous: The power of the new digital disorder. New York: Times Books.
© Copyright rests with authors.
TESL-EJ - March 2008 - Volume 11, Number 4
------------------------------------------------------------------------

2.- WHAT DO WE MEAN BY "POSTCOLONIAL LITERATURE"?
From Commonwealth to Postcolonial Literature
Edward O. Ako
Abstract
In his paper,"From Commonwealth to Postcolonial Literature," Edward O.Ako begins by establishing the link between Empire and English-language literature. Drawing on Elleke Boehmer, Gauri Viswanath, and Terry Eagleton, Ako discusses the ideological uses of literature and argues that the textual forms that emerged as "resistance" to imperial domination were referred to by a multiplicity of terms: Commonwealth Literature, New English Literature, Literature in English, Third World Literature, World Fiction, Minority Literature, Multicultural Literature, or Postcolonial Literature. Ako examines the merits and handicaps of each designation and explains why, in his view, the term "postcolonial" is the more appropriate notion and designation.
It can be argued that one of the major additions to the curricula of Departments of English in Europe, the Caribbean, the United States, Australia, etc., in the last two decades is what has been called variously "commonwealth" or "postcolonial literature." Our own Department of English at the University of Yaounde I has not escaped from this trend. The number of students enrolling to take higher degrees in the field called "Commonwealth Literary Studies" more than quintupled especially from the moment that Cameroon was admitted into the Commonwealth of Nations along with Mozambique: Cameroon was admitted into the Commonwealth of Nations in 1998. The query as to why the term "post-coloniality" has found such urgent currency in the First World but is in fact hardly ever used within the excolonized worlds of South Asia and Africa can be explained perhaps by the fact that it is considered as a cognate term with commonwealth. The reservations expressed elsewhere on the possible "offensive" nature of the term are, in my opinion, "willingly" ignored. The following discussion represents a brief tour-de-force of taxonomy to initiate a conversation on these rather vague and sometimes confusing concepts. It will perhaps be more rewarding if we first examine the relationship between empire and English literature, in other words, the ideological uses to which English literature was put. I am concerned with colonial and colonialist literature: as far as I am able to determine, Elleke Boehmer is one of the few critics who makes a distinction between colonial and colonialist literature, see her Colonial and Postcolonial Literature 4-5, 50-51. Next, I examine the concept of commonwealth literature and the controversies surrounding it, and lastly, I discuss selected aspects of the concept of postcolonial studies, the differences between commonwealth and postcolonial literature, and the concerns or characteristics of postcolonial literature.
If it is true that Britain used military might to subdue a good part of the world especially inthe last part of the nineteenth century, military victory constituted not the winning of the war, butof a battle and it were cultural texts to complete what military might had started. Thus, literary texts which were produced during this period and which can be described as colonial or colonialist texts, reflected the colonial ethos, and contributed to the complex of attitudes that made imperialism seem part of the order of things (see Boehmer 2-3). In other words, it was clear that to assume control over a territory or a nation was not only to "exert political or economic power, it was also to have imaginative command" (Boehmer 5). It is in the self-representations of the British and the representations of the Other, that the ideological uses of English literature can be seen most clearly. The best illustration is in the introduction of English literature into the Indian educational system: After the battle of Plassy in 1755, the British East India Company began to administer the various native Indian states as colonies. As Gauri Viswanathan has noted, a high proportion of those who came over from Britain to serve as administrators were Scots who found it easier to succeed without English patronage abroad than at home. The Scots had the responsibility of training a civil service from among the Hindu and Muslim populations and one of the principal subjects taught the newly Europeanised natives was English literature. It was expected to convey the values and standards of the conquerors: The British had conquered India with ships and cannon; they were, however, "to rule it with Shakespeare" (Viswanathan 17). And talking about
the Scots, it would be a major oversight not to note that Adam Smith -- better known as the author of The Wealth of Nations -- was actually the founder of English as an academic discipline.
At the time that Adam Smith introduced lectures on English literature in Scotland, this discipline was regarded in Oxbridge as an un-academic discipline and not worthy of serious inquiry. Rather, what held sway in lecture halls were classical studies: Latin, Greek, Hebrew, and Sanskrit. If classical studies constituted the academic menu of the upper classes, religious studies were the main menu of the lower classes. However, by mid-century, religious studies which were used to control the lower classes, was fast losing its grip as a result of scientific discoveries and social change. It was therefore imperative for another social institution to be put in its place to replace religion and the church as disseminators of value, tradition, and authority. As Terry Eagleton notes, George Gordon in an Oxford inaugural lecture said: "England is sick, and English literature must save it. The churches, having failed, and social remedies being slow, English literature has now a triple function". Of particular significance, however, is the fact that English as an academic discipline "was first institutionalised not in the universities, but in Mechanics' Institutes, working men's colleges, and extension lecturing circuits" (Eagleton 52). The reason for this was because it was expected that the "softening" and "humanising" effect of literature could be used to cement the relations between the social classes. English literature was therefore to serve as a kind of opium whose role was to ward off what Mathew Arnold saw as the anarchy that would engulf and disrupt social relations in England (Eagleton 65).
If English literature was institutionalised in Mechanics' Institutes and in other vocational colleges as an instrument for the transmission of "moral" values to the lower classes, it becomes clear that it could become an even more effective weapon in the "softening" of conquered peoples. And it is precisely with this in mind that courses in English literature were introduced in Indian schools as far back as the 1820s and formalised with the passing of the English Education Act of 1835. Yet, as Viswanathan notes, "what is now known as the subject of English literature, the British educational system had no firm place for it until the last quarter of the nineteenth century". Thus, Shakespeare, Addison, Bacon, Locke, and others became part of the literary curriculum of Indian schools, curriculum functioning here as discourse (in this context, I propose that it would be most advantageous to carry out a study of the literary texts used in Cameroon secondary schools between 1948 and 1968. The focus here will be on curriculum as discourse and will examine, other than Shakespeare's texts, the works of Jerome K. Jerome, R.M. Ballantyne, Rider Haggard, Robert Louis Stevenson, and Mark Twain, etc. These were compulsory texts in secondary schools in the 1950s and 1960s). Again, we are reminded that "a vital if subtle connection exists between a discourse which those who are to be educated are represented as morally deficient and the attribution of moral and intellectual values to the literary works they are assigned to read" (Viswanathan 62). Clearly then, English literature, or better still, colonialist literature played the role of the "surrogate Englishman." As Eagleton so well puts it, English literature presenting "the Englishman in his highest and most perfect state, becomes a mask for economic exploitation, so successfully camouflaging the material activities of the coloniser that one unusually self-conscious British Colonial official, Charles Trevelyan, was prompted to remark, 'The "Indians" daily converse with the best and wisest Englishman through the medium of their works, and form ideas, perhaps higher ideas of our nation than if their intercourse with it were of a personal kind'" (Viswanathan 66-67; my emphasis). This use of literature as a "mask of conquest" -- to use the title of Viswanasath's book -- was only part of a larger scheme. In his widely anthologised "Minute on Indian Education," Thomas Macaulay indicated clearly the role of education in India when he declared thus, "we must at present do our best to form a class who may be interpreters between us and the millions whom we
govern, a class of persons, Indian in blood and colour, but English in taste, in opinions, in morals and in intellect" (430; my emphasis). This category, "Indian in blood and colour, but English in taste" is what Frantz Fanon calls "black skin, white masks" and V.S. Naipaul calls "mimic men."
In the Native American context, this is what Black Elk calls being an apple, red outside and white inside. This leads us to the overall issue of representation in the making of empire. Boehmer states in her Colonial and Postcolonial Literature that "in writings as various as romances, memoirs, adventure tales or the later poetry of Tennyson, the view of the world as directed from the colonial metropolis was consolidated and confirmed. So, it also followed almost automatically that resistance to imperial domination -- especially on the part of those who lacked guns or money -- frequently assumed textual form" (Boehmer 14). Some of the textual forms that emerged as "resistance" to imperial domination are what are called variously Commonwealth literature, New English literatures, Literatures in English, Third World Literature or Postcolonial Literature, with other cognate terms also used, such as World Fiction, World Literature written in English, multicultural literature, minority literature, resistance literature, etc.
For some, the idea of Commonwealth Literature is quite straightforward because it is the literature produced by countries which are former colonies of Britain or had the status of dominions. For others, it can be extended to cover countries which, although not former British colonies, are now members of the Commonwealth of Nations. For yet others, matters are not that simple. There are those who argue that the very notion of Commonwealth Literature is in it self condescending, narrow and misleading (see, for example, Tiffin in her "Commonwealth Literature: Comparison and Judgement"). And for some the designation is dépassé, something of an anachronism. In a study commissioned by the Commonwealth Secretariat and entitled Learning from Each Other: Commonwealth Studies in the 21st Century, the authors are not concerned with whether Commonwealth Literature exists or not. Rather, for them, the issue is how to broaden the concept to embrace literatures in indigenous languages. In the section entitled "Intellectual trends in Commonwealth Studies," the authors ask, "How can the study of Commonwealth literature more fully embrace literatures in languages other than English, and reflect the increasingly complex varieties of English used?" (19). In my view, the question would make sense in terms of examining the varieties of English used, the attempt at nativization etc. It would be inappropriate, however, to think of calling the literature in the indigenous languages Commonwealth Literature especially as some of these literatures pre-date the historical situations that brought about what is today known as the Commonwealth. It appears to me that it would be more appropriate to call Sanskrit,
Igbo, Yoruba, Hindi: Khosa, Kikuyu, Hausa, Maori, and Zulu literatures by their names rather than by the designation of Commonwealth Literature. Perhaps if these works are translated into English, then they could fit into this category as in the case with Ngugi wa Thiongo's works rendered from Gikuyu into English. Nor can, say, Wolof literature be considered francophone literature. The authors were, of course, aware of the fact that many scholars were not comfortable with the designation. They note that this is "particularly in the field of literature" where some scholars "shy away from the term 'commonwealth' and prefer to use such terms as postcolonial". They note that the very concept of "commonwealth" derives from "egalitarian principles of popular sovereignty, rights and freedoms. Commonwealth studies potentially offer democratic and allinclusive forms of social analysis, pointing to reconstructed societies and to communities beyond colonialism". They add, rather problematically, that the term "post-colonial is far more constrained than 'commonwealth' even though the former may in theory (but frequently does not in practice) encompass a wider field geographically".
For Salman Rushdie, however, the problem is of a different nature. In an essay entitled provocatively "Commonwealth Literature Does not Exist," he attempts to define what "they" say Commonwealth Literature would be. He says that there is "a body of writing created, I think, in the English language by persons who are not themselves white Britons or Irish or citizens of the United States of America". If this is true of Commonwealth Literature, it is certainly not true of postcolonial literature as it embraces the United States of America. He further notes that "it is also uncertain whether citizens of commonwealth countries writing in languages other than English- Hindi, for example -- or who switch out of English, like Ngugi, are permitted into the club or asked to keep out". For Rushdie, the idea of Commonwealth Literature is just an attempt to create an exclusive literary ghetto. He further adds that the "effect of creating such a ghetto was, is, to change the meaning of the far broader term 'English literature' which I'd always taken to mean simply the literature of the English language -- into something far narrower, something topographical, nationalistic, possibly even racially segregationist"
... "Commonwealth literature was invented to delay the day we rough beasts actually slouch into Bethlehem. In which case, it's time to admit the centre cannot hold".
While Rushdie echoes Achebe's Things Fall apart here, there is also a reverse movement from the periphery to the centre. If for Rushdie the term is "narrow" and "segregationist," for Michael Gorra, it can only be used in the past tense. In his After Empire: Scott, Naipaul, Rushdie Gorra states that "the first books of what we then called 'commonwealth' literature often opposed British novels to works from India or Africa -- E.M. Forster -- R.K. Narayan, Joyce Cary -- Chinua Achebe".
This is the same kind of sentiment that is voiced in Deepika Bahri's essay where she notes that the "cognate terms 'commonwealth' and 'Third World' have all but disappeared as prefixes from the body of literature now largely designated 'post-colonial,' succumbing, on occasion, to the appellation, 'new literature in English' ... the 'new' differentiates the writing from 'old and established,' while the Anglophonic character of the term gives it continuity and position with the old and established" (Bahri 64). In The Empire Writes Back: Theory and Practice in Post-Colonial
Literatures, Ashcroft, Griffiths, and Tiffin reject the term "commonwealth" because, they argue, it rests "purely on the fact of a shared history and the resulting political grouping, while New Literatures in English" is considered Eurocentric and condescending towards the new in comparison with the old even if it de-emphasizes the colonial past".
But if the term commonwealth is considered inappropriate, what are the advantages that postcolonial has or seems to have? In fact, why has it gained currency? If the term "commonwealth" is mired in controversy, the term postcolonial has not fared any better, even if it now seems to have carved a niche for itself, especially, although not exclusively, in the Western academy (on the designation of postcolonial, see, for example, Appiah; Mishra and Hodge; Mccallum; McClintock; Shohat; Bahri notes that the compound word first appeared in the Oxford English Dictionary in 1959 as did the unhyphenated word in the American Heritage Dictionary (Bahri 65). But before we get into the problem of the meaning(s) of the term, it is necessary to explore a few aspects of the historical circumstances that brought about what is today called postcolonialism: In my view, postcolonial theory deals with problems of migration, slavery, suppression, resistance, representation, difference, caste, class race, gender, place, and responses to the influential master discourses of imperial Europe such as history, literature, philosophy, and linguistics, and the fundamental experiences of speaking and writing by which all these come into being. If Edward Said's seminal 1978 work Orientalism and Bill Ashcroft, Gareth Griffiths, and Helen Tiffin's 1989 The Empire Writes Back: Theory and Practice in Post-Colonial Literature helped to usher in what is today known as postcolonial studies, the Algerian and Vietnam wars, the Black Power Movement in the United States of America, the rise of the Women's movement, and anti-war radicalism etc., set the social agenda (see, e.g., my "The African Inspiration of the Black Arts Movement). Aijaz Ahmad states in his In Theory: Classes, Nations, Literatures that it was in the crucible of the Algerian Revolution and Vietnam War that "at least some of the intellectuals of the contemporary West learned to question their own place in the world, and hence to question the hegemonic closure of the texts upon which their epistemologies were based".
It was during that period of what is called loosely the generation of 68 that parallels could and were made between the situations in Indo China an Algeria, the Nazi occupations of the Second World War, and the plight of blacks in American urban ghettoes. The mobilization of millions of radicals (black, white, and women), Hispanic-Americans, and Mexican agricultural labour workers was so massive that, over a decade or more, questions that had been ignored for a very long time, were put on the social agenda (Ahmad 60-61). Ahmad notes that it was during this period that, "colonialism and imperialism were addressed (now), for the first time in the history of U.S literary criticism". The Vietnam War brought up, "strictly within the field of literary studies, the question of how colony and empire had been represented in western literatures". In effect, there was a call for a re-reading of the established canon (and the canon wars erupted in the US and Canadian academe). Thus, the vocabulary of colonial racism in Shakespeare, Austen, Eliot, Shelley, Tennyson, Gide, and John Perse was studies exhaustively.
In other words, the activism continued, but in different ways and in different modes. Ahmad puts it thus, "after the movements of the 1960s were over -- dominant strands have been mobilized to domesticate, in institutional ways, the very forms of political dissent which those movements had sought to foreground, to displace an activist with a textual culture ? and to reformulate in a postmodernist direction questions which had been associated with a broadly Marxist politics".
I now attempt to present my definition of postcolonial literature, to locate it geographically if that is possible, and above all, to determine if the proposition that in many ways "the term 'postcolonial' is far more constrained than 'commonwealth,' although the former may in theory (but frequently does not in practice) encompass a wider field geographically" (Symons Report 16). In Once More with Feeling: What is Postcolonialism? Bahri notes that "it is used not merely to characterize that which succeeds the colonial, but also the chapter of history following the Second World War, whether or not such a period accommodates the still-colonized, the neo-colonized, or the always colonized". Alluding to Gayatri Chakravorty Spivak and others, she notes that the present moment in these nations is not "post": the "colonial" in any genuine, or even cursory sense, as covert mercantile neo-colonialism, potent successor to modern colonialism, continues its virtually unchallenged march across the face of the earth, ensuring that the wretched will remain so, colluding in, as they did before, but now also embracing, the process of economic and cultural annexation, this time well disguised under the name of modernization". Unaddressed in the "post" in postcolonialism is the problem of the hierarchical relationships that exist between ethnic groups in the settler colonies as well as the different economic and cultural contexts of, for example, the Maori in New Zealand, the Aborigines in Australia, those between black and white South African writers.
Of particular concern too, is the problem of gender relations. Since men and women were affected differently by the experience of colonialism while gender relations were utilized on a discursive level to conceptualise the relationship between colonizers and colonized, how does one deal with the problem of gender in this formulation? On the problem of gender and class, Ahmad reminds us that, "nationalism in the present (century) has frequently suppressed questions of gender and class and has itself been frequently complicit with all kinds of obscurantisms and revanchist positions".
Other than gender, the categories of caste and class also have to be addressed, as these groups experienced colonialism in various forms and in varying degrees. Ahmad notes that the Subaltern Studies Group in India set out to formulate a corrective to "elitist nationalist Indian historiography in order to investigate afresh the ways in which subaltern classes were affected by and reacted towards the colonial encounter". What this means is that there were differences between and within colonies which makes it impossible to present postcolonialism as a simple binarism. Arun Mukherjee makes this point when she notes that "the postcolonialists' generalisations about all 'postcolonial people' suggest that Third Worldism and/or nationalism bind the people of these societies in conflictless brotherhood, that the inequalities of caste and class do not exist in these societies and that their literary works are only about 'resisting' or 'subverting' the colonizers' discourses". Peter Hulme, in pleading that America not be excluded from the category of postcolonial nations, argues that "postcolonial" should not be used as a merit badge; the adjective implies nothing about a postcolonial country's behaviour. As a postcolonial nation, the United States continued to colonize North America, completing the genocide of the Native population begun by the Spanish and British. Or, to use a more recent example, "postcolonial" is not a description that should be awarded to Indonesia when it became independent from the Netherlands and taken away again when it invaded East Timor. A country can be postcolonial and colonizing at the same time.... As time passes, and we keep reading Fanon, perhaps the similarities between American countries in their postcolonial phases and African and Asian countries in theirs will come to seem at least as important as their differences. I am in favour of more and more analyses of the different forms of imperialism and colonialism, of more and more analyses of different local situations, and of determined efforts to avoid the ism-ization of the adjective "postcolonial." But if -- as seems inevitable -- "postcolonial studies is the name that is going to hang over the gate, then let us use the word in a way that includes America (Hulme 122-23).
In the light of the above selected observations, Stephen Slemon's definition of postcolonial literature seems to me to be the most comprehensive as it embraces all the possible categories of subalterns and more. In his essay "Unsettling the Empire: Resistance Theory for the Second World," he notes that "the term post-colonial is an outgrowth of what formerly were 'commonwealth' literary studies" -- a study which came into being after "English studies had been liberalized to include 'American' and then an immediate national or regional literature: Australian, Canadian, West Indian". He further notes that the term has "a valency of subjectivity specifically within Third and Fourth World cultures, and within black, and ethnic, and First Nation constituencies dispersed within First World terrain" (105). To this should be added the notion that the postcolonial is also "a cultural marker of non-residency of a third-world intellectual cadre, as the inevitable underside of a fractured and ambivalent discourse of colonialist power, as an oppositional form of "reading practice" (Slemon 45). It is clear to me that the term "postcolonial" not only encompasses a wider field geographically in ways that the term "commonwealth" does not, since it deals with a re-reading of English, French, and American canonical texts, the literatures of Africa, India and the West Indies etc., as well as the problems of gender, caste, and class as they are posed in these societies and are represented textually.
References
Achebe, Chinua. Things Fall Apart. London: Heinemann, 1958.
Ahmad, Aijaz. In Theory: Classes, Nations, Literatures. New York: Verso, 1992.
Ako, Edward O. "The African Inspiration of the Black Arts Movement." Diogenes 135 (1986): 73-79.
Appiah, Anthony Kwame. "Is the Post-in Postmodernism the Post-in Postcolonialism?" Critical Inquiry 17 (1991): 336-57.
Ashcroft, Bill, Gareth Griffiths, and Helen Tiffin, eds. The Empire Writes Back: Theory and Practice in PostColonial Literatures. London: Routledge, 1989.
Bahri, Deepika. "Once More with Feeling: What is Postcolonialism?" Ariel: A Review of International English Literature 26.1 (1995): 51-82.
Boehmer, Elleke. Colonial and Post Colonial Literature. Oxford: Oxford UP, 1995.
Eagleton, Terry. "The Rise of English." Literary Theory: An Introduction. By Terry Eagleton. Minneapolis: U of Minnesota P, 1983. 17-53.
Fanon, Frantz. Black Skin, White Masks. Trans. Charles Lam Markmann. London: Pluto, 1986.
Gorra, Michael. After Empire: Scott, Naipaul, Rushdie. Chicago: U of Chicago P, 1997.
Hulme, Peter. "Including America." Ariel: A Review of International English Literature 26.1 (1995): 117-23.
Symons Report. Learning from Each Other: Commonwealth Studies for the 21st Century. London: Report of the Commission on Commonwealth Studies, Commonwealth Secretariat
<http://www.thecommonwealth.org>, 1996.
McCallum, Pamela. "Introductory Notes: Postcolonialism and its Discontents." Ariel: A Review of International English Literature 26.1 (1995): 7-22.
Macaulay, Thomas. "Minute on Indian Education." Post-Colonial Studies Reader. Ed. Bill Ashcroft, Gareth Griffiths, and Helen Tiffin. London: Routledge, 1995. 428-30.
McClintock, Anne. "The Angel of Progress: Pitfalls of the Term 'Post-Colonialism'." Social Text 31.2 (1992): 84-98.
Mishra, Vijay, and Bob Hodge. "What is Post-Colonialism?"Textual Practice 5.3 (1991): 399-414.
Naipaul, V.S. The Mimic Men. London: Penguin, 1967.
Richter, David H., ed. Falling into Theory: Conflicting Views on Reading Literature. New York: Bedford/St. Martin's, 2000.
Rushdie, Salman. "Commonwealth Literature Does not Exist." Imaginary Homelands: Essays and Criticism. 1981-1991. By Salman Rushdie. London: Granta, 1991. 63-70.
Said, Edward. Orientalism. London: Penguin, 1978.
Shohat, Ella. "Notes on the Post-Colonial." Social Text 31.32 (1992): 99-113.
Slemon, Stephen. "Unsettling the Empire: Resistance Theory for the Second World." World Literature Written in English 30.2 (1990): 30-41.
Tiffin, Helen. "Commonwealth Literature: Comparison and Judgement." The History and Historiography of Commonwealth Literature. Ed. Dieter Riemenschneider. Tübingen: Gunter Narr, 1983. 19-35.
Viswanathan, Gauri. "Introduction to Masks of Conquest." Falling into Theory: Conflicting Views on Reading Literature. Ed. David H. Richter. New York: Bedford/St. Martin's, 2000. 60-68.
Author's profile
Edward O. Ako teaches African-American, African, postcolonial, and comparative
literature at the University of Yaounde I in Cameroon. His recent publications include: "Nationalism in Recent Cameroon Anglophone Literature" in Epasa Moto 1.1 (2001), "Crossing Borders: A Study of Bessie Head's When Rain Clouds Gather and Maru" in Commonwealth: Essays and Studies 22.2 (2000), and, with Blossom Fondo, "Alterity and the Imperial Agenda: Mary Kingsley's Travels in West Africa and Gerald Durell's The Bafut Beagles" in Jouvert: A Journal of Postcolonial Studies 7.2
(2003). Ako's edited volume Between and Within: Essays in Commonwealth and Postcolonial Literature appeared in 2003 (Editions Saagraph).
E-mail:<tako640@yahoo.ca>.
Edward O. Ako, "From Commonwealth to Postcolonial Literature"
CLCWeb: Comparative Literature and Culture 6.2 (2004): http://docs.lib.purdue.edu/clcweb/vol6/iss2/1 
CLCWeb Volume 6 Issue 2 (June 2004) Article 1
------------------------------------------------------------------------

3.- USING SYNONYM MAPS TO EXPLORE CONNOTATION
Register and Charge: Using Synonym Maps to Explore Connotation
Darren Crovitz and Jessica A. Miller
To "help students think carefully about specific words and their uses," Darren Crovitz and Jessica A. Miller conceive a diagram that visually expresses the spaces and ties between words. Students eagerly explore contextual connotations and defend subtle shifts in word meaning, discovering how time, use, and circumstance all influence meaning.
Driving down I-20 on our way to a state conference for English teachers, we are talking about—what else? — Language and how to teach it. Jessica has recently started teaching sixth graders, Darren works with preservice English teachers, and the shoptalk rarely stops. If anyone else were in the car our conversation might make a fine lullaby, but to us it's energizing and endlessly fascinating. At the moment we are trying to figure out a way for Jessica's students to gain a better sense of the connotations of words. Conventional English class lessons have taught them terms such as synonym, simile, and metaphor, but though most of her students can parrot memorized definitions of such terms, they don't seem to have much of a sense of how word choice affects meaning.
Take the concept of synonym. Most of Jessica's students can supply a conventional definition, some variation of "a word that means the same as another word." But this understanding is at best an oversimplification and at worst a way to end thinking about what words actually signify. A better definition might stress that a synonym is a word not the same as but similar to another word; the subtlety of just how and to what extent it is similar makes all the difference when it comes to choosing the best word for a given purpose. The word difficult is similar to strenuous, hard, challenging, arduous, and tough, but each of these synonyms carries particular contextual and connotative differences in meaning that render them not quite the same as the rest. Similar, yes, but not the same. Too often, however, essential discussions about what synonyms actually mean are skimmed over in typical lessons. Instead, the classroom thesaurus becomes a quick and dirty way to get "variety" into one's writing—with a simple right-click in some word-processing programs, we can do the same—without sustained thinking about what makes certain synonyms more appropriate than others in certain situations. That is, students (and teachers, too) end up glossing over important language choices people make regarding connotative
impact. When this happens, words get reduced to mere placeholders. This means that one synonym is as good as another, the only caveat being that any single word shouldn't be used too often.
In the previous week, Jessica has attempted to introduce and discuss the notion of connotation with her students, but she has met with limited success. As we cruise down the highway checking signs and tracing our route on the map, we wonder if perhaps there is a way to create a graphic representation of how similar words relate to one another. What would such a visual aid look like? And how could it be used as a tool for students to interact with both familiar and unfamiliar words within a sensible system?
Departure Points
It's an ironic fact that many of us become English teachers because of a love affair with words, and yet the words vocabulary instruction do little to warm our hearts. The conventional drill-and-kill approach— with students introduced to a new set of unfamiliar words on Monday and memorizing definitions for a Friday quiz—has driven much of the joy from learning about what words mean and how they work. This approach is also mostly ineffective, emphasizing rote learning of obscure words that most students have never previously encountered and whose meanings they will likely soon forget (Nilsen and Nilsen vi). The traditional task of looking up dictionary definitions, as Janet Allen has pointed out, is less a sensebuilding activity than a simple copying exercise (33–35). And as our colleague Jim Cope has noted, teachers
employing this approach can spend up to 40 percent of their instructional time on a system that simply doesn't work—though it can certainly keep students busy locating definitions, filling out worksheets, and taking quizzes. Some teachers simply avoid explicit vocabulary work at all, often on a mandate from a department or district. Others will use a quasi-contextual approach by deriving word lists from thetexts students are currently studying, making the reasonable argument that students will thus have encountered the word at least once in actual use. We are well aware of the pressures that have led teachers to these decisions, as we have felt them ourselves. But we also believe that there are better ways to help students think carefully about specific words and their uses than relying on pointless memory drills
or random appearance in curricular texts. In Words, Words, Words: Teaching Vocabulary in Grades 4–12, Allen advocates a systematic approach to the subtleties of word meanings, often built around graphical organizers. Similarly, Judith Rowe Michaels asks students to consider the phonological, etymological, evolutionary, and allusive aspects of the words they encounter as a means of deriving a fuller understanding.
We are particularly fond of the sourcebased approach to vocabulary instruction as detailed by Alleen Pace Nilsen and Don L. F. Nilsen in their Vocabulary Plus texts, which offer students a way to understand the oft-hidden relationships that connect
seemingly unrelated words. Nilsen and Nilsen usecommon morphemes as the starting point for talking about words (most of us are familiar with morphemes in the form of root words, suffixes, and prefixes— some of the smallest units of language that carry meaning). From creating and considering a web of related words originating from individual morphemes, students can next move on to explore the rich metaphorical extensions of these concepts that fill our everyday language. Both of us have had success with lessons and activities integrating a source-based approach to
vocabulary into our classes. Puzzling now about how to teach connotation, we are trying to envision a similar system that starts with how words are connected. It slowly occurs to us that what we are talking about are the spaces between similar words as much as the words themselves. That is, we are trying to understand how words are oriented and to negotiate the pathways that tie them together. What we need is a word map.
Charting a Course
Since Darren is driving, Jessica is working on an initial sketch. In a notebook she's drawn the diagram shown in Figure 1. She explains that the horizontal line represents denotation: the standard literal definition of words. The looping spirals that intersect with the line are what particular words connote in different contexts. So a verb such as terminate, with its denotative meaning of to end, simultaneously carries with it a connotative meaning that extends from this baseline idea. We ponder this diagram for a while. It makes sense, but at the same time it seems somehow limited, as if the visual metaphor isn't fully explained. After a while we try another diagram, this one immediately familiar to anyone who's ever taken an algebra class: a simple matrix with an x-axis and a y-axis (see fig. 2). Now we have two dimensions, and thus potentially
two variables by which to evaluate words. "What if we make the y-axis word charge—you know, the emotional sense some words have—and it goes from negative to positive," Darren suggests. "And the x-axis . . . ." "That can go from informal to formal. Register." Jessica jots down the labels. Now we have the diagram in Figure 3. We begin playing around with how this diagram might work. "We could put a word—a simple, common kind of word with lots of synonyms—in the middle," Jessica points out, "and then we can chart the synonyms." We give it a try with eat, and suddenly the long list of common synonyms for this verb begins to arrange itself systematically on the page (see fig. 4).
<![if !vml]>

<![endif]>
<![if !vml]>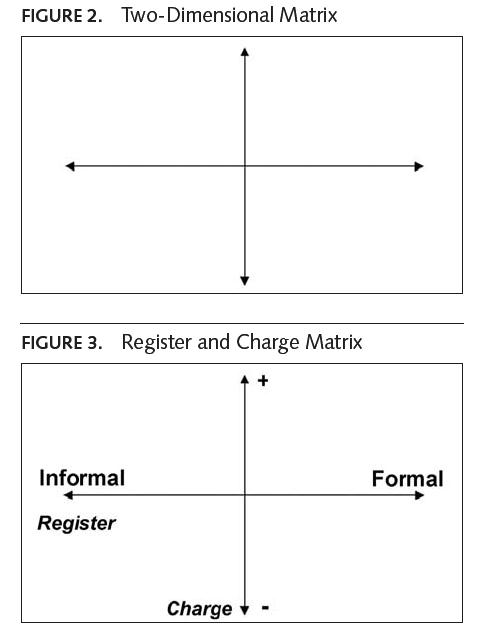 <![endif]>
Several aspects of this system are immediately noticeable to us. First, discussion is central to the process. Is snack more formal or informal, or is it in the middle? Do devour and gobble carry a negative charge? If so, which is more negative, and why? And which is more formal? As we talk about our understandings of these words, we are forced to explain our contextual understandings to one another—when and where and under what conditions we have heard or seen these words used—and make a case for why they belong in one space rather than another. Meaning becomes socially constructed, less about a dictionary definition
<![if !vml]>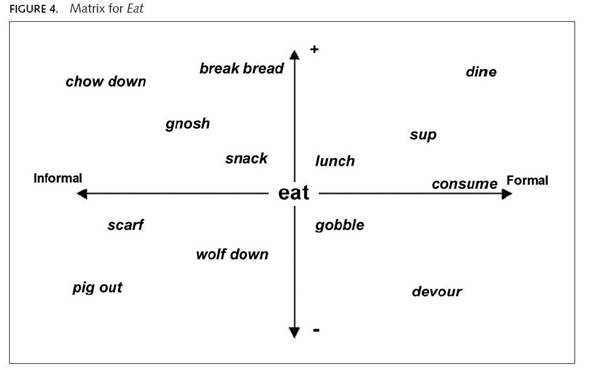 <![endif]>
and more about our shared understanding and pool of experience. Personal certainty about what a word connotes slowly gives way to a contextual consensus. We also become aware that concepts have certain definitional limits. For instance, does absorb warrant a spot on the eat matrix? It can be argued that absorb is sometimes a synonym of eat, perhaps when the subject is how amoebas or Venus flytraps obtain nutrition. But then again, there seems to be a point at which such "almost synonyms" edge into the matrices of neighboring concepts. If so, we might imagine take in as another base concept with its own matrix of synonyms, of which absorb, digest,
and swallow are members. We continue experimenting with this graphical organizer, trying out nouns, adjectives, adverbs, exclamations. We have the most luck beginning with a common concept that carries little inherent register or charge. In contrast, starting with a base word that already carries some obvious connotation—pretty, for example—presents more of a challenge. Are there words that are synonyms of pretty that have negative connotations? We come up with a few candidates (gaudy, garish) but they feel problematic.
During our weekend conference we continue thinking about how we might use such a word matrix, and on our drive back we continue the discussion, trying out new words in this system and looking for nuances. We decide to incorporate the diagram into our classes in the next few weeks to get student feedback on the system. Darren provides groups of pre-service secondary English teachers with a base word around which to develop word maps on poster paper, after which they present their conclusions to one another. Jessica creates a similar group project for her English language arts sixth graders. She finds it particularly helpful to continually question her students as they grapple with synonyms. Are you trying to attract someone or gross them out? Are you trying to make someone feel comfortable or make them uneasy? Are you using official-sounding language or slang? Students are noticeably engaged by these activities and eager to talk about their rationale for placing certain words. Not surprisingly, through the process they discover possibilities for how this visual representation might be elaborated to generate more meaning.
Consider a synonym matrix for the noun house (see fig. 5). There is much revealed in this visualization that can help students see the appropriateness of choosing a particular
<![if !vml]>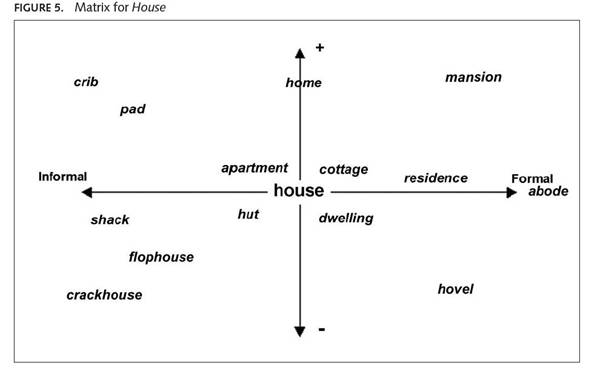 <![endif]>word over another to fit a context. Conversations might explore the categorical connotations of kinds of houses (mansions, cottages, apartments) as well as more  general terms (abode, pad), exercises similar to Allen's concept of "linear arrays" through which students explore degrees between extremely opposite terms (such as freezing and boiling) with words that indicate subtle gradations: cold, cool, tepid,
warm, hot, and so forth. And yet, even as they are presented above, the words appear somewhat static, locked into their matrix positions once we have agreed on their general coordinates. We know, however, that the meanings of words can change in different contexts as well as over time. Is there a way we can represent this?
The term crib provides an interesting example. A little student investigation reveals at least three uses of this word, all with a meaning related to "housing" something. There's the current slang use for someone's home (as in the reality TV show MTV
Cribs), along with the common meaning of a baby's bed with enclosed sides. Another use originates in farming and can mean a cattle stall or a grain bin (as in corn crib). Can we represent how these meanings have changed on the matrix and, in doing so, discuss some of the implications? (See fig. 6.) Arguably, we can envision a gradual shift in both charge and register for crib over time. The use that originated in farm utility now also suggests the cozier notion of a baby's home. Consider the biblical story of Jesus in the manger: The baby Jesus slept in a box from which cattle ate grain (a crib). Modern hip-hop–influenced usage has transformed the meaning of crib even further, dropping the infant associations while expanding the sense of familiarity, safety, and comfort. If students can imagine words as not simply occupying slots of permanent meaning but instead evolving over time and governed by context, they are engaging in higher level thinking about what words mean and can do.
Our class discussions yielded other opportunities as well. For instance, what if we add the prefix "Mc" to the word mansion? Does this change its meaning? (See fig. 7.) With the addition of a twoletter prefix—a prefix loaded with cultural significance— the meaning of mansion shifts in an extreme way, from positive to negative and from formal to snidely casual. Too often, prefixes and suffixes are taught in a rote fashion from a long, disassociated list. Here, however, the impact of two additional letters becomes evident and the protean nature of language is to some extent demystified. The contrast between these two words naturally raises questions, leading students toward a discussion of the origin of this prefix as well as its connotations and uses. This is a vocabulary conversation based in real, everyday language rather than on obscure lists from a study guide, a discussion immediately relevant to their lives: What's the difference between a "job" and a "McJob," and which one would they rather have in the future?
Looking Ahead
A few years ago, the pop group Black Eyed Peas achieved chart success and ubiquitous radio airplay
<![if !vml]>

<![endif]>
<![if !vml]>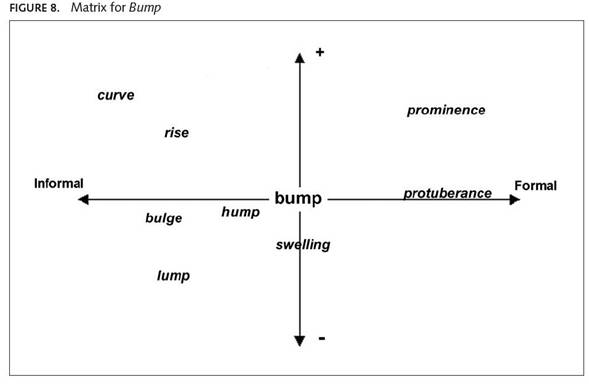 <![endif]>
with a song titled "My Humps." Both of us were puzzled and put off by the song's lyrics; the "humps" refer to parts of the female anatomy, which are also represented in the line "my lovely lady lumps." As English teachers we were immediately sensitive to the peculiar word choice at work here. Mapped around a central concept, the source of our angst is illuminated (see fig. 8). For us, both hump and lump have slightly negative connotations. Hump calls to mind camels and Quasimodo; lumps on one's body are sometimes caused by getting punched, or worse, they are a possible sign of cancer. The conflict between connotative and denotative meanings in the song created a dissonance for us, though as listeners we were operating from a particular context that may not be the same for others. Our contextual language experience adds another layer of complexity to understanding connotation. The value of asking students to construct this kind of map lies not in reaching some ultimate definitional
taxonomy (say, in which hump and lump are definitively labeled negative) but in revealing the often unconsidered byways that connect words in a wider web, which in turn shifts and evolves with time, use, and circumstance. There may well be ways to map words with other variables in service of deeper understanding. For instance, we have considered a possible z-axis for this matrix that would render another level of subtlety within a threedimensional space. What would this new axis represent? Some possibilities include a historical spectrum (from archaic to modern), a regional/cultural
shift (such as American English to British English or rural to urban), or an axis that moves from literal to figurative usage. The possibilities here are many. Like any map or tool, this one has its limitations, and we are still exploring the merits and drawbacks of this metaphor. Placing words at coordinates may imply a mathematical certainty of meaning; beyond matrices, Jessica likes the idea of a spherical space in which synonyms—like electrons around nuclei—vibrate, shift, and are shared.
(Thinkmap's "Visual Thesaurus" at http://www.visualthesaurus.com employs a similar schema).
Discussing these visualizations, we try to keep in mind Ann E. Berthoff's caveat about schematic organizers: that such devices can be overly emphasized to the extent that we lose sight of their larger purpose. The destination of these exercises with words is not that students learn how to accurately pigeonhole terms, but that they instead develop a more subtle and fluent comprehension of language options as demonstrated through their writing and speaking.
References
Allen, Janet. Words, Words, Words: Teaching Vocabulary in Grades 4–12. York: Stenhouse, 1999.
Berthoff, Ann E. The Making of Meaning: Metaphors, Models, and Maxims for Writing Teachers. Montclair: Boynton/Cook, 1981.
Michaels, Judith Rowe. Dancing with Words: Helping Students Love Language through Authentic Vocabulary Instruction. Urbana: NCTE, 2001.
Nilsen, Alleen Pace, and Don L. F. Nilsen. Vocabulary Plus: High School and Up: A Source-Based Approach. Boston: Pearson, 2004.
Darren Crovitz teaches in the English education program at Kennesaw State University in Kennesaw, Georgia. email: dcrovitz@kennesaw.edu.
Jessica A. Miller teaches seventh-grade language arts at Palmer Middle School, Cobb County,
Georgia. She holds a master's degree in secondary English education from Kennesaw State University and a BA in creative writing from the University of Central Florida. email: Jessica1.Miller@cobbk12.org.
English Journal Vol. 97, No. 4 March 2008
------------------------------------------------------------------------

4.-    ADVANCED VOCABULARY IN CONTEXT: MOTORCYCLES: BOBBERS AND
        CHOPPERS
Motorcycles have really come a long way. Early motorbikes were nothing more than an engine bolted onto a bicycle. Now motorcycles are some of the most technically complex machines around.

During the 1950's American and British motorcycles were in control of the motorcycle market. Then the Japanese arrived!
As the late 1950's rolled around, Japanese bikes started evolving into bigger and better machines. They started slowly making their way to Europe and soon they were in the US. They had come from small slow mopeds to reliable, attractive, fast, and most importantly affordable motorcycles. The Japanese made several advancements that were lacking from traditional manufacturers. One of the most noticeable was the introduction of the electric start. A kick-start was no longer needed to start your bike.

Since the Japanese were mostly concerned with making small motorcycles, none of the other major motorcycle manufacturers considered them a threat. They were in a different league and were not considered competition. This proved to be a fatal mistake. As the 1960's progressed, Japanese bikes were getting bigger and faster but no one paid attention until Honda introduced their CD450. This bike was nothing anyone had ever seen before. This bike was good looking and affordable.
Finally other motorcycle makers took notice of Japan and started trying to compete with Japanese bikes. Several companies incorporated new technology to their classic line of bikes but this proved to be too little too late. When Honda introduced its new four cylinder CB750, there was no doubt Japanese motorcycles were here to stay. There is nothing that can be said about this bike to overstate it; this bike's introduction was incomparable to any other in the world. It was like a new car company making a car that could perform as well as the top of the line Mercedes-Benz for the price of a Skoda. Now people could have the fastest most reliable motorcycle and pay only a fraction of the price.
What is a chopper?
The chopper is created by taking off or chopping unnecessary components from a standard motorbike. After doing that chop builders soon started raking the front end of their bikes so the angle of the fork to the ground began decreasing allowing for a greatly increased wheelbase. The handlebars were and became known as ape hangers. The front tire became small and the rear fat. Some bikers even removed the battery and used a magneto instead to reduce weight. The petrol tank on the chopper became small as was the headlight. Anything unnecessary was removed. This made for a bike style that was unique and tailored to each individual rider.
American servicemen returning home from World War II, became dissatisfied with the motorcycles that were available to them from Harley-Davidson and Indian. They liked the bikes they had seen in Europe that were lighter in weight and seemed to have more excitement. The servicemen started to hang out with their biking buddies to regain some of the camaraderie they had felt in the service. Some of these blokes decided that their motorcycles needed to change. Motorcycle choppers were born.
First, they either removed or shortened (bobbed) the mudguards (fenders) on their motorcycles. This reduced the weight and made the bikes look better in their eyes. These bikes became known as bobbers. Changes kept occurring but it wasn't until the late '60s and early '70s that the bobbers gave way to the choppers. After the release of the movie Easy Rider in 1969, a whole new movement began. Riders wanted a motorcycle like the one ridden by Peter Fonda in the film. They wanted a chopper.
As always happens, this rise of the chopper created by individual backyard mechanics, soon was followed by talented designers whose choppers were sought after. An individual didn't need to actually do the work, just express what he wanted to a chopper designer. Arlen Ness was one of the first such designers.
Chopper creation slowed a little as many motorcyclists started customizing their bikes instead of chopping them. Then in the 1990s the chopper seemed to become more popular. Choppers are not just indigenous to Harley-Davidson. Numerous choppers have been built from British and Japanese bikes.
© 2000-2008 Total Motorcycle Stuff, All Rights reserved
------------------------------------------------------------------------

5.- XL JORNADAS DE ESTUDIOS AMERICANOS EN RAFAELA
Asociación Argentina de Estudios Americanos
 XL Jornadas de Estudios Americanos
 Universidad Tecnológica Nacional Facultad Regional Rafaela
 Instituto Superior del Profesorado Nº 2 "Dr. Joaquín V. González"
 Rafaela, 28 al 30 de agosto de 2008
 Segunda circular

 La Asociación Argentina de Estudios Americanos, la Universidad Tecnológica
 Nacional Facultad Regional Rafaela y el Instituto Superior del Profesorado
 Nº 2 "Dr. Joaquín V. González" convocan a profesores, graduados,
 investigadores y estudiantes a participar de las XL Jornadas de Estudios
 Americanos, que tendrán lugar en la ciudad de Rafaela, en el Centro
 Cultural Municipal, del 28 al 30 de agosto de 2008.

 Tema general:
 Estados Unidos y el mundo: relaciones interculturales.
 Temas especiales:
 1-El Modernismo en los Estados Unidos.
 2-Las presidencias estadounidenses, desde George Washington hasta George
 W. Bush.
 3-La civilización estadounidense y el automóvil: homenaje al Ford T en su
 centenario.
 Estos tres temas pueden abordarse en forma comparada o referirse sólo a
 los Estados Unidos.

 Fecha de cierre de recepción de resúmenes: 25 de julio de 2008.
 Enviar resúmenes a estudiosamericanos@yahoo.com.ar
 La agenda se confeccionará distribuyendo los trabajos según los temas,
 dado lo cual no podrán atenderse pedidos especiales.

 Comunicaciones: Trabajo inédito con una extensión no superior a 8 (ocho)
 carillas para su lectura (aproximadamente 20 minutos) que, para su
 publicación, podrán ampliarse a 10 (diez), escritas a doble espacio, en
 papel formato A 4, en procesador Word for Windows, letra Times New Roman,
 cuerpo 12.
 Si hubiera notas, deberán incluirse al final (endnotes).
 Al comienzo de la comunicación consignar sólo título, autor/es y
 pertenencia institucional. No numerar las páginas y evitar macros.
 Se aceptarán trabajos en español y en inglés.
 En la fecha de acreditación, deberá presentarse la comunicación en su
 versión definitiva en diskette 3.5" sistema Word for Windows, en cuya
 etiqueta deberán figurar los datos de carátula del trabajo, y una copia
 impresa.

 Aranceles (Se abonarán en la fecha de acreditación):
 Expositores y asistentes (graduados universitarios y/o terciarios) no
 socios: $60.
 Expositores y asistentes (graduados universitarios y/o terciarios) socios:
 $50.
 Expositores y asistentes estudiantes de grado universitario y/o terciario:
 $25.
 Cuota societaria anual: $ 30.

 Consultas: estudiosamericanos@yahoo.com.ar; familiaricotti@arnet.com.ar

 Información sobre la ciudad de Rafaela: www.rafaela.com.ar,
 www.rafaela.gov.ar
 Transporte aéreo:
 Rafaela-Buenos Aires//Buenos Aires-Rafaela, SOL Líneas aéreas.
 Informes: www.sol.com.ar, 0810-4444-765.

 Autoridades de las XL Jornadas:
 Presidencia: Ing. Raúl Ricotti y Dr. Rolando Costa Picazo.
 Vicepresidencia: Lic. Ana Rita Sorisio y Dra. Cristina Elgue de Martini.
 Coordinación académica: Prof. Lelia Chiapero de Ricotti.
 Organización de las XL Jornadas:
 Comisión organizadora: Silvina Paola Azcoiti, Norma Albretch, Elisa
 Salzmann,  Samanta dell´Acqua y Adriana Pozner.
 Coordinación general: Armando Capalbo.
-----------------------------------------------------------

6.-    ESSARP CENTRE: JUEGOS TEATRALES EN EL AULA BY ALEJANDRA ALLIENDE
Juegos teatrales en el aula
Fechas: 19 Mayo de 09:00 hs. a 12:00 hs. del 2008
Sede: ESSARP - Esmeralda 672 Piso 7 - Buenos Aires
Sesiones: 1
Para: Docentes de todas las áreas.
Coordinador(es): Prof. Alejandra Alliende
Alejandra es Profesora de Inglés egresada del ISP Dr. Joaquin V. Gonzalez. También es
actriz egresada del Conservatorio de Arte Dramático de la Ciudad de Buenos Aires.
Ha realizado cursos de perfeccionamiento actoral con diversos maestros y de narración
oral con Jan Blake y A. María Bovo.
Se desempeña como docente de inglés en empresas y en la escuela primaria bilingue
Colegio Integral Caballito.
Trabaja como actriz en obras de teatro en español y ha formado parte del elenco The
Bs.As Players Theatre Company.
Desde hace seis años dicta clases de actuación en el Centro Cultural San Martín y
realiza narración oral en escuelas tanto en inglés como en español.
Objetivos:
• Analizar qué son los juegos teatrales.
• Establecer vínculos entre los juegos teatrales y las actividades de clase.
• Analizar y discutir qué juegos teatrales pueden ser utilizados o adaptados para el
dictado de las distintas materias (Lengua y Literatura, Idioma extranjero, Historia,
Geografía, Ciencias).
Contenidos:
Definición e introducción al juego dramático.
Técnicas pedagógicas que hacen uso del juego dramático.
Vínculos, relación y aplicación del juego teatral en el aula.
Bibliografía:
Boal, A. "200 ejercicios y juegos para el actor y el no-actor". Buenos Aires: Crisis.
Elola, H. "Teatro para Maestros". Buenos Aires: Editorial Marymar.
Maley & Dufff. "Drama Techniques in Language Learning". London: Cambridge
University Press.
Metodología:
Exposición y análisis de los contenidos del curso.
Reflexión activa de cómo incorporar el juego teatral en el dictado de las
distintas materias.
Información: www.essarp.org.ar
4322-2480 - 4322-9203
centre@essarp.org.ar exams@essarp.org.ar  
-----------------------------------------------------------------------

7.- 2º SEMINARIO DE CAPACITACIÓN EN LENGUAS EXTRANJERAS IN LA PAMPA
Appi (Asociación Pampeana de Profesores de Inglés) en la Red de Capacitadores en Lenguas Extranjeras los invita al
2º Seminario de Capacitación en Lenguas Extranjeras in La Pampa
"Actualización de Herramientas Pedagógicas en la Enseñanza del Idioma Inglés"
en 3 módulos independientes
Sábados 10 y 31 de mayo y 28 de junio, de 9 a 13 y de 14 a 18 hs.  
Gil 353, 2º p.- Santa Rosa (La Pampa)
Módulo 1:  Sábado 10 de Mayo  -  Alejandro De Angelis
From Bloody Mary To The Hookman: Urban Legends In The EFL Class
You Can't Stop The Beat: Musicals In The English Class
Jumping Off The Coursebook Page
Having Fun With Songs
Módulo 2:  Sábado 31 de mayo  -  Grace Bertolini
Handling Conflict Resolution at School
Using Stories, Readers and Non-Fiction in the Primary & Secondary Classroom
Módulo 3:  Sábado 28 de junio  -  Gustavo González
Who can stop the Music / Songs to learn....Lessons to enjoy...!
My Friends-Ly way to successful learning…
Fees: Cada Módulo  Socios y Estudiantes: $40, No socios: $60.  Monto total Socios y Estudiantes: $120,  No socios: $180
Informes e Inscripción: griseldaiglesias@cpenet.com.ar  , luciairivas@yahoo.com.ar   ,  grapa8@yahoo.com  
Resolución Ministerial para certificados con puntaje en trámite!!             
Free Coffee & Raffles!!
--------------------------------------------------------

8.-   COURSE ON KINDERGARTEN AT LEEDS
Quality Teacher Development at Leeds School of English
Exploring New Avenues for Successful Teaching in Kindergarten and the First Three Forms
Lecturer: Laura Campagnoli
Date: Friday, June 6 from 6 to 8:30 p.m. and Saturday, June 7 from 8:30 a.m. to 1:30 p.m.
Fee
$ 200 (before May 31)
$ 220 (alfter May 31)
Special discounts for groups who enrol befote June 1.
LEEDS School of English
Zabala 1686 (1426) Buenos Aires
Tel: 4788 5052 / 47834414 – leeds@ciudad.com.ar
------------------------------------------------------------

9.-    URUTESOL NATIONAL AND INTERNATIONAL CONVENTION 
URUTESOL National and International Convention 
"Challenge and Achievement"       
Celebrating our 20th Anniversary
July 4 - 6 / Ateneo De Montevideo
Registration
Where? Ateneo de Montevideo
What Time? From 2:00 to 7:00 p.m
When? Every Friday starting next May 16th
Convention Fees: Early birds will have special prices.
Until May 30:
Fully paid-up members: $400
Non – members: $850
From June 1 to June 27
Fully paid-up members: $450
Non – members: $900
ON – SITE:
Fully paid-up members: $500
Non – members: $1000
ARTESOL, BRAZTESOL, Chile TESOL and PARATESOL members: U$ 25
International: U$ 50
Student's Fees:
Fully paid-up members: $300
Non - members: $650
Featured Speakers:
Elizabeth Franklin- TESOL, Inc.- USA
Iole Vitti- Brazil
Omar Villarreal- Argentina
Peggy Chan- Singapore
Edith Consolandich- Uruguay
Laura Dubcovsky- California, USA
Norhayati Mohd Ismail- Singapore
Ratna Mullick- Sultanate of Oman
Claudia Nash-Idaho, USA
Gerardo Valazza- Uruguay
Maria Sara Rodriguez- Uruguay
Ho Poh Wai- Singapore
Jose Luis Morales- Pearson- Uruguay
Ana Bru- Macmillan- Uruguay
Alejandra Ottolina- Macmillan- Argentina
Lucrecia Prat Gay- OUP- Argentina
Graciela Bertolini- E.Q Opciones en Educación - Argentina
And many more prestigious professionals from Uruguay and abroad!
We hope to see you all at our Convention next July,
You can visit us at www.urutesol.org  or contact us at urutesol@gmail.com 
------------------------------------------------------------

10.-   "AT HOME" WORKSHOPS
"At Home" is running the following worshops:
How to Teach English to Adults (from a Constructivist Perspective)
Venue: At Home (Av Santa Fe 3946 - Capital Federal)
Date: May 24th  or June 28th(from 9 to 16.30)
How to Use LOST (the TV series) to Teach Adults and Teenagers at an Intermediate Level
Venue: At Home  (Av Santa Fe 3946 - Capital Federal)
Date: May 31st or June 21st (9.30 to 12.00)
For further information contact: (011 )4833 -2965 /info@athome-buenosaires.com   - athome.buenosaires@gmail.com
Both workshops created and delivered by:
Mady Casco graduated as Profesora en Inglés from Instituto Superior del Profesorado "Joaquín .V. González" and specialized in Methodology II . She also graduated as Licenciada en Educación from Universidad Nacional de Quilmes.
Mady has been a teacher trainer for more than 15 years, having taught at Instituto Superior del Profesorado "Joaquín .V. González", Universidad Belgrano and Escuela Normal Superior en Lenguas Vivas "Sofía Spangenberg". She has lectured widely on "Andragogy and Constructivism", "The Use of Video and DVD" and "The Use of Mind Maps".
------------------------------------------------------------------------

11.-   THEATRE AND STORYTELLING WORKSHOP
Theatre and Storytelling Workshop
Saturdays at 3:30 p.m., Chile 789
Native coach   
Diction   
Games
Improvisation
creating stories and skits
Video filming and public demonstrations
Alfred Hopkins
Born in Los Angeles, with a B.A. in journalism from the University of California at Berkeley, Mr. Hopkins is drama teacher at the Instituto Superior en Lenguas Vivas Juan.R. Fernández, founder of the Hopkins Creative Language Lab and has frequently presented workshops on theatre, storytelling, diction and journalism.
15 62 52 10 28
http://jaquematepress.blogia.com
-------------------------------------------------------------------

12.- PRIMER CONGRESO DEL NOA PARA PROFESORES Y ESTUDIANTES DE INGLÉS
San Miguel de Tucumán
Del 5 al 7 de junio de 2008
Organizado por el Instituto de Enseñanza Superior "Lola Mora"
List of Speakers
Teaching Aids and Materials in the EFL Classrooms
Profesora Susana Soler de Bertini
Creative Materials in the Language Class
Profesora Beatriz Pena Lima
An Integrative Approach to the development of Writing Skills
Magíster Sara I. López
Why are prepositions difficult?
Magíster Luis Alberto Gonzalez
ESL in State Primary Schools in the Province of Tucumán: An On-Going Process.
Profesora Adriana Barrionuevo
Let´s brush up our Resource Tank
Profesora Alicia López Oyhenart
The Magic of Literature
Profesor Marcelo Martinez - Profesora Sandra Mariela Cocimano
Podcasting and "Wikiing"?: New Web Tools come to our aid, or don't they?
Profesor Ricardo Palma
Taking Humor Seriously: Laughing and Learning with Sitcoms
Magíster Susana Company -  Profesora Patricia Córdoba
Materials Development for Communication Students
Profesores Jorge A. Abboud, Florencia Di Lullo and Pablo J. García
Technology with a Humanistic Touch
Profesores  Janine Carol Cook, Andrea Cecilia Galván, Alina Terán Griet, Adela Tineo, and Omar Reinoso
Choosing the Right Word... Choosing the Right Dictionary!
Profesora Mabel Manzano
Registration at I.E.S. "Lola Mora" – Muñecas 219 - San Miguel de Tucumán - e.mail: lolamo@tucuman.rffdc.edu.ar Tel/ Fax (0381) 4305316 from 19:30 to 23:00 hours
-----------------------------------------------------------------------

13.- ANALIA KANDEL ON FM IDENTIDAD 92.1
Columna de Idiomas, Arte y Cultura
Desde 2004 esta columna mensual aborda temas relacionados con aspectos lingüísticos y culturales de las lenguas a través de comentarios, gacetillas y entrevistas a especialistas, profesionales y representantes de diversas instituciones con el fin de brindar información actual y relevante a profesores, traductores, intérpretes y amantes de los idiomas y la palabra.
Analía Kandel nos invita a escucharla el tercer MARTES de cada mes a las 23 hs.
en "Bureau de Arte" (Martes de 23 a 24 hs)
Producción / Conducción: Elena Fassio y Nolo Correa
por FM Identidad 92.1
Emisión en vivo en: www.fmidentidad.com
Analía Kandel
Master of Arts in TEFL, University of Reading, Reino Unido
Profesora en Inglés, Instituto Superior del Profesorado "Dr. Joaquín V. González"
Profesora de Lengua Inglesa III en el Instituto Superior del Profesorado "Dr. Joaquín V. González"
Directora de Inglés en Boston College  
E-mail: akandel@ciudad.com.ar
-----------------------------------------------------------------------

14.- ESPECIALIZACIÓN EN  LA ENSEÑANZA DEL ESPAÑOL COMO LENGUA
      EXTRANJERA EN LA UNIVERSIDAD DE LA PLATA
Universidad Nacional de La Plata
Facultad de Humanidades y Ciencias de la Educacion
Carrera de Posgrado: Especialización en  la Enseñanza del Español como Lengua Extranjera
Destinatarios: Graduados de Lenguas Modernas, Letras y carreras afines.
Duración:         Un año y medio
Modalidad de cursada: Los cursos se desarrollarán en forma intensiva durante los meses de febrero/marzo, junio/julio/agosto y noviembre/diciembre.
Requisito para no hispanoparlantes: Certificación CELU (Certificado de Español Lengua y Uso).
Inicio de los cursos: Julio/agosto de 2008
Informes: especializacion_else@huma.fahce.unlp.edu.ar
-----------------------------------------------------------------------

15.-   TOOLS FOR TEACHERS : WORKSHOPS MAY 2008
I.  Advanced Language: 17 May, morning and afternoon
A. Idioms, Proverbs and Sayings, 10:00 to 13:00
We will undertake a comparative approach seeking to find the equivalents for idioms, proverbs and sayings in English and Spanish whenever possible. Our journey will reveal interesting aspects about language.
B. Increasing your Word Power, 14:30 to 17:00
We will focus on a number of ways to designate people according to some of their characteristics, such as when we call somebody  a couch potato,  a shutterbug, a rubberneck, a stool pigeon, a blowhard or a trooper, to name but a few examples.  We will concentrate on  words commonly heard in American soap operas and sitcoms, not usually included  in advanced language textbooks. This is a revised version of the Folks and their Ways workshop.
You can attend one or both workshops as they are self-contained.
Fees: $35 each
$60 if you are attending both
Venue: SBS PALERMO, Coronel Díaz 1747, Buenos Aires
II.  Experiencing Meditation, 23 May, 17:30 to 19:30
If you want to find out what meditation is all about, this introductory workshop
will allow you to experience ways of quietening your mind, it will get you started in your journey towards spiritual fulfillment and will assist you in coping with stress.
It is said that when we pray we speak to God, while when we meditate we allow God to speak to us.
Admission free but participants are expected to contribute non perishable food which will be donated to Caritas.
Venue: SBS PALERMO, Coronel Diaz 1747, Buenos Aires
III.   Resources for the Language Teacher, 24 May, morning and afternoon
A.   A Festival of Games, 10:00 to 13:00
       Conducted by Celeste Grimau
Here is an amazing opportunity to become familiar with the work of a talented practitioner in the art of teaching through games, who will share her experience and expertise as she literally rocks your teaching world by engaging you in games for different age groups, different levels, different objectives. CELESTE will allow you to both experience the games and to reflect on how to go about using them in the classroom. You will leave the workshop with everything you need to put the games into practice when you next meet your students.
B.   Developing Reading Skills, 14:30 to 17:00
We will analyze the main issues in developing this crucial skill for the acquisition of a foreign language and we will examine the importance of schemata, genre  and the need to provide scaffolding for our students to comprehend what they read. We will focus on the role of extensive reading to build the learners' confidence and their self-esteem as well as to provide for enjoyment.
Fees: $40 for the GAMES workshop
$10 for the READING SKILLS workshop but FREE for those attending the morning session.
Two people registering together for GAMES: $36 each
Three people registering together for GAMES: $33 each
Venue: ALIANZA FRANCESA, Billinghurst 1926, Buenos Aires  
This session is sponsored by HELBLING LANGUAGES
All of the workshops except A Festival of Games are presented by Oriel Villagarcia
Maria Celeste Grimau is the director of STEPS - Cultural Inglesa de Bariloche - and has been  Head of English Department of "Colegio del Sol". She has contributed articles on education to the Buenos Aires Herald an offered a number of workshops in Argentina. She has also written articles and activities for the magazine English Teaching in Action. She is a storyteller and specializes in storytelling as a teaching tool as well as games to teach English.  She has developed her own methodology based on the use of games in the classroom.
Oriel Villagarcia, a Fulbright and British Council scholar, holds an M.A. from the University of Lancaster, has taught at several universities in Argentina, lectured throughout the country and abroad, and was on the Editorial Board of Advisors for the first edition of the Macmillan Modern English Dictionary. His current interests, apart from a passion for contemporary colloquial American English, lie in the area of mind-body therapies.
Registrations
Only if you are sure to attend by sending an email to newtoolsforteachers@yahoo.com.ar  with your full name, phone number, and postal address. Please indicate which options you have chosen. You can then pay the admission fee before the workshop takes place. You should receive an acknowledgment of PRE-REGISTRATION indicating whether there are still vacancies for the workshop of your choice.  .
Limited vacancies on a first come, first served basis.
-----------------------------------------------------------

16.-   CURSOS PARA TRADUCTORES CON HORACIO R. DAL DOSSO
Herramientas de Internet para traductores©
Las CinCo Ces del Control de Calidad de las Traducciones©
Expositor:
Traductor Público y DEA Horacio R. Dal Dosso
Fecha: Sábado 31 de mayo de 2008
Horarios:
- Seminario I (Herramientas de Internet para traductores): de 09:00 a 13:00
- Seminario II (Las CinCo Ces del Control de Calidad de las Traducciones): de 14:00 a 18:00 
Lugar: CINUR. Tacuarí 237, piso 1, oficina 16 Ciudad de Buenos Aires, 
Para consultar los programas detallados: http://www.english-lab.com.ar:80/310508.htm
Aranceles (Incluye: Materiales, cafés, sorteos de suscripciones a la revista Multilingual)
Un seminario: $100; ambos seminarios: $160
Inscripción (Cierre: Jueves 29 de mayo a las 17:00)
Pagos:
Banco Río Santander - Caja de ahorro en $ 073-357597/4
CBU: 07200731 30000035759747
Vacantes: 25
Horacio R. Dal Dosso
Doctorando por la Universidad de Granada, de la que obtuvo el Diploma de Estudios Avanzados (DEA) del Tercer Ciclo, correspondiente al Doctorado en Traducción, Sociedad y Comunicación. Sus líneas de investigación son: Didáctica de la Traducción y Nuevas Tecnologías.
Traductor Público (UADE) e Intérprete de Inglés (CIT).
Investigador de los recursos de Internet aplicados a la traducción. En 2006 publicó su base de datos con más de 600 recursos útiles para traductores: www.hdosso.com.ar/Bonus.xls. En 2007 obtuvo el DEA mediante la defensa de su trabajo de investigación titulado «La inclusión de las TIC en los programas universitarios de formación de traductores de la Argentina», una obra inédita en su género. 
-----------------------------------------------------------

17.-    TOP GIRLS AT THE BRITISH ARTS CENTRE
BRITISH ART CENTRE - Suipacha 1333 – Ciudad de Buenos Aires -393-6941
TOP GIRLS de Caryll Churchill. Dir.: Hugo Halbrich.
Estreno: 23 de Mayo. Jueves –Viernes  y Sábados  21 hs.
Bono 25$, estudiantes y jubilados, $15.
"Breaking away from the past, her ambition driving her to succeed….  At what cost?  What does it take for a woman to succeed in a world of male values?
These are the themes of Top Girls, an award winning play about struggle, success and sacrifice."
In English with Spanish subtitles.
Information:  hugohalbrich@yahoo.com.ar    or  actorsrepertorytheatre@gmail.com
------------------------------------------------------------

18.-   EXPOLENGUAS: JORNADAS DE CAPACITACIÓN PROFESIONAL
Jornadas de Capacitación Profesional
6 y 7 de junio de 2008
Howard Johnson Hotel & Suites Recoleta - M. T. de Alvear 1368
Ciudad Autónoma de Buenos Aires
Traducción Jurídica Inversa - Error Analysis And Choice Of Expression In Spanish - English Legal Translation Practice.  Dr. y Trad. Públ. Ricardo Chiesa
Viernes 6 de junio de 14 a 19
Edición y Corrección de Textos. Lic. Laura Andrea Pérgola
Sábado 7 de junio de 9 a 18
Introducción al planeamiento y marketing estratégicos para prestadores de servicios. Ing. Andrés Bisso
Viernes 6 de junio de 9 a 13
Español para Extranjeros. Tipos de actividades comunicativas. Criterios para su elaboración, selección y distribución en la sesión de clase y en el curso de ELSE. Alejandra Elichabe y Ana Sofía Príncipi
Sábado 6 de junio de 9 a 13
Los audiovisuales: una intersección de técnicas. Trad. e Intérprete Olga Alvarez y Trad.Julia Benseñor
Viernes 6 de junio de 9 a 13
Descuento por inscripciones grupales (mínimo diez personas).
Talleres de media jornada: Estudiantes: $90 / Profesionales: $120
Talleres de jornada completa: Estudiantes: $140 / Profesionales: $190
Informes e inscripción
Personalmente en Tte. Benjamín Matienzo 1831 6º "G"
Lunes a viernes 13 a 18
Tel.: (011) 4775-2870/2198
Por correo electrónico: info@expo-lenguas.com.ar
Por internet: www.expo-lenguas.com.ar
------------------------------------------------------------

19.-   INTERNATIONAL CONFERENCE AT PUERTO VALLARTA. MEXICO
Dear colleagues,
The National Association of English University Professors (ANUPI), is cordially inviting you to participate in our 6th international conference entitled "Teaching, Learning, Leading" to be  held October 2-4, 2008 at the beautiful NH Krystal of Puerto Vallarta in Jalisco, Mexico.
The ANUPI academic committee invites all EFL/ESL researchers, teachers,   as well as recent graduates, to make an academic contribution as speakers and participants in this year's conference.   As preceding years, you will share an event of the highest academic caliber with national and international colleagues.
For any further questions, please visit our web page at www.anupi.org.mx 
Our call for proposals will close May 31, 2008.
 We are looking forward to seeing you in Puerto Vallarta!
Sincerely,
Organizing Committee
ANUPI Congress 2008
6th International Conference 2008: Teaching-Learning-Leading
------------------------------------------------------------

20.-   LITERATURE & MEDIA WORKSHOP IN LA PLATA
Literature & Media Workshop
An alternative for students who want to continue practising the language beyond an Upper Intermediate level in a more relaxed, carefree atmosphere.
The course will be centered in reading authentic material ranging from all times classics to brand new publications; all genres included: fiction and non-fiction, even poetry! There will be discussion of written material and productions on the screen learning how to "read" a film and the different ways a book can be adapted to the cinema.
Fridays  15:00 to 17:00 at ICAB (Instituto Cultural Argentino Británico)- Street 12 between 49 and 50 – La Plata. Fee: $100 per month
More info at: http://www.elbritanico.com
------------------------------------------------------------

21.-   COURSE ON LEGAL ENGLISH AT APrIR
Course on Legal English
conducted by Nora Casiello
Finance and Company Law
What is a business corporation?
What kind of liabilities do they have? Where do they get their money from?
Are you a stakeholder? Are you a stockholder, or a bondholder? What would you rather be? Who are the holdouts? What does leverage mean?
What is the moral hazard European Governments as well as the US government have had to face due to the Subprime mortgage crises?
If you would like some answers, or an opportunity to discuss these topics,
 join us in our next meetings!
Second Meeting: May 17th, Saturday - from 9 a.m. to 12 .-
Company Law:  Capitalization. Equity vs. Debt. Leverage. Stakeholders
THIRD MEETING: June 28th, Saturday - from 9 a.m. to 12 .-
Company Law: changes in a Company- Mergers and Acquisitions- Spin-offs
Venue:  ARICANA –  Buenos Aires 974 – Rosario.
Fees:  Each session:  APrIR members and students:   $ 40 .- /  others:  $ 50
Enrolment: You may register at the APrIR Office :   Buenos Aires 1127  (P.B. "A")
Or  by e-mail to aprir@ciudad.com.ar
Certificates will be issued
Nora Casiello
Certified (Sworn) Translator – English/Spanish – Spanish/English. Universidad del Museo Social  Argentino – Buenos Aires
Degree in Political Science, Universidad Nacional de Rosario
Teacher of English, INSP, Rosario.
Professional Experience: University of Buenos Aires - School of Translation -Assistant Professor - Language I – Free-lance Translator
EFL teacher: Private lessons: Banks and Business Companies. Language Institute of the University of Buenos Aires. -Catholic University of Argentina. Chemistry/Engineering School. Rosario
APrIR (Asociación de Profesores de Inglés de Rosario) – Website:  www.aprir.org.ar
------------------------------------------------------------

22.-   "POR VOS, BUENOS AIRES": MÉTODO DE ENSEÑANZA DE ESPAÑOL RIOPLATENSE COMO LE
UTN Avellaneda participará de Jornadas de Español como lengua extranjera en Córdoba
Del miércoles 21 al viernes 23 de mayo, la Universidad Tecnológica Nacional, Facultad Regional Avellaneda, participará de las "III Jornadas de Español como lengua extranjera y el I Congreso Internacional de Enseñanza e Investigación en ELSE", organizadas por la Facultad de Lenguas de la Universidad Nacional de Córdoba. El encuentro tiene como objetivo establecer mecanismos y espacios de intercambio entre docentes e investigadores de la lengua española; promover la actualización de conocimientos en el área y la investigación en ELSE, e impulsar acciones orientadas a mejorar el posicionamiento del español como lengua segunda y extranjera en el ámbito superior y en otros ámbitos. En ese sentido, la Regional Avellaneda presentará su libro "Por Vos, Buenos Aires: Método de enseñanza de español rioplatense como LE", el cual está destinado a aquellos estudiantes extranjeros interesados en una mejor comprensión y uso de nuestro idioma a través de un aprendizaje progresivo y de respuesta a los diferentes requerimientos.
"Por Vos, Buenos Aires" de Andrea Hidalgo y Marcelo Amén es una serie completa de libros de texto para la enseñanza de español rioplatense a estudiantes extranjeros. Consta de cuatro niveles
----------------------------------------------------------------------
We would like to finish this issue of SHARE with a very brief but rich quotation by the Greek Stoic philosopher,Epictetus:
"Know, first, who you are, and then adorn yourself accordingly."
HAVE A WONDERFUL WEEK!
Omar and Marina.
------------------------------------------------------------------------
SHARE is distributed free of charge. All announcements in this electronic magazine are also absolutely free of charge. We do not endorse any of the services announced or the views expressed by the contributors. For more information about the characteristics and readership of SHARE visit: http://www.groups.yahoo.com/group/ShareMagazine
VISIT OUR WEBSITE : http://www.ShareEducation.com.ar There you can read all past issues of SHARE in the section SHARE ARCHIVES.
------------------------------------------------------------------------